Guide to Ultrasound Machine Brands and Their Series
This article has been updated 19-10-2023
This blog post is a guide to ultrasound machine brands.
We explain how various premium ultrasound manufacturers sort their ultrasound models into different series.
Some brands make series based on the ultrasounds' advancements, such as premium, high-end, mid-range, and entry level. While others base series on applications, or a combination of both.
This guide will cover the popular series of the major ultrasound machine brands – GE, Canon (Toshiba), Siemens, Samsung, and Philips.

Moreover, we will focus on ultrasounds that you can easily access in the market for pre-owned equipment, as that is our specialty.
And at the end of the blog, you can find an ultrasound machine comparison matrix that compares the ultrasounds from these brands based on their advancements and applications.
If you would like to learn even more about ultrasounds to prepare yourself for choosing a model, you can also sign up for our mail course.
You will also receive an e-book: Guide to Ultrasounds, which only costs your e-mail address.
Get the Ultrasound mail course
Let's start with Siemens. In general, Siemens ultrasounds are suitable for a wide range of clinical settings.
It can be difficult to categorize Siemens series based on their ultrasound applications. Therefore, we did it based on their capabilities – if they are high-end, mid-range, or entry level ultrasounds. We also listed the portable ones seperately.
On the secondary market, there are two series readily available – Acuson X- and S-series.
The Acuson X-series
The Acuson X-series covers entry and mid-range segment of ultrasounds.
This series includes systems such as the Acuson X150, X300, X300 PE, X600, and X700.
By default, these systems are all general imaging ultrasounds. Therefore, they can perform ultrasound applications such as:
OB/GYN, vascular, abdominal, small parts (breast, thyroid, etc.), MSK/Anesthesiology, and urology examinations.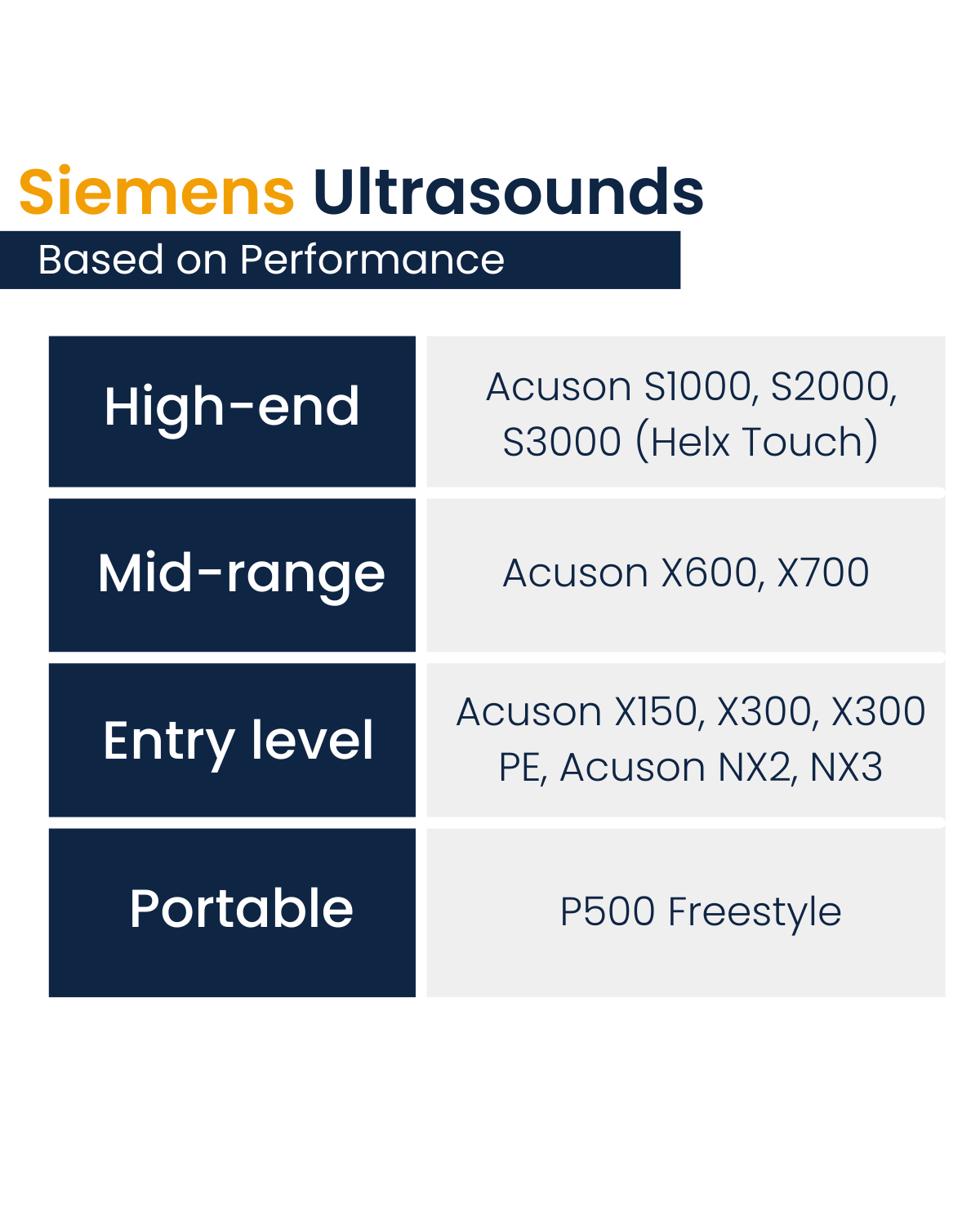 What more?
All of them can be upgraded to shared service systems, although you need additional hardware and software to do so.
So, if your budget is limited and you want a versatile ultrasound that delivers high quality images, a model from the Acuson X series could be an option.
The Acuson S-series
Next is the Siemens Acuson S-series. This is a line of high-end ultrasound machines. The series contains the Acuson S1000, S2000, and S3000.
It is a versatile series as these models are recommended for general imaging, breast imaging, and OB/GYN.
However, some of these applications require extra software options.
Additionally, these models have recently come with HELX and HELX Touch upgrades. This update ensures even higher imaging quality.
Another high-end system from Siemens is the Acuson SC2000. This ultrasound does not belong to any of the series we mention above. Nevertheless, if you are specifically looking for a cardiac ultrasound, this system would be a great option. It is dedicated to cardiovascular applications.
Have you heard of Acuson Sequoia, Redwood, or Juniper, also from Siemens?
These are some of the premium ultrasounds developed by Siemens. According to Siemens, these systems are 'delivering a new era of imaging excellence'.
We have not yet seen Sequoia and Redwood on the secondary market. However, the Siemens Acuson Juniper is becoming more readily available as used, for a budget-friendly price.
Overall, Siemens ultrasound machines offer excellent image quality and impressive technologies.
Moreover, Siemens is considering the cost-effectiveness of its systems. Therefore, the systems are affordable, reliable and upgradeable.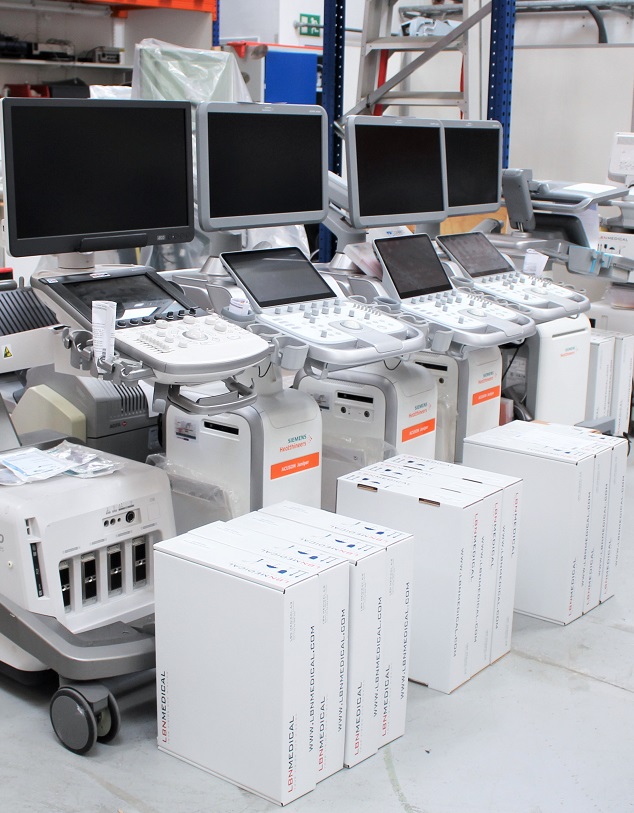 Popular Siemens Ultrasounds
Another strong player in the ultrasound market is GE Healthcare. Their ultrasound machines have been a favourite choice of our customers for years. GE makes it easy to categorize their ultrasounds, as they base their lines on applications.
Their series are Voluson, Logiq, Vivid, Venue, and Versana, all consisting of great ultrasound models.
The Voluson Series
Let's begin with the Voluson line, which is dedicated to OB/GYN and women's health. This range consists of models such as the Voluson E6, Voluson E8, Voluson E10, Voluson S6, Voluson S8, Voluson S10, Voluson S10 Expert, Voluson P6, and Voluson P8. Furthermore, it includes two portable ultrasounds Voluson I and Voluson E.

The Logiq Series
Another serie, Logiq, specializes in general imaging. Therefore, it has great technologies for imaging within radiology, breast, interventional, and more. Hence, Logiq ultrasounds can help you accommodate a wide range of examinations.
This series includes models such as the Logiq E10, Logiq E9, Logiq S8, Logiq S8 XDClear 2.0, Logiq S7, Logiq P6, Logiq P7, Logiq P9, Logiq F6 and the portable Logiq E.
The Vivid Series
Which GE ultrasound series is devoted to cardiovascular imaging?
That would be the Vivid line. The ultrasounds that are part of this line, for example, Vivid E90 R3, Vivid E95, Vivid E95 Ultra Edition, Vivid E9, Vivid T8, Vivid S5, Vivid S6, Vivid S60, Vivid S60N, Vivid S70, Vivid S70N, and portable – Vivid IQ, Vivid I, and Vivid Q, have a range of tools that improve the quality of the examinations.
This way they can satisfy the wide range of needs in this area of specialization.
The Venue Series
The Venue series includes great point-of-care ultrasounds, such as Venue GO and Venue 50.
These ultrasounds will help you with diagnosis wherever you treat your patient. Whether you are in a modern hospital, in an ambulance, or a remote village.
The Versana Series
Finally, GE offers the Versana line including Versana Premier and Versana Active Urology.
The Versana ultrasounds are dedicated to delivering high quality urological care.
On the right, you can see an easy overview of GE ultrasounds' applications.
All GE ultrasounds bring excellent image quality and innovative technologies.
The matrix shows GE ultrasounds systems dedicated to general imaging, cardiac and OB/GYN applications divided based on their advancements.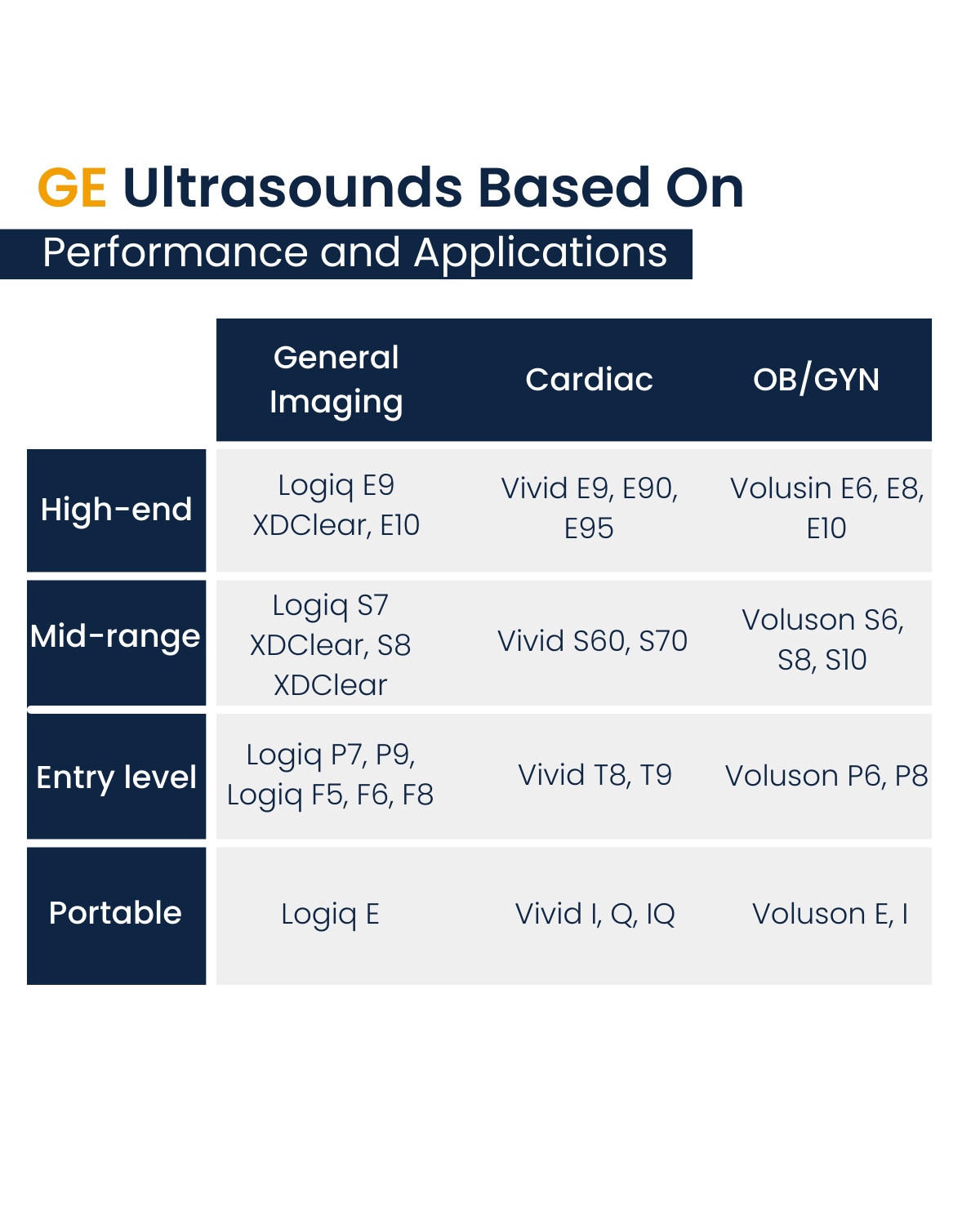 Samsung offers a diverse range of ultrasound systems catering to various medical needs, including OB/GYN, general imaging, and shared service applications.
On the used ultrasound market, you'll find the most commonly mentioned ultrasounds listed below.
Within the realm of women's health, OB/GYN, one can explore options such as:
The Samsung HS50, HS60, HS70, HERA I10, HERA W9/W10, and the advanced Samsung WS80A Elite.
Moving on to general imaging, the lineup encompasses the Samsung RS85 Prestige, RS80, HS30, HS40, HS50, HS60, HS70 and the HM70A.
The latest releases, the Samsung V8 and V7, showcase the brand's commitment to cutting-edge technology.
You can find these models customized for OB/GYN as well as for general imaging.
Lastly, for shared service applications, the Samsung HS70 and HS60 stand out as reliable options.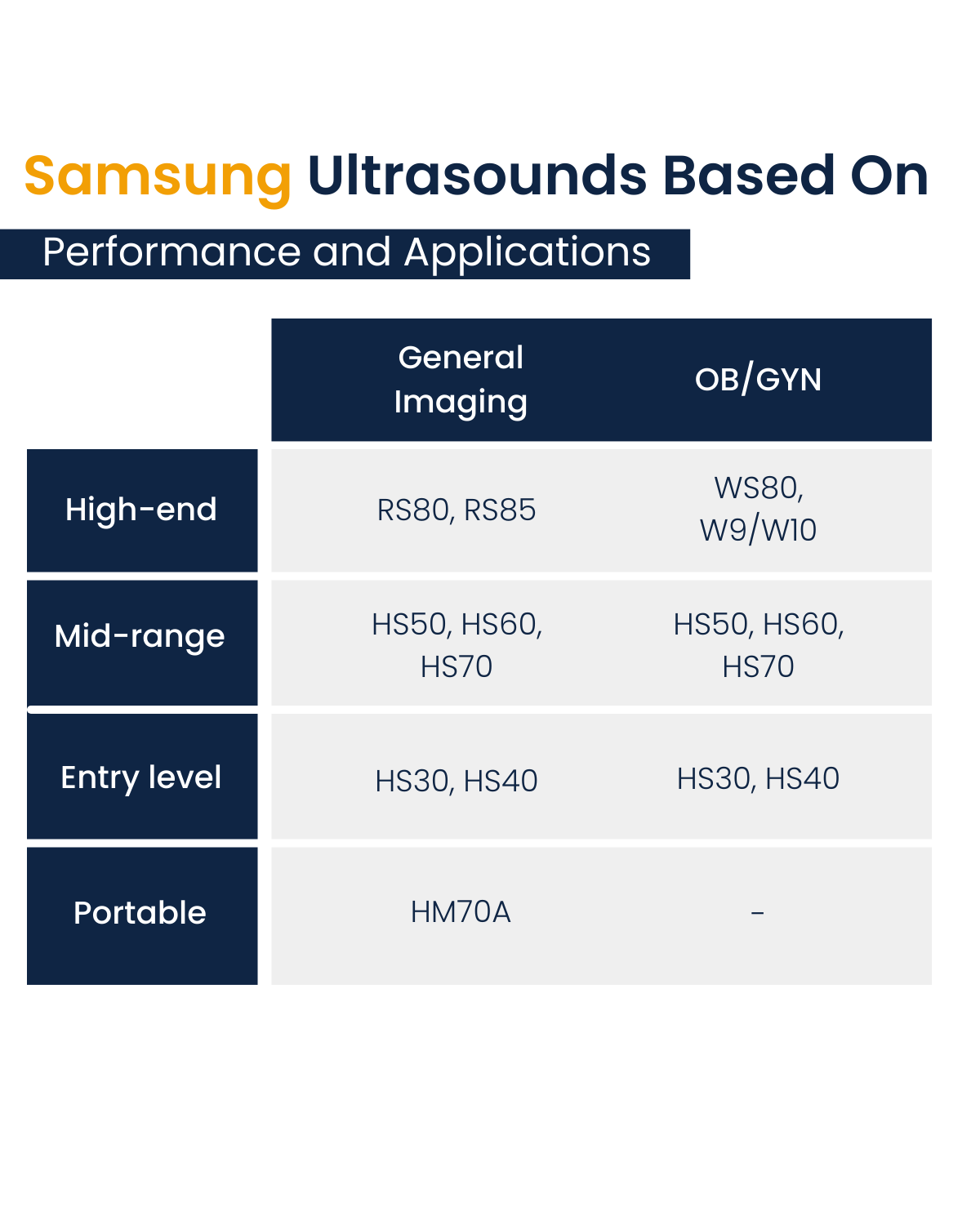 Popular Samsung Ultrasounds
Samsung WS80A Elite
The Samsung WS80A Elite is a high resolution premium system designed to meet the needs of women's healthcare.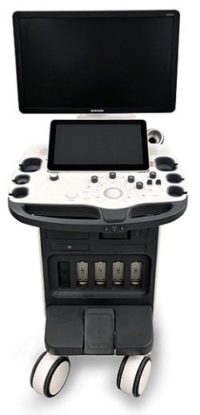 Samsung RS80A Prestige
The RS80A is a great ultrasound for radiology with advanced technical capabilities for great image quality.
Next, we will introduce the categorization typical for Philips. This brand offers a wide range of ultrasounds for all applications.
Their goal is to bring innovative solutions to all clinical environments, regardless of complexity. And thus, you can find ultrasound systems from Philips for all standard applications, such as general imaging, cardiology, vascular, OB/GYN and others.
Philips categorizes its ultrasound similarly to Siemens. They divide the systems into entry, mid-range and high-end ultrasounds.

The ClearVue Series
The entry-level Philips is the ClearVue family. This series includes systems such as the Clearvue 350, 550, 650, and Clearvue 850.
These economy systems deliver strong standard features, important for the physician and their patients. The ClearVue family enhances your workflow and offers a variety of applications across many clinical settings.

The Affiniti Series
The next series from Philips is Affinity, which includes mid-range ultrasounds such as the Affiniti 30, Affiniti 50, and Affinity 70.
These systems provide great image quality and give you the results you need to stay ahead. The Affiniti family comes with an ergonomic design and small footprint, which allow you to work more intuitively and comfortably.

The Epiq Series
And what is the high-end ultrasound series from Philips? That is the Epiq series.
Systems belonging to the Epiq family are Epiq 5 and Epiq 7. These premium ultrasounds bring a premium level of clinical performance and meet the challenges of today's most demanding general imaging examinations.
Additionally, Philips also provides portable ultrasound – the CX50 – that is meant for general imaging.
You may be asking, what about Philips iU22 and iE33?
These systems belong to the high-end ultrasound Philips family. Their capabilities are comparable to those of Epiq ultrasounds.
However, the iU22 and iE33 are no longer in production. As well as the HD series and the portable CX30, they were replaced with newer models. They are, however, still very popular in the pre-owned market.
In general, it is easy to operate Philips' ultrasounds.
Furthermore, you can upgrade them with additional clinical features and probes as you need. This way the system can evolve with you over time.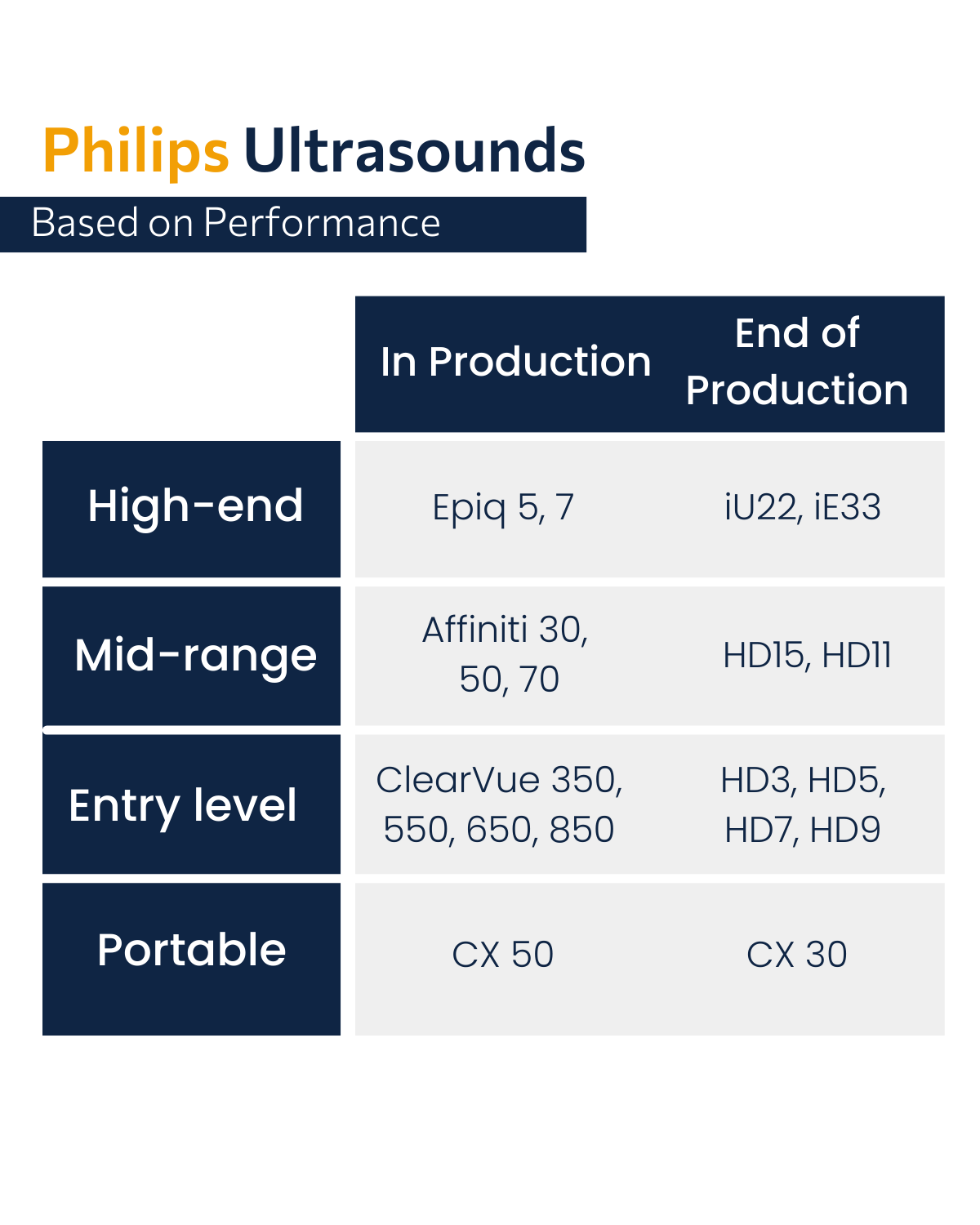 Popular Philips Ultrasounds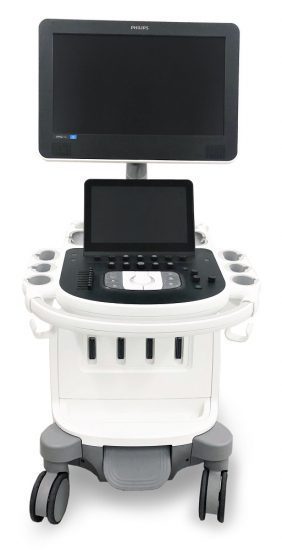 Philips Epiq 5
The Philips Epiq 5 is a Premium cardiology ultrasound system with several great features.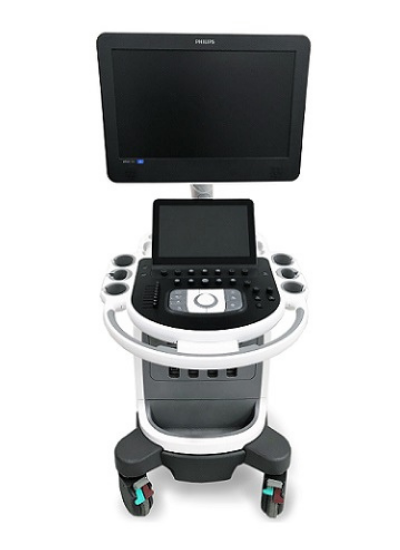 Philips Affiniti 70
An excellent ultrasound that delivers outstanding image quality and fast perfomance.
The last from the ultrasound machine brands we will talk about is Canon Medical (former Toshiba). As the previously mentioned brands, Canon provides excellent image quality to ensure accurate diagnosis in all medical settings.
Canon's product portfolio consists of two different ultrasound families: Aplio and Xario. The Aplio and Xario series include standard ultrasounds that can be divided into categories based on their performance.

The Xario Series
The Xario series consists of entry-level systems such as Xario 200, 200g, 100g, and 100 MX. These are budget-friendly ultrasounds that deliver good image quality.

The Aplio Series
The Aplio product line includes ultrasounds for all applications. The most widely available ultrasounds on the secondary market are Aplio 300, Aplio 400, Aplio 500, and Aplio 500 Platinum which are all mid-range ultrasounds.
When the Aplio series was launched in 2011, it meant a huge leap forward in Canon's ultrasound imaging, due to the inclusion of impressive features. Since then, the Aplio family developed even further, including series such as the Aplio i (Aplio i600, i700, i800, and i900) as well as Aplio a (Aplio a450 and a550).
These are the top of the line Canon ultrasounds.
They provide crystal-clear images, outstanding clinical accuracy and increase the productivity of any medical department.
Finally, Canon also produces portable ultrasound – Viamo c100.
Canon designed their ultrasounds for general imaging, hence, you can use them in all standard applications, such as:
OB/GYN, vascular, abdominal, small parts (breast, thyroid, etc.), MSK/Anesthesiology, and urology.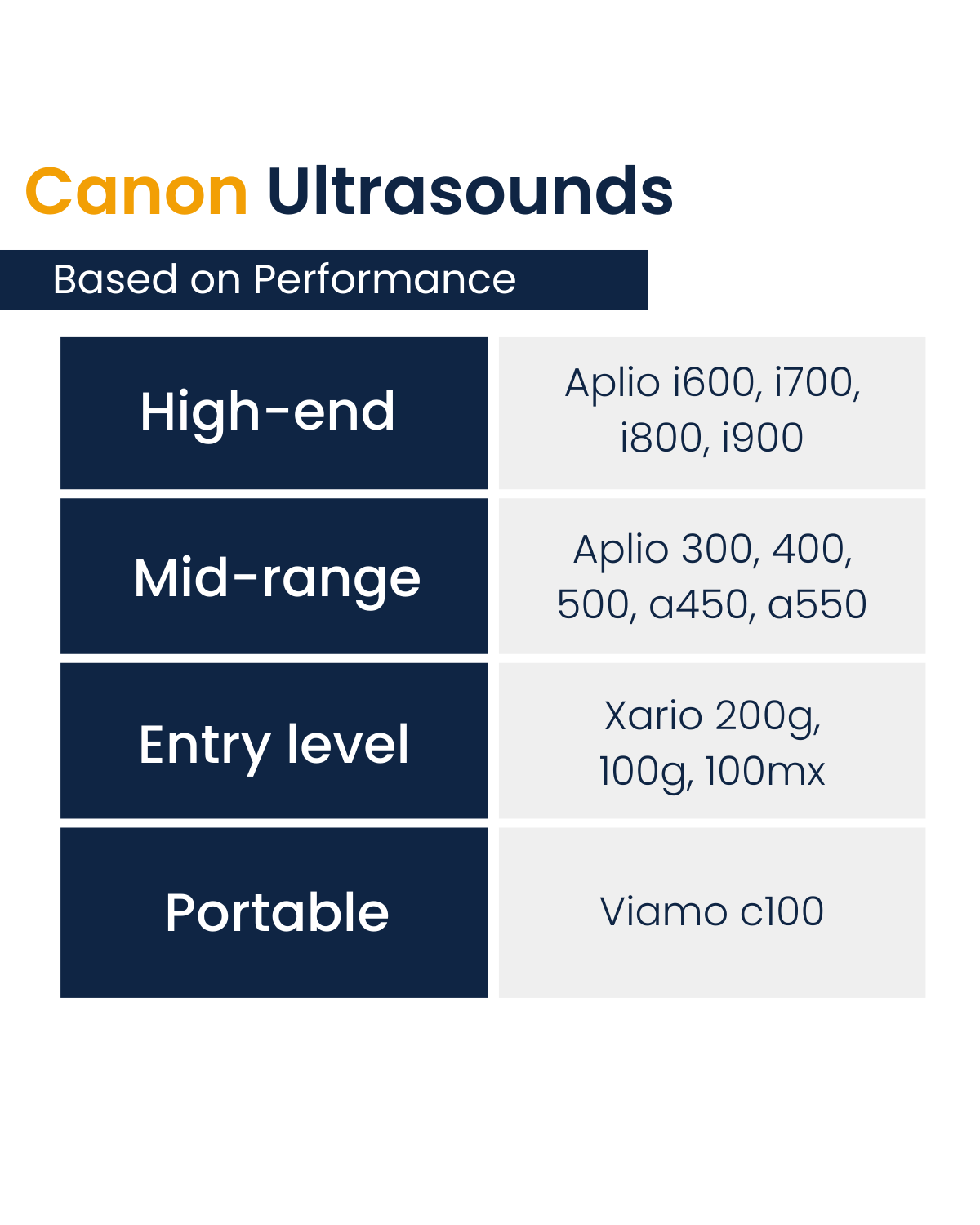 Sum Up: Ultrasound Machine Brands and their Series
We hope that it is now clear how the different brands categorize their ultrasound.
Just to sum it up:
While GE categorizes them based on their applications, Siemens, Philips, and Canon divide them into series based on their advancements – high-end, mid-range, and entry-level.
To give you an idea of how the different series from these ultrasound machine brands compare to each other, see the matrix that shows general imaging ultrasounds below.
Keep in mind that we only present ultrasounds available on the secondary market.
What is Next?
If you would like to learn even more about ultrasounds, you can sign up for our ultrasound e-mail course. In multiple e-mails, this course will guide you through several themes related to your next ultrasound purchase.
Which Canon Aplio System to Get? (Comparison)
Find out what Aplio system from Canon matches your needs. Is it the Aplio 500, Aplio 400 or Aplio 300?
Guide to How to Pick Your Next Ultrasound
This guide offers an extensive overview of the many things you can consider when you are looking to buy an ultrasound.