Specifications
Request a quote
Description
In stock
Specifications for the Samsung HS30
YOM: NEW
Software Version: 1.02.00f
Application: General Imaging
Options Installed: System Activation, Windows 10
Request a quote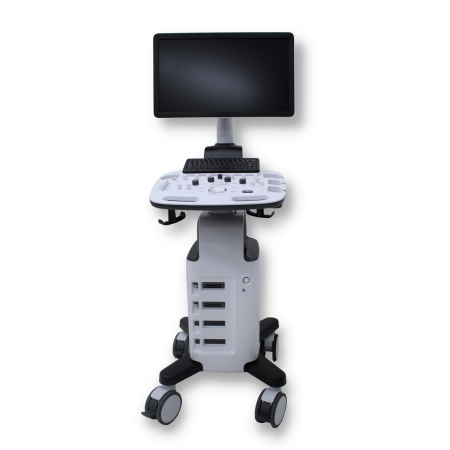 Samsung HS30 – General Information
The Samsung HS30 Ultrasound machine revolutionizes patient exams with its advanced features, ensuring efficient and accurate diagnoses. Designed for healthcare professionals, this cutting-edge imaging device improves productivity and offers a comfortable scanning experience. With the HS30, you can deliver effective and high-quality care to your patients.
This system's ClearVision technology enhances image quality by reducing noise and producing clear 2D images. It optimizes images for specific applications and provides real-time scanning with excellent resolution.
Further, with the HS30, you can detect even the smallest blood vessels in the periphery with S-Flow™, a powerful directional Power Doppler imaging technology. It enhances your ability to examine vascular structures with precision and accuracy.
You will experience precise diagnosis with advanced imaging technologies such as:
S-Harmonic™: This technology reduces signal noise and provides clear images throughout the imaging depth, ensuring uniform ultrasound images.

MultiVision: Electronically controlling the ultrasound beam and combining multiple scan lines, MultiVision offers high-resolution images with improved spatial resolution, contrast, and artifact suppression.

Strain+: Evaluate left ventricle motion with Strain+, which provides quantitative measurements. Assess global and segmental wall motion for accurate clinical decisions.
As if this was not enough, you can streamline your workflow and enjoy user-friendly design due to features such as:
Panoramic+: View wide areas that don't fit into a single image with Panoramic+ imaging. It supports angular scanning and enhances your ability to visualize anatomical structures.

NeedleMate+™: This feature aids needle targeting during intervention procedures, ensuring precise placement and reducing patient discomfort.

BiometryAssist™: Simplify fetal growth measurements with one-click measurement of important parameters, such as BPD, HC, AC, and FL. It ensures consistent and reliable measurements for improved exam efficiency.

LaborAssist™: Monitor delivery progress with automatic measurement of Angle of Progress (AoP) and the direction of the fetal head. It supports effective communication and informed decision-making.
With the Siemens HS30, you will be able to use powerful 3D imaging and intuitive workflow with 3D XI. You will gain precise control over 3D/4D volume data manipulation which enhances diagnostic accuracy and detailed visualization.
There are also a wide range of additional features in this system. These allow easy operation and image accessibility. For example, you get the EzAssist™ which is meant to simplify ultrasound scanning for untrained users with on-screen anatomical information.
Also, you get the EzCompare™ feature which lets you access and compare previous exams with ease using side-by-side displays that automatically match image settings, annotations, and body markers.
Discover the Samsung HS30 Ultrasound machine and experience the next level of efficiency and accuracy in patient exams. Improve your facility's imaging capabilities and provide exceptional care to your patients with the advanced features of the Samsung HS30 Ultrasound.
If you are curious about what other ultrasounds we offer at LBN Medical – hop on over to our website to see what Samsung Ultrasounds are in stock. Or, maybe you would like to get a guide to Ultrasound Machine Price?
Request a quote
Request a quote for the Samsung HS30
LBN Medical is here to serve. Please fill out the contact form below and we'll get back to you as quickly as possible.