Specifications
Request a quote
Description
In stock
Specifications for the Samsung HS60
YOM: 2019
Software Version: 2.01.00
Options Installed: 4D, 3D XI, Dicom, HDVI, Realistic Vue, 2D NT, 3D MXI
Request a quote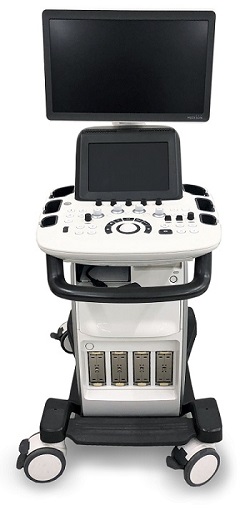 Samsung HS60 – General Information
Samsung HS60 is created by Samsung's 30 years of expertise in diagnostic solutions and capabilities in ultrasound imaging. It combines high-quality imaging with improved features to help enhance the efficiency of healthcare professionals.
This ultrasound machine is powered by CrystalLive™, which offers advanced volume image performance with enhanced 2D image processing and 3D rendering with colour signal processing.
Crystal Clear Cycle™ provides diagnostic solutions tailored to six different health events in women's life: 
Family Planning

Healthy Pregnancy: Biometry

Healthy Pregnancy: Diagnosis

Healthy Pregnancy: Visualisation

Healthy Birth

Gynecology & Breast Health
The SH60 has innovative S-Vue™ transducers (CA1-7AD, CA2-9AD, CV1-8AD, PA1-5A) that enable higher quality due to the wider bandwidths that provide better penetration. QuickPreset enables you to easily switch between transducers with one touch.
The Samsung HS60 is designed for the convenience of healthcare professionals too. It has a 12.5-inch full HD LED monitor and a 10.1-inch touchscreen. EzCompare™ allows you to access and assess between two different exams and display the findings on the side-by-side monitors.
The ultrasound machine has reduced weight and its compact size allows you to park it in small places. A gel warmer can be kept on both sides of the control panel and for the fast processing speed and boot-up, it comes with Solid State Drive (SSD).
Furthermore, the Samsung HS60 can be operated on battery power by its Battery Assist system. Also, it can use sleep mode without the need of having to shut down or restart the ultrasound. Additionally, a printer can be placed under the displays.
HelloMom™ is a secure image sharing application that can be accessed by a generated QR code for selected images that were taken during the examination. This way images can be easily accessible by the pregnant woman and her family by using their smartphones.
If you are interested in learning more about LBN Medical or our products, please visit our  Learning Center about ultrasound machines or our YouTube Channel.
Request a quote
Request a quote for the Samsung HS60
LBN Medical is here to serve. Please fill out the contact form below and we'll get back to you as quickly as possible.