Specifications
Request a quote
Description
In stock
Specifications for the GE Voluson E8
YOM: 2019
Software Version: BT19
HW Accessories: BW Printer, FootSwitch
Application: 4D OB/GYN
Options Installed: Advanced 4D, HDLive Studio, Advanced VCI, DVD & USB Recorder, IEC62359 Ed.2, SonoAVC, SonoCNS, IETA, IOTA Adnex, BT Activation
Request a quote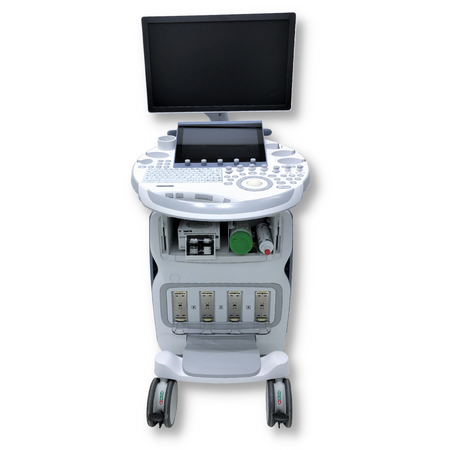 GE Voluson E8 – General Information
The GE Voluson E8 series is a comprehensive range of ultrasound machines that cater to the needs of Women's Health professionals. It is designed with user comfort and ergonomic working positions in mind, suitable for all users. The systems' design makes them easy to move around. The control panel height is easily adjusted to fit each individual user, and the display is on an articulating arm, ensuring a comfortable working position for all users.
The newer series includes the GE Voluson E8 BT15, BT16, BT17, BT18, BT19, and BT20 models. Each model offers unique features and capabilities, designed to optimize workflow, increase accuracy, and improve patient care.
The GE Voluson E8 BT20 is the latest addition to the series and offers state-of-the-art features that enhance image quality and workflow efficiency. The system comes equipped with innovative technologies, including the new Radiance System Architecture, which enables higher processing power, increased data storage, and faster image rendering.
The BT20 model also features advanced tools designed to support clinicians in the detection and diagnosis of fetal heart conditions. These tools include Fetal Heart STIC, Fetal Heart eSTIC, and Advanced STIC, which provide volumetric imaging of the fetal heart and enable detailed analysis of cardiac function.
These systems feature innovative technologies such as HDlive, which provides exceptional anatomical realism, and SonoRender Start, which allows for easy and quick 3D/4D imaging. Additionally, the series offers a range of advanced tools designed to support clinicians in the diagnosis of various gynecological conditions.
In conclusion, the GE Voluson E8 series is a top-of-the-line range of ultrasound machines designed to meet the diverse needs of Women's Health professionals. With advanced features, ease of use, and user-friendly design, these systems offer exceptional imaging quality, accuracy, and efficiency, making them an ideal choice for any Women's Health practice.
We also have a blog post about ultrasound pricing if you would like to know what budget you should have ready for your next ultrasound purchase.
You can also learn more about us and what we can offer on our Youtube Channel.
Request a quote
Request a quote for the GE Voluson E8
LBN Medical is here to serve. Please fill out the contact form below and we'll get back to you as quickly as possible.
Comparison of the GE Voluson E8 and E6, Presented by Junfeng Song, Ultrasound Product Manager