Siemens Acuson S3000 HELX
Specifications
Request a quote
Description
Ask for availability
Please fill in the

contact form

for more information on availability on the Siemens Acuson S3000 HELX. In case it is not in stock we can source it for you through our network of trusted suppliers.
Request a quote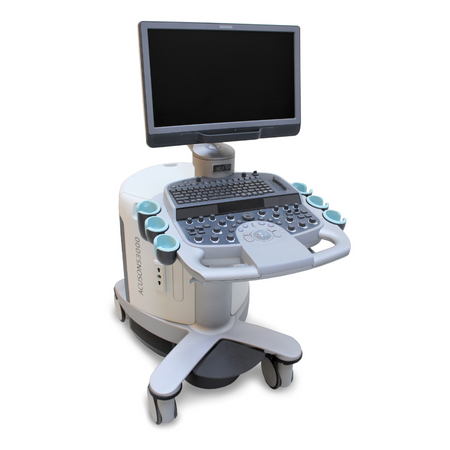 Siemens Acuson S3000 HELX – General Information
The Siemens S3000 is the new premium ultrasound system from the Siemens Acuson Family.
The Siemens S3000 is the new premium ultrasound system from the Siemens Acuson Family. It is the most advanced Acuson ultrasound and delivers excellent images, superior workflow, and new innovative technological solutions. Hereby, it ensures diagnostic confidence for all users. Dedicated to General Imaging and Interventional Radiology it has the latest options, including Multimodality Review and eSieFusion. Furthermore, it has a full package of elastography and shear wave applications.
Multi-modality review enables healthcare professionals to view CT, MRI, ABVS, and mammography images side by side with the ultrasound images they are obtaining. Thereby, it offers increased efficiency of follow-up exams, as they do not have to transfer all images to a separate workstation.
Furthermore, the eSieFusion performs the 3D alignment – merging static multi-modality volumes to real-time ultrasound.
This was the hardest and most time-consuming part of using fusion, therefore, it dramatically enhances diagnostic confidence and reduces time used on these procedures.
Additionally, the Siemens S3000 comes with an extensive suite of elastography applications. These allow clinicians to accurately assess lesions and tissue stiffness. They offer quantitative and qualitative validation of the diagnosis, and hereby increase patient care. Moreover, the Virtual Touch IQ strain application lets clinicians review colour-coded tissue stiffness maps and shear wave velocity measurements simultaneously.
Several technologies combined provides the exceptional image quality of the Siemens Acuson S3000. For instance, Hanafy lens technology, that ensures high quality along the entire field of view. And the micro pinless transducer connector technology enables transfer of a high-quality signal. Additionally, the transducers themselves, that deliver higher contrast resolution and tissue differentiation.
These features together make the Siemens Acuson  S3000 a very advanced premium ultrasound system. Therefore, it is comparable to the GE Logiq E9, and the Toshiba Aplio 500.
Learn more about the Acuson S series in our article: Siemens S1000, S2000, and S3000 – Which one to get.
You can also visit our Youtube Channel for more information about us and the products we provide.
Request a quote
Request a quote for the Siemens Acuson S3000 HELX
LBN Medical is here to serve. Please fill out the contact form below and we'll get back to you as quickly as possible.
Refurbished Siemens Ultrasounds - New Product Line from LBN Medical