Specifications
Request a quote
Description
Ask for availability
Please fill in the

contact form

for more information on availability on the Philips Epiq 7. In case it is not in stock we can source it for you through our network of trusted suppliers.
Request a quote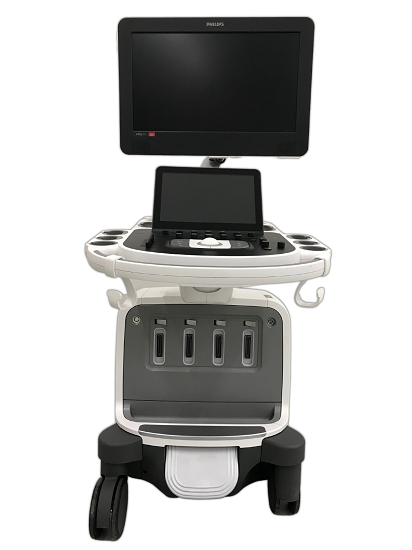 Philips Epiq 7 – General Information
The Philips Epiq 7 is a premium system that offers a high level of clinical performance to meet the challenges of today's most demanding practices. Moreover, this system is the successor of the iE33 and iU22 and it comes with xMATRIX leading-edge technology.
The xMATRIX technology is a versatile ultrasound transducer technology. Thanks to that, the Philips Epiq 7 can run the complete suite of the world's most innovative transducers.
According to Philips, this system has the most powerful architecture they have ever applied to an ultrasound – the nSIGHT imaging architecture. When the system was developed, the nSIGHT Imaging Technology was a completely new approach to creating ultrasound images without compromise. In addition, this technology creates images with optimal resolution down to the pixel.
The nSIGHT Imaging uses a precision beamformer along with powerful massive parallel processing. This exceptional architecture captures acoustic data and then reconstructs in real time optimally focused beams to create the exact resolution for each pixel in the image.
Furthermore, this system provides exceptional penetration at higher frequencies even on difficult patients. And you can visualize extraordinary levels of detail and contrast resolution. This is possible through the ultra-wide dynamic range and unique beam reconstruction that strengthens exceptional tissue information at greater depths with less noise.
Finally, the quality of the images produced by the Philips Epiq 7 is breath-taking. When comparing this system to conventional premium systems, you can see how advanced the Philips Epiq 7 is. The increase in penetration is up to 76% and the increase in temporal resolution is 213%.
Would you like to know more about this system or its predecessor – the Epiq 5? Then send us an e-mail and we will get back to you.
Request a quote
Request a quote for the Philips Epiq 7
LBN Medical is here to serve. Please fill out the contact form below and we'll get back to you as quickly as possible.