Specifications
Request a quote
Description
Ask for availability
Please fill in the

contact form

for more information on availability on the GE Logiq E. In case it is not in stock we can source it for you through our network of trusted suppliers.
Request a quote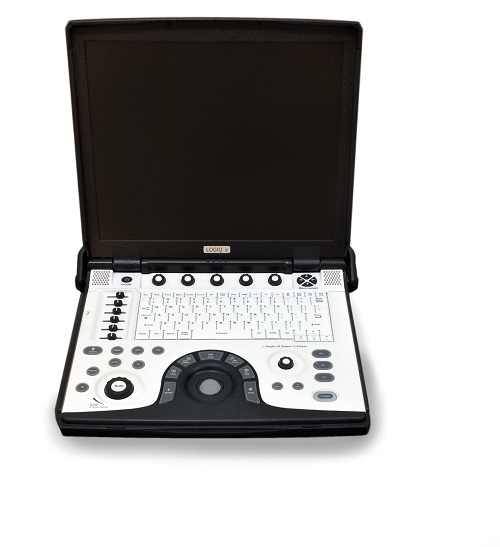 GE Logiq E – General Information
The GE Logiq E is one of the world´s most famous and bestselling mid-range portable ultrasounds. This battery-powered portable version of the GE Logiq line replaced the older versions with a more standard laptop style form. Moreover, is a high performance multipurpose imaging system. GE has designed this ultrasound for cardiac, abdominal, obstetrics, gynecology, vascular, musculoskeletal, small parts, pediatric, neonatal, and intraoperative applications.
Even though the GE Logiq E is a used system, it remains popular due to the great balance between price, performance, and features. Since its launch, it has been an affordable solution for a quality, feature-laden portable ultrasound machine. It has true Shared Services capabilities with a stress echo option. In addition, it is a compact system which raises the bar on image quality. For a long time the Logiq E was known as the only portable ultrasound in its class/price range that has truly good image quality in all applications. At the same time, it is easy to operate with both basic scanning and advanced imaging.
With the Logiq E you have the freedom to manually optimize images or take advantage of dedicated imaging settings by anatomy. You can scan the way you prefer. Another benefit of the GE Logiq E is that it is highly customizable. It allows you to customize all aspects of image quality, annotations, presets, programmable buttons, etc. This ultrasound machine is also fully digital and enables export to external hard drive, network, flash drive, and DVD.
The system has many advanced imaging features, such as Power Doppler Imaging sensitivity which helps with detecting slow blood flow. Also, easy 3D allows you to scan and reconstruct a volumetric image, and B-Color lets you add tints to grayscale to enhance contrasts.
Request a quote
Request a quote for the GE Logiq E
LBN Medical is here to serve. Please fill out the contact form below and we'll get back to you as quickly as possible.