Specifications
Request a quote
Description
In stock
Specifications for the GE Vivid S70
YOM: 2015
Software Version: R1
Application: Cardio-Vascular
Request a quote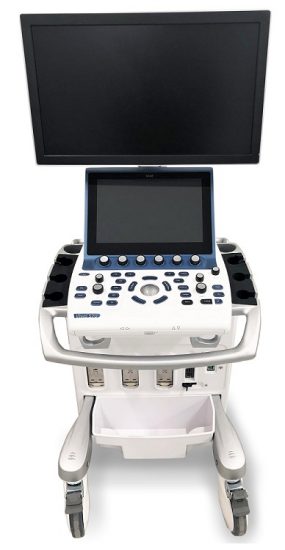 GE Vivid S70 – General Information
The GE Vivid S70 is a robust cardiovascular ultrasound system. This machine comes with an exceptional 2D TTE application that enables to scan various body types, even those with special conditions. Moreover, the system offers a 4D TEE option that expands the clinical application of interventional cardiac procedures. Additionally, it can help to lower non-diagnostic exams and to improve patient care.
This ultrasound system comes with a new software-based imaging platform called cSound that brings flexibility and great performance. Hence, this ultrasound machine delivers an outstanding image quality with a superior 2D visualization including an advanced color flow.
The GE Vivid S70 has several other great features. For instance, the ergonomics of the machine is designed for reliability that makes the system very easy to use, including easy mobility with smart standby. Moreover, it has a FlexFit option that improves a control panel and monitor which brings comfort and convenience to users.
To conclude this, the GE Vivid S70 helps to figure out and identify cardiovascular issues. All in all, the system performs quickly and brings clear and precise results. Furthermore, it provides a great patient care.
Every ultrasound machine has a transducer which needs good protection and care. Therefore, we encourage you to read an article about ultrasound probe protection.
Get in touch with LBN Medical team for additional information. We are here to help you.
Request a quote
Request a quote for the GE Vivid S70
LBN Medical is here to serve. Please fill out the contact form below and we'll get back to you as quickly as possible.