Canon Aplio 500, Aplio 400 and Aplio 300 Comparison (Which One to Get)
If you are wondering how the ultrasounds in the Aplio series – Aplio 500, 400, and 300 – differ, you have come to the right place.
At the end of this article you will know the differences and similarities of these general imaging models and know which one fits your needs and your budget.
You can also simply check the table at the end of the article. It explains the differences in configurations of the three.
If you would like to learn even more about ultrasounds to prepare yourself for choosing a model, you can also sign-up for our mail course.
You will also receive an e-book: Guide to Ultrasounds, it only costs your mail address.
Get the Ultrasound mail course
Aplio 300
This ultrasound is the most affordable from the Aplio series.
It is also the smallest and the lightest, as it was designed to increase the mobility of the healthcare professionals, while performing examinations.
The Aplio 300 provides high performance and is both scalable and versatile, you can utilize it in a wide range of clinical specialties.
Furthermore, this system is cost-effective and great for day to day operations.
How much would you need to pay for a pre-owned Aplio 300 excluding probes? Typically around 15.000 euros.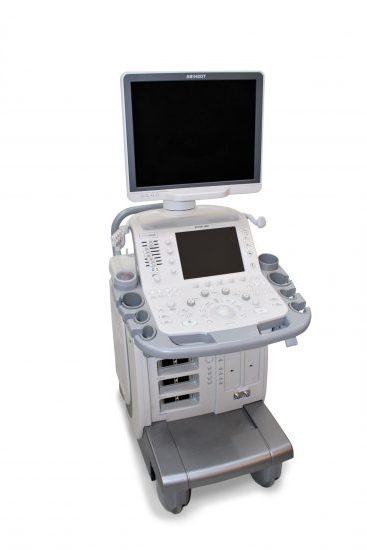 Aplio 400
So, let's move onto the Aplio 400. This ultrasound has slightly more features, and is a shared service system.
Furthermore, the Aplio 400 will meet your day to day demands with ease.
Canon designed this system to grow with your practice as your patient workload develops or changes.
Thanks to its software-driven raw data platform, you can add advanced clinical applications to the Aplio 400 as you need it.
It has 4 active transducer ports as well as the Differential THI as a standard. Moreover, it has configurations that are not available on the Aplio 300.
Such as Premium Imaging Package, and Tissue Specific Imaging Optimization (TSO).
Therefore, it also has a sligthly higher cost, around 15 – 20.000 euros excluding probes.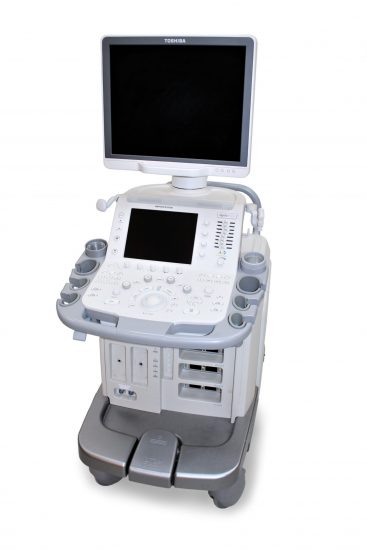 Aplio 500
The best ultrasound of the three is the Aplio 500. This system offers excellent image quality and outstanding performance.
It is also the most expensive. A pre-owned system excluding probes costs up to 25.000 euros.
What makes it better?

This ultrasound offers the best of their technologies.
For instance: ShearWave Elastography, and Smart Fusion multi-modality comparison, which enables users to merge CT or MRI images with the ultrasound image in real-time.
As you can see, this was designed for advanced applications.
Nevertheless, many of those you might not need in standard examinations.
Most commonly, you will find this system in leading imaging centres or in medium to large hospitals.
Sum up
All three, the Aplio 500, 400, and 300, are general imaging mid-range ultrasounds that deliver superior image quality with outstanding depth and detail, along with automated features that bring their efficiency to a new level.
And they are all great at radiology. Before we sum up their main differences, watch our presentation of the Aplio 300 and 500.
Main differences
The Aplio 300 is a system with the smallest footprint, lowest cost, and with the least features. If you have a clinic or a small to medium size hospital and your budget is limited, this is the right system for you.
Subsequently, the Aplio 400 has more features and a medium price. It fits perfectly to busier clinics and hospitals
Finally, the Aplio 500 is the best of the three ultrasounds. This system comes with great features, at a higher price. Therefore, it is ideal for imaging centres or busy medium to large hospitals.
Read our guide to ultrasounds to get a more extensive info about ultrasounds. Or get it as an e-book below.
And, as promised, an easy overview of the standard and optional features of each model: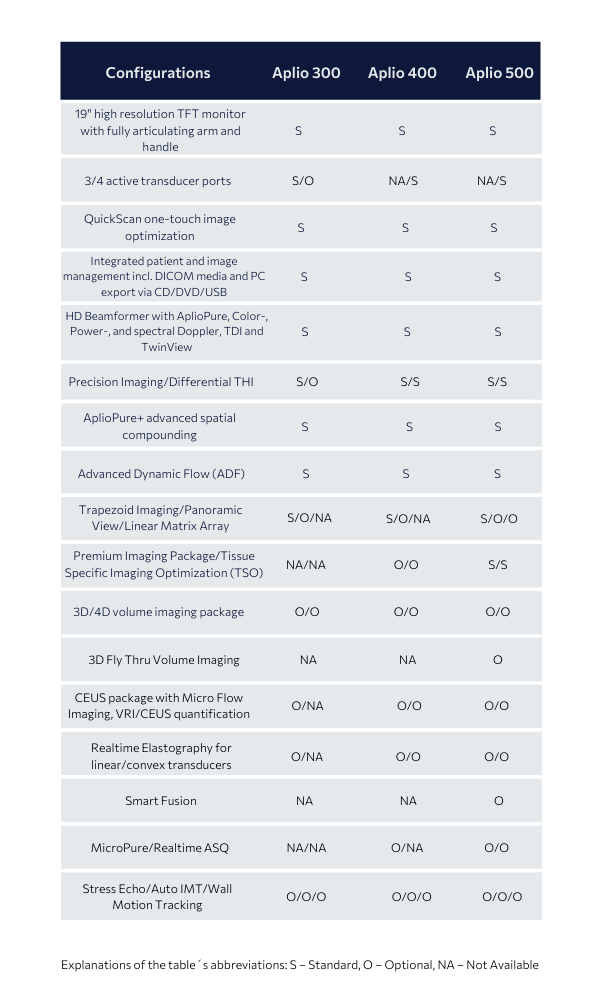 What is next?
If you would like to learn even more about ultrasounds, you can sign up below to receive an e-book: 'How to pick your next ultrasound' and become part of our ultrasound e-mail course.
In multiple e-mails, this course will guide you through several themes related to your next ultrasound purchase.
Guide to Your Next Ultrasound
This guide to ultrasound machines offers an extensive overview of the many things you can consider when you are looking to buy an ultrasound.
How Much Does an Ultrasound Cost?
Learn about ultrasound pricing based on system's performance and conditions.