Specifications
Request a quote
Description
Ask for availability
Please fill in the

contact form

for more information on availability on the GE Vivid Q. In case it is not in stock we can source it for you through our network of trusted suppliers.
Request a quote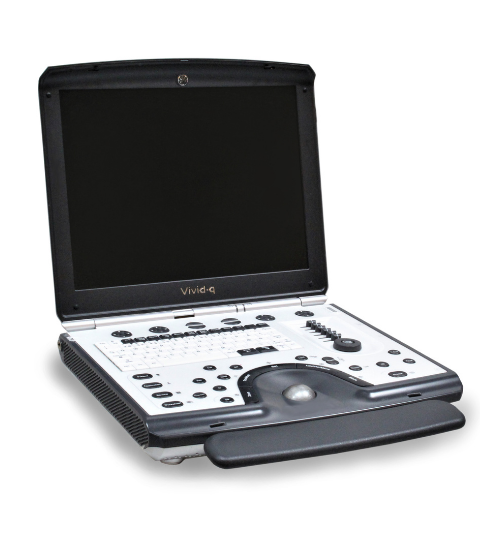 GE Vivid Q – General Information
The Vivid Q is GE's top-of-the-line portable cardiac ultrasound system. It extends the reach of medical professionals to help diagnose cardiovascular anatomy and LV function. That has been accomplished by adding more quantitative tools and pushing the boundaries with exceptional levels of image quality. Furthermore, the Vivid Q provides you with accuracy and diagnostic confidence. And at the same time, the system gives you the opportunity to increase your productivity.
Moreover, the system builds on many innovative features and technologies of the Vivid I. However, the Vivid Q has a higher performance and new quantitative analysis tools. It also features high-end technologies, such as the M4S-RS and Automated Ejection-Fraction Calculation which can be found in the GE Vivid 7 and GE Vivid E9. The matrix probe technology of the M4S-RS transducer allows electronic beam focusing in three dimensions, enabling higher image quality.
In addition, there are other features and clinical tools, including Coded Octave imaging which takes GE's image quality to the next level. It enhances the images for color flow and Doppler imaging. Furthermore, the Smart Depth feature automatically adapts imaging parameters to help operators save time and increase standardization among users. Lastly, the Smart Stress feature improves workflow, shortens optimization time and supports reproducibility for review, wall-segment scoring and reporting.
As the Vivid Q is a compact, laptop size, and lightweight, it becomes easy to take exceptional ultrasound imaging performance to any clinical environment. It is a portable ultrasound that offers on-the-go doctors what they need most. And that is an excellent image quality in a sturdy mobile workstation. Therefore, Vivid Q and the whole GE Vivid Ultrasound line has become one of the most reliable systems medical professionals trust.
Request a quote
Request a quote for the GE Vivid Q
LBN Medical is here to serve. Please fill out the contact form below and we'll get back to you as quickly as possible.