Siemens Acuson SC2000
Specifications
Request a quote
Description
Ask for availability
Please fill in the

contact form

for more information on availability on the Siemens Acuson SC2000. In case it is not in stock we can source it for you through our network of trusted suppliers.
Request a quote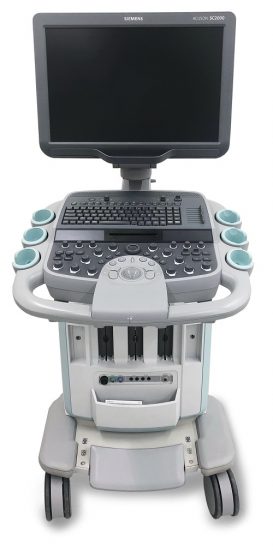 Siemens Acuson SC2000
The Siemens Acuson SC2000 is a great ultrasound system that is mainly used as a cardiac ultrasound and captures the whole heart. However, it is also a good system for vascular and abdominal imaging. Moreover, this machine is able to capture full volume and outstanding real time cardiac images in one heart cycle. It processes a great amount of diagnostic information to optimize workflows and ease examinations with rapid and reliable imaging. The Acuson sc2000 price is between 8.000 to 20.000 Euros on the used market.
Automated workflows and an intuitive user interface is crucial for effective examinations. The SC2000 ultrasound have automated one-click measurements for several modes, incl. 2D and 3D. Furthermore, it comes with easy protocol acquisitions to further increase effectivenss and patient flow.
Additionally, the Siemens Acuson SC2000 comes with a range of highly demanded options such as True Volume Doppler. This is a software that offers a comprehensive analysis of flow and function throughout the heart.
Newer versions also come with several great options such as: the eSie LVA Volume LV Analysis that is a powerful knowledge-based application that helps decreasing exam time and improving the results. Secondly, the Volume Right Ventricular Analysis that guides the user step-by-step for the complex right ventricular analysis. Lastly, the eSie PISA™ Volume Analysis that is the volume flow analysis technology that shows the volume PISA (Proximal Isovelocity Surface Area) results in just 2 clicks.
In conclusion, the SC2000 is lightweight, compact, and user-friendly, that provides workflow ease and effectiveness, which brings an outstanding cardiac imaging with fast results.
Learn more about the ultrasound price range, and its probes.
If you would like to know more, please contact us. We would be happy to provide more details about this ultrasound system and any other medical imaging equipment. You can call us using the call button or reach us through the contact form.
Request a quote
Request a quote for the Siemens Acuson SC2000
LBN Medical is here to serve. Please fill out the contact form below and we'll get back to you as quickly as possible.
Ultrasound Machine Price - How To Determine the Cost of an Ultrasound System?