Philips ClearVue 850
Specifications
Request a quote
Description
Ask for availability
Please fill in the

contact form

for more information on availability on the Philips ClearVue 850. In case it is not in stock we can source it for you through our network of trusted suppliers.
Request a quote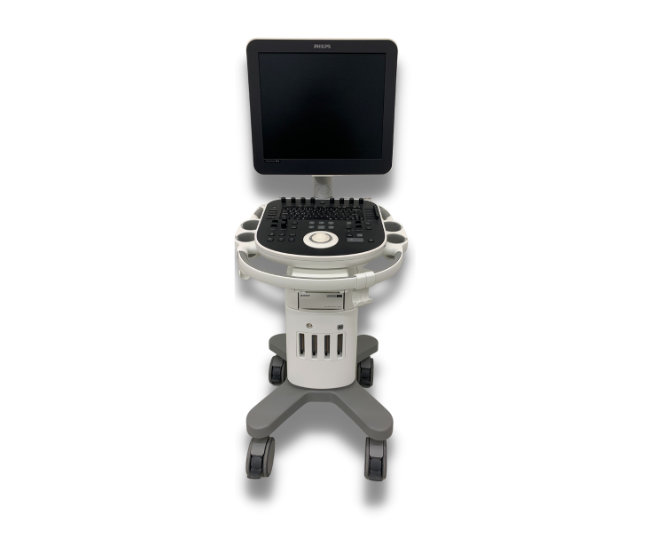 Philips ClearVue 850 – General Information
Philips ClearVue ultrasound family series was designed based on the opinion of healthcare professionals. It is built to deliver quick and efficient results to patients and ultrasound professionals as well.
The Philips ClearVue 850's advanced system is specialised in Women's Health, but it can also be used in vascular, cardiac, and echo exams. 
The ClearVue system works on low power consumption to help you save on your energy. This ultrasound machine is light and easy to move from room to room.
The high-resolution 19″ LCD colour monitor has an articulating arm and it can also be tilted and swiveled. This ultrasound machine comes with many advanced technologies. For example, the Active Array, which provides real-time scanning and superb image quality in both 3D and 4D.
Other features that you can find on the Philips ClearVue 850 are:
AutoSCAN, Fetal STIC, ROI, FloVue, and more. 
AutoSCAN automatically identifies tissue type and continuously adjusts image quality. 
Fetal STIC captures multiple volumes and synchronises them based on a calculated heart rate. 
You can display the resulting volume images in user-selectable views and interrogate them in real time for a more complete assessment of fetal heart anatomy and function.
With the curved ROI 3D editing tools, you are able to set the ROI top edge in the form of a curve in either 3D Preview/Render.
The Philips ClearVue 850 has similar architecture as the ClearVue 650, however, this model has an ergonomically advanced console for user height adjustment and comfort. Furthermore, it strains elastography to evaluate tissue stiffness. FloVue's progressive imaging mode contributes to direct visualisation of blood flow in the vasculature and the iSlice presents a quick volumetric display.
Other members of the Philips ClearVue family are the ClearVue 350, ClearVue 550, and ClearVue 650. To learn more about their availability, feel free to reach out. 
For further information on LBN Medical, please visit our website or read about different ultrasound machines in our Learning Centre. You can also check our Youtube channel for different videos about medical imaging systems.
Request a quote
Request a quote for the Philips ClearVue 850
LBN Medical is here to serve. Please fill out the contact form below and we'll get back to you as quickly as possible.