Specifications
Request a quote
Description
Ask for availability
Please fill in the

contact form

for more information on availability on the GE Voluson I. In case it is not in stock we can source it for you through our network of trusted suppliers.
Request a quote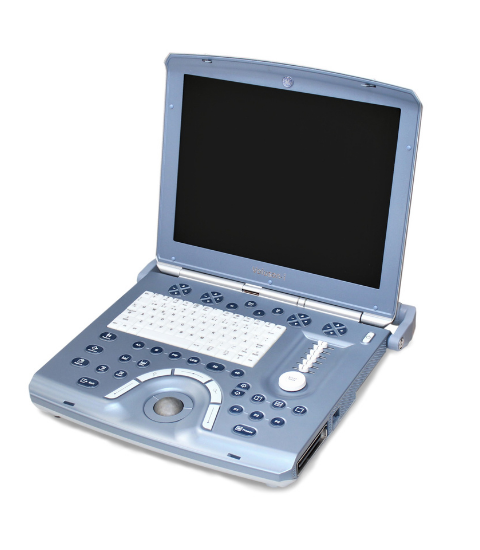 GE Voluson I – General Information
The Voluson i was the world's first compact volume ultrasound system. However, it has the imaging performance of a full-sized Voluson ultrasound system. So, if you think you need a 300-pound system to get a high-quality volumetric imaging, think again.
With the Voluson i, volume is everything. It delivers incredible image quality and volume capabilities, alongside a stunning image clarity. Furthermore, it has real-time volumetric images and advanced diagnostic capabilities both online and offline. And in addition to this, it delivers total portability with workflow efficiency.
In other words, this compact ultrasound comes loaded with Volume Ultrasound capabilities. Enabled by 3D and 4D technologies, it allows you to acquire, navigate, optimize, and analyze volumetric images in real-time. For example, raw volumetric data can be analyzed in different planes after your patient leaves. This enables reconstruction of the exam instead of rescanning the patient. And by integrating Volume Ultrasound with the Voluson i and its sophisticated image optimization tools, you can clearly see the smallest details from any plane with unprecedented clarity.
The GE Voluson i is equipped with SRI, short for Speckle Reduction Imaging. It improves the contrast resolution for a better border detection. Also, for tissue and border differentiation, it uses CossXBeam so you no longer have to make the trade-off between size and quality. Furthermore, you can acquire volumes very fast and manipulate with Tomographic Ultrasound Imaging. This provides a simultaneous view of multiple slices of your volume data.
To summarize, the GE Voluson i is a powerful compact volume ultrasound machine. It offers incredible image quality and volume capabilities – All of which you can easily take with you hence its portability. Additionally, it has an outstanding workflow efficiency. In short, it's truly a small wonder.
Contact us for more information on this model or other comparable models that might also fit you.
If you want to learn more about some of the popular portable ultrasound models we recommend our article – Best Portable Ultrasound Machines.
Request a quote
Request a quote for the GE Voluson I
LBN Medical is here to serve. Please fill out the contact form below and we'll get back to you as quickly as possible.
Presentation of the Voluson E and I