Specifications
Request a quote
Description
Ask for availability
Please fill in the

contact form

for more information on availability on the GE Voluson E. In case it is not in stock we can source it for you through our network of trusted suppliers.
Request a quote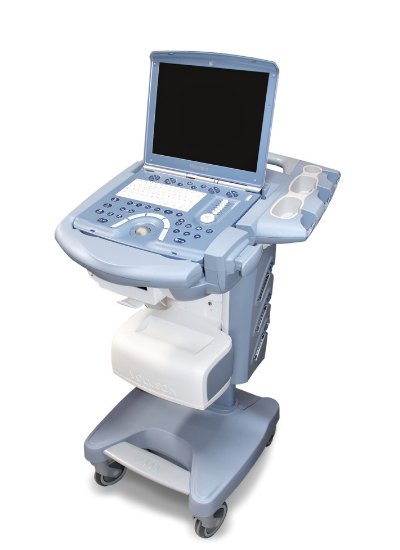 Voluson E – General Information
The GE Voluson E is a portable ultrasound offering the best 4D image quality currently available in a portable machine. It belongs among Volume Ultrasound from GE and it is a scaled down version of the Voluson I, therefore, it has less probes and features.
This system is a compact solution that makes volume imaging available to a wider range of practitioners than before. Its light, portable package provides flexibility to serve your patients in any care environment. Ergonomic design makes it easy for your staff to use. Most of all, you get amazing image performance that improves your diagnostic confidence. In short, just what you expect from a Voluson ultrasound unit.
When you integrate Volume E into your daily operations, you will clearly see even the smallest anatomical details with extraordinary clarity. The system can be also equipped with optional features. Hence, you can capture volumetric data in one simple sweep across the target anatomy.
The Voluson E lets you reconstruct and analyze the examination anytime and anywhere. As if the patients were still in the room. You can process the information in different planes, examine images using multiple views, take measurements, and more. As a result, you are reducing rescans and saving patients´ and your own time.
Moreover, 4D Imaging provides the ability to see three-dimensional movements in real-time and gives you more and better information for the right clinical decision.
Another feature available on the Voluson E is Speckle Reduction Imaging (SRI). The SRI suppresses speckle artifact without obscuring true tissue architecture. You can see organs, tissues, lesions, and borders with great clarity and resolution.
For more information about the product and its features, contact our sales department.
If you want to preapre yourself well for your next ultrasound purchase, we recommend our new article – Guide to Ultrasound Systems.
It covers brands, probes and other accessories, price ranges and more.
Request a quote
Request a quote for the GE Voluson E
LBN Medical is here to serve. Please fill out the contact form below and we'll get back to you as quickly as possible.
Voluson E and I Presentation - LBN Medical