Specifications
Request a quote
Description
Ask for availability
Please fill in the

contact form

for more information on availability on the GE Vivid E9. In case it is not in stock we can source it for you through our network of trusted suppliers.
Request a quote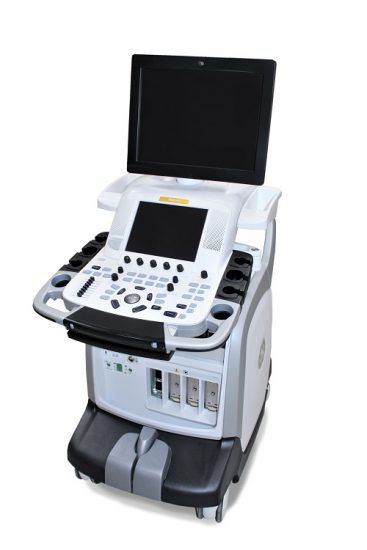 GE Vivid E9 – General Information
The Vivid E9 is a premium ultrasound system for cardiovascular examinations – the replacement for the popular Vivid 7. It offers outstanding image quality, and they built it specifically for 4D imaging. But, naturally it also manages 2D imaging with ease. It is easy to operate and it has a number of features that will improve quality of examinations as well as the workflow of the clinicians. The great processing power allows the system to deliver increased volume size, resolution, and volume rate.
The new feature; Accelerated Volume Architecture allows the GE Vivid E9 to capture a full set of volume data in a single, or two or multiple heartbeats, to fit the healthcare providers and their patients.
The Vivid E9 does not only capture excellent 4D images, it also ensures that clinicians can interpret them with ease. It comes with with several "one-touch" options through the 4D Views. This eliminates the manual cropping and cutting that is necessary with conventional 3D imaging. This is not only time consuming but also hard to learn. Hereby the 4D Views decrease the time clinicians need to learn to perform these analyses. It gives clinicians the options to view images such as 2-chamber, 4-chamber, mitral valve, and aortic valve without additional work.
Other options include the 4D Auto LVQ quantification tool that provides clinicians with a graphical output of 4D volume data. This tool produces more reproducible results that are less prone to artifacts.
The 4D LV Mass uses the above mentioned feature and derive the LV Mass and an LV Mass index.
Furthermore the GE Vivid E9 is smaller and lighter that what one might expect, and is therefore easier to move around. Both ergonomics and touch panel interface are easily adjusted to fit each individual user.
Request a quote
Request a quote for the GE Vivid E9
LBN Medical is here to serve. Please fill out the contact form below and we'll get back to you as quickly as possible.