Samsung RS80A Prestige
Specifications
Request a quote
Description
In stock
Specifications for the Samsung RS80A Prestige
YOM: 2017
Application: General Imaging
Options: Panoramic, S-Detect for Breast, Prestige
Request a quote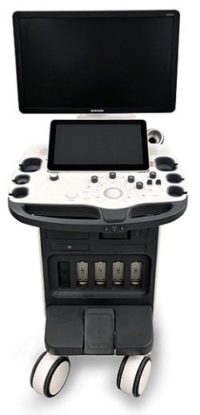 Samsung RS80A Prestige – General Information
The Samsung RS80A Prestige is a great ultrasound system for radiology. It has advanced technical capabilities with an exceptional image quality through S-Vision and S-Vue transducers. Thanks to these elements, the results of diagnosis are clearer and more detailed.
Moreover, this machine offers exclusive options and features such as S-Fusion for intervention procedures, and many others. Also, with progressive technologies like S-Shearwave for quantitative measurement and CEUS+, you can reduce the number of biopsies as lesions become visible and examinations are easier to perform. Overall, these features provide users with a big convenience and confidence in clinical practices.
The RS80A Prestige provides high resolution images for confident diagnosis. Therefore, with a screening tool Auto IMT+™ (Intima-Media Thickness) measurement, the clinician is able to get an early detection of cardiovascular diseases and risks for stroke. Thanks to this, you can monitor and come up with solutions before damages are done.
However, be aware that there are some features that are available only for some products in selected countries. They are for example E-Thyroid™ used for elastoscan for thyroid with ECI, or E-Breast™ for elastoscan for breast with strain ratio calculation tool. We recommend that you keep this in mind and ask if you are in doubt.
In conclusion, the Samsung RS80 brings a Realistic Vue™ which displays a high resolution 3D anatomical image with outstanding details. Furthermore, this machine is a very user-friendly system. It includes adjustable screen, 13.3-inch tilting touch screen, and many more.
Read our informative blog posts and learn more about the ultrasound price range.
You can also visit our Youtube Channel for more ultrasound knowledge.
Contact LBN Medical to get more details about the Samsung RS80A Prestige, our selection of Samsung ultrasound systems and any other imaging medical equipment. You can call us using the call button or reach us through the contact form.
Request a quote
Request a quote for the Samsung RS80A Prestige
LBN Medical is here to serve. Please fill out the contact form below and we'll get back to you as quickly as possible.