Toshiba Aplio 300
Specifications
Request a quote
Description
Ask for availability
Please fill in the

contact form

for more information on availability on the Toshiba Aplio 300. In case it is not in stock we can source it for you through our network of trusted suppliers.
Request a quote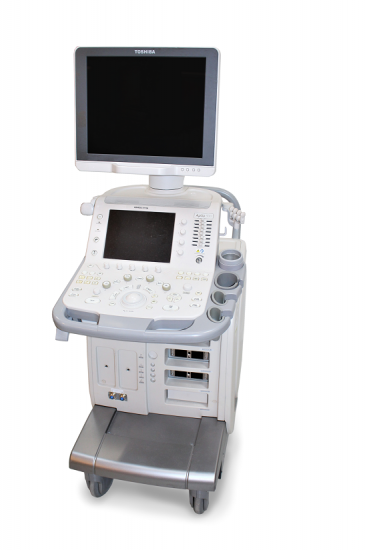 Toshiba Aplio 300 – General Information
The Aplio 300 is an affordable version of the high-end Canon Medical (former Toshiba) ultrasounds. It will provide you with an advanced performance and is a scalable as well as versatile system. Additionally, it delivers excellent image quality with outstanding depth and detail, along with automated features that bring the efficiency to a whole new level.
All these advanced performance features are essential to create the perfect solution to meet needs of today's demanding ultrasound environments.
Toshiba Aplio 300 overcomes conventional ultrasound challenges with the revolutionary High- Density Beamformer Architecture from Toshiba. Thanks to its advanced signal processing capabilities and several unique imaging technologies, it delivers images fast and with consistency. Moreover, images have an exceptional resolution and are very detailed. Therefore, the Toshiba Aplio 300 increases practitioners' confidence in decision making.
The system is light and has a small footprint, hereby allowing you to get closer to your patient. Also, its energy consumption is more efficient with a reduction of up to 23% in power requirements, compared to similar ultrasounds. Furthermore, its premium quality, high-resolution LCD has an articulating arm and handle for simple repositioning.
The Aplio 300 comes with a iStyle™+ Productivity Suite. This innovative and unique suite provides you with a full range of workflow automation tools. These tools bring ergonomic relief by minimizing keystrokes, reducing exam times, and raising the consistency of exams.
This ultrasound belongs to the Aplio series. Therefore, you can get a similar, but more advanced system, with the rest of the series – the Aplio 400 and the Aplio 500. All of the systems are great at vascular applications – Read more about the top ultrasounds for this application in our blog post with our ultrasound product managers list of the best vascular ultrasounds.
Request a quote
Request a quote for the Toshiba Aplio 300
LBN Medical is here to serve. Please fill out the contact form below and we'll get back to you as quickly as possible.
Presentation of the Aplio 300 and Aplio 500