At LBN Medical you can also get refurbished CT scanners. The scanners we offer are Toshiba systems, refurbished in-house by our experienced technicians.
The high quality refurbishment i performed in accordance with Good Refurbishment Practice from Cocir.
When you get a reufbished scanner from us, you have two options:
One is to get a refurbished Toshiba system that is tested and updated with neccessary parts and has undergone a cosmetic refurbishment. This is a great option if you are looking for a high quality CT scanner in a excellent condition.
If you want the full package with installation and more you can also go for our Refurbished CT Gold Package.
Refurbished CT – Gold Package
As close as you get to buy from an OEM –
The Gold Package contains everything you need to get an outstanding CT scanner fully up and running at your facility.
It includes:
Crating and shipping
Installation
One year parts warranty
Two days of operational training
Preventive maintenance
12 months of remote support
This is an extraordinary opportunity to easily get a high-quality system and is a great alternative to a brand new CT scanner.

With the Gold Package, you are in safe hands all the way.
The CTs are carefully selected and refurbished at our facility. Then they are transported – with custom crating to ensure safe travels, when they arrive at your site we will take care of installation and the handover includes two days of training.
This ensures high quality and that you can have piece of mind when purchasing from us.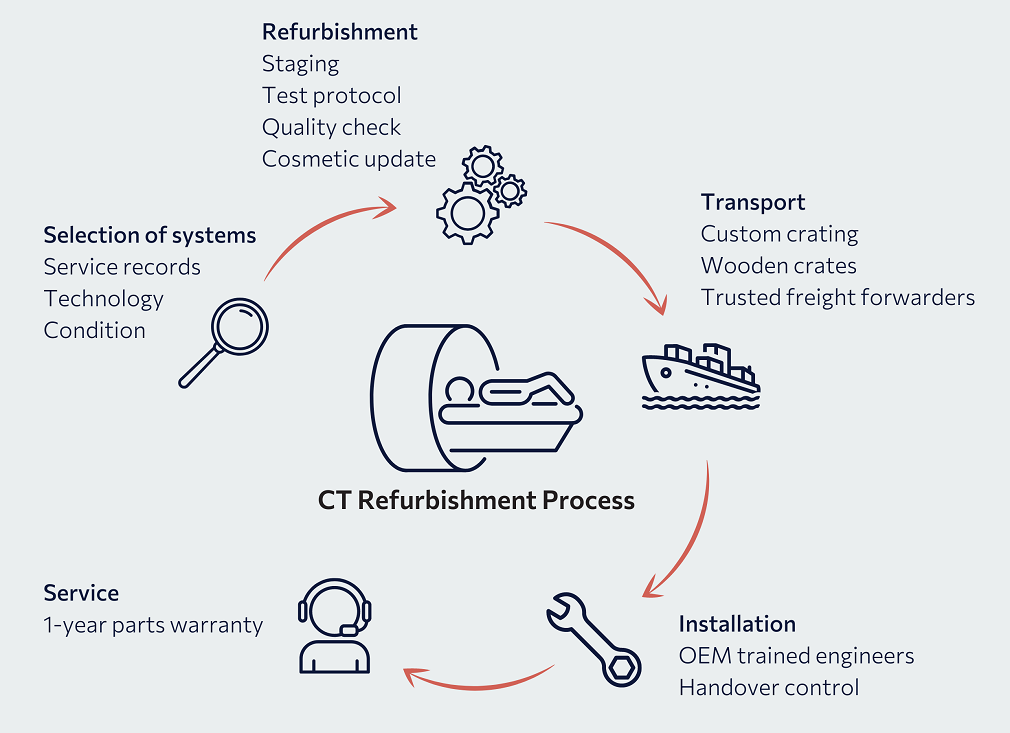 Make Request
Fill in the contact form if you have a request for a refubished CT scanner or would like to know more about the refurbished products we offer.