Specifications
Request a quote
Description
Ask for availability
Please fill in the

contact form

for more information on availability on the GE Vivid S5. In case it is not in stock we can source it for you through our network of trusted suppliers.
Request a quote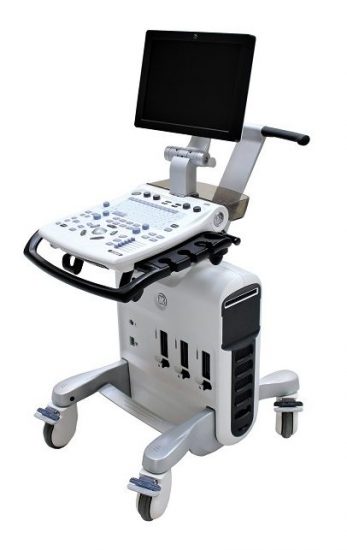 GE Vivid S5 – General Information
The Vivid S5 is a high-performance ultrasound system for cardiovascular applications. This system offers an innovative ergonomic design, great image quality and advanced connectivity. The GE Vivid S5 fits in a variety of clinical settings and delivers a strong performance and valuable diagnostic solutions.
It combines the small size of the GE Vivid I and the outstanding image quality and performance of the GE Vivid 7. Moreover, this system is extremely user friendly.
The GE Vivid S5 has the great Stress Echo package. This allows healthcare professionals to easily and rapidly perform stress echo examinations. It facilitates interpretation of images, hereby further increasing the speed and overall workflow of exams.
Furthermore, the Vivid S5 comes with a number of other packages, each with built-in templates for measurements and reports. Hereby reducing the time that is needing for documenting. For instance, the Vascular package that offers automated tools for vascular calculations and tools for optimizing the exam.
The GE Vivid S5 has anatomical M-mode that allows for easy measurements in non-standard planes. The LVO Contrast that provides enhanced visualization of the LVB border, wall-motion analysis, and ejection fraction calculations. Furthermore, Smart Depth automatically changes the frequency, focus position, and transmit patterns, to obtain the highest possible resolution for any depth. It also increases standardization between users of the same machine.
GE designed it to ensure a fast and easy workflow and improved productivity. The compact design makes it mobile and great even in smaller rooms. The Vivid S5 is also designed to be ergonomic and comfortable to work with, as it is easily adjustable. Hereby there will always be enough leg-room for both standing and sitting positions. Furthermore, the fold-down display, combined with the weight and size make is easy to transport.
Request a quote
Request a quote for the GE Vivid S5
LBN Medical is here to serve. Please fill out the contact form below and we'll get back to you as quickly as possible.