Specifications
Request a quote
Description
In stock
Specifications for the GE Voluson S10
YOM: 2018
Software Version: SPC330
HW revision: BT18
HW Accessories: Foot Switch, B/W Printer
Application: 4D OB/GYN
Options installed: 3D/4D Activation, IOTA LR2, IOTA Simple Rules, IEC62359 Ed.2, BT Activation
Request a quote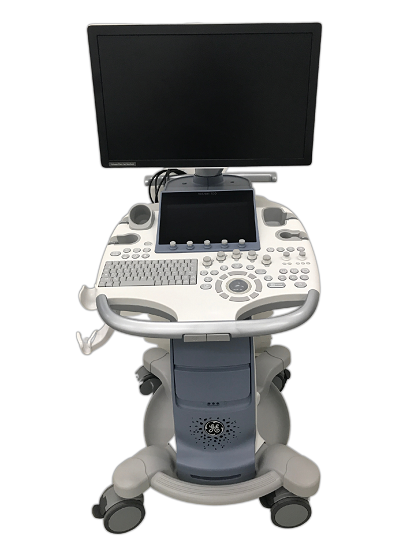 GE Voluson S10 – General Information
GE Healthcare Women's Health ultrasound progressively develops products that help you manage your work days while providing quality patient care. With the GE Voluson S10, GE continues to deliver exceptional and efficient OB/GYN ultrasound machines. The GE Voluson S10 price ranges from 30 to 35.000 Euros, excluding crating and shipping. 
The Voluson Care Architecture's power and intuitive system design meets all your needs and in addition provides different ultrasound OB/GYN applications to excel your days.
You are able to detect and diagnose different conditions thanks to its outstanding image quality and automated measurement tools. It has a 23-inch widescreen LED monitor, which displays 98% more image information than the previous Voluson Signature Series.
Furthermore, GE's next-generation technologies deepen your efficiency by keeping the focus on what matters – your patient. Its different measurement techniques and wild selection specialty probes help you save time and allow you to focus more on your patients. 
With the powerful ViewPointTM  you are able to text or email images to patients directly from your Voluson S10 console. The ViewPointTM function enhances patient satisfaction and gives you freedom and flexibility. The efficient digital connectivity helps you to structure reports and images or to easily share it with your colleagues too. 
The Voluson S10 ultrasound machine has easy access to four active probe ports. You can choose from different light-weight 2D and 3D probes. The transducers provide outstanding image quality and with minimal user interaction. You just simply have to place the probe on your patient and it quickly obtains clear images. You are able to see measurement data and tiny image details clearly.
Lasty, The Voluson S10 comes with excellent measurement techniques that help you save time. SonoVCAD™heart. It offers six different planes of the fetal heart, SonoBieometry, SonoNT and SonoAVC™, which are innovative tools to help with visualisation and measurement of hypoechoic structures within anatomy.
The GE Voluson S10 allows you to grow your capabilities in your practice by providing access to system upgrades. And a used GE Voluson S10 price will be favourable for your wallet.
The Voluson S6 and the Voluson S8 are previous versions of the Voluson S10 and they also can be also found in our stock. For further inquiries, please do not hesitate to contact us or read about the different types of ultrasound machines in our Learning Centre.
Request a quote
Request a quote for the GE Voluson S10
LBN Medical is here to serve. Please fill out the contact form below and we'll get back to you as quickly as possible.