Philips Affiniti 70
Specifications
Request a quote
Description
Ask for availability
Please fill in the

contact form

for more information on availability on the Philips Affiniti 70. In case it is not in stock we can source it for you through our network of trusted suppliers.
Request a quote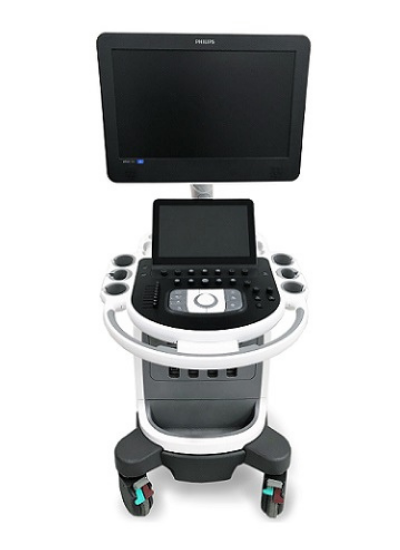 Philips Affiniti 70 – General Information
The Affiniti 70 is a high-end ultrasound machine from Philips. It is designed to help the process to be comfortable and effective. Furthermore, it is a shared service ultrasound and the technology is based on Philips' premium Epiq series of ultrasounds. Hence, it offers some of the best technologies and is a very popular ultrasound machine.
The technologies of the Philips Affiniti 70 includes maintenance of single crystal PureWave transducers for every application. Hereby increasing the penetration in technically demanding patients. Besides that, the Affiniti 70 supports Shear Wave, as well as Strain elastography.
Moreover, this Philip ultrasound offers a strong combination of efficient workflow and great performance for a fast and confident examination and diagnosis. Plus, it brings innovation that is fitting to the needs of a busy ultrasound department. It is noteworthy, that this valuable ultrasound machine excels at women's health, cardiology, radiology, and vascular applications.
Finally, the Philips Affiniti 70 is an excellent ultrasound that performs the examinations in a very short time and with fewer resources. Yet, it provides an outstanding image quality that gives the best results needed for the best patient care.
If you need probes, LBN Medical of course also provides this. However, keep in mind that probes last longer if they are treated well and handled with care. If you want to learn more about it you can read our article on this. 
Would you like to know more about ultrasounds, like how much an ultrasound typically cost? Then we have more articles on our blog.
Feel free to contact LBN Medical sales team if you have any questions or requests at: +45 96 886 500 or sales@lbnmedical.com.
Request a quote
Request a quote for the Philips Affiniti 70
LBN Medical is here to serve. Please fill out the contact form below and we'll get back to you as quickly as possible.