Specifications
Request a quote
Description
In stock
Specifications for the GE Vivid S60
YOM: 2018
Software Version: V202.81.0
Application: Cardio-Vascular
Options Installed: Vivid S60, LVO Contrast, View-X, AFI-Automated Function Imaging, 2D Auto EF, Tissue Tracking
Request a quote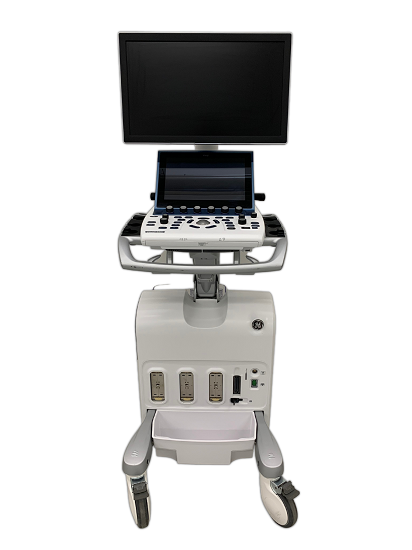 GE Vivid S60 – General Information
By combining GE's knowledge about medical imaging equipment with innovative technology, the GE Vivid S60 takes ultrasound performance to a whole new level. It offers superb image quality at an affordable price.
If our experts were to compare the GE Vivid S60 to many conventional ultrasounds, we would come to the conclusion that this system has many valuable qualification tools. It offers an enhanced workflow that supports your daily work life with a more efficient and confident diagnosis you can provide to your patients.
The GE Vivid S60 with cSound performance uplifts your patient care to a satisfactory level. The cSound is able to examine different body types and deal with complex medical issues, which many conventional ultrasound systems are unable to provide. Therefore, cardiovascular examinations can be performed on a higher level with your Vivid S60. Thus, the cSound technology also offers excellent image quality in 2D and exceptional spatial resolution and detail.
Furthermore, the Auto EF assists in calculating the most often used parameter to describe the LV function.  Its new capabilities include automated qualification of the LV. GE's innovative probe technology helps to support the exceptional image quality and it is available in a wide range to meet the needs of your specialty. 
The 2D IMT Measurement helps you to work uninterruptedly by providing user-friendly measurement package, worksheets, reporting and archiving functions. 
The GE Vivid S60 is designed for reliability and ease of use. The 12.1" full touch screen panel, 19" LED monitor with articulation arm and easily configurable interface enhances your workflow. This ultrasound machine has a small footprint and easy mobility with smart standby.
Lastly, this ultrasound machine has great connectivity as well. It provides you with easy image and measurement transfer, EchoPach Post-Processing, reporting technologies, image management and different IT integrations. For more GE ultrasound systems, please visit our Ultrasound Machines from GE page, or feel free to reach out. In addition, you can visit our YouTube channel to learn more about medical imaging equipment.
Request a quote
Request a quote for the GE Vivid S60
LBN Medical is here to serve. Please fill out the contact form below and we'll get back to you as quickly as possible.