Specifications
Request a quote
Description
In stock
Specifications for the GE Vivid T8
YOM: 2018
Software Version: R2.1.5
HW Accessories: ECG Cable
Application: Cardio-Vascular
Options installed: AFI, 2D Auto EF, Smart standby, Vivid T8
Request a quote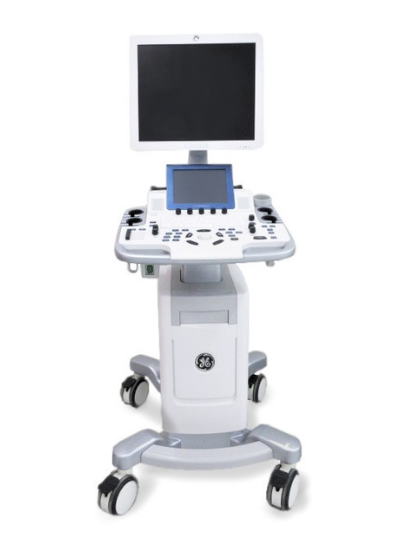 GE Vivid T8 – General Information
The Vivid T8 offers echocardiographic imaging capabilities as well as exceptional sonography performance. It is a cost-effective hybrid cardiovascular ultrasound system: reliable, stable, packed with features, easy to use and yet affordable. This system is designed to increase overall operating value.
The artificial intelligence of the Vivid T8 helps you achieve quick examinations  and efficiency. For instance, you can save 93% of your procedure time in Cardiac Auto Doppler measurement. In addition, the system is known for the high reproducibility of the obtained results and gives you diagnostic confidence when time is critical.
The artificial intelligence algorithms enable the GE Vivid T8 to reduce time and help improve the efficiency of your workflow through automated processes. With its automated Cardiac Auto-Doppler and 2D-LV measurements, you can reduce your scanning time.
This ultrasound system comes with a 21.5 inch LCD monitor and a 10.1 inch multi-touch screen. It offers reduced power consumption and quiet silent fans. It is easy to move thanks to its light, 60 kg weight and it is equipped with push handles on the front and back.
It has a comprehensive selection of transducers, such as the 6S-RS pediatric and adolescent the 6Tc-RS TEE, the 4C-RS convex transducer, the 8C-RS microconvex, E8C-RS intracorporeal, and L6-12-RS linear transducers and many more.
The Vivid T8 offers outstanding image quality and options that allow you to customize the system to meet the diverse needs of your facility.
For instance the Auto IMT is an automatic borderline detection, the B-Flow is an advanced spatial and temporal resolution to support assessment of blood flow and vessel's wall structure. 
Furthermore the blood flow imaging gives you improved visualization of blood flow dynamics using a signal processing algorithm to visualize blood flow data.
Lastly, it comes with the LOGIQview, which increases the field of view for large organs that typically cannot be displayed in a single image.
For further inquiries, please do not hesitate to contact us or visit our stock for more GE ultrasound systems.
Request a quote
Request a quote for the GE Vivid T8
LBN Medical is here to serve. Please fill out the contact form below and we'll get back to you as quickly as possible.