Siemens Acuson X700
Specifications
Request a quote
Description
Ask for availability
Please fill in the

contact form

for more information on availability on the Siemens Acuson X700. In case it is not in stock we can source it for you through our network of trusted suppliers.
Request a quote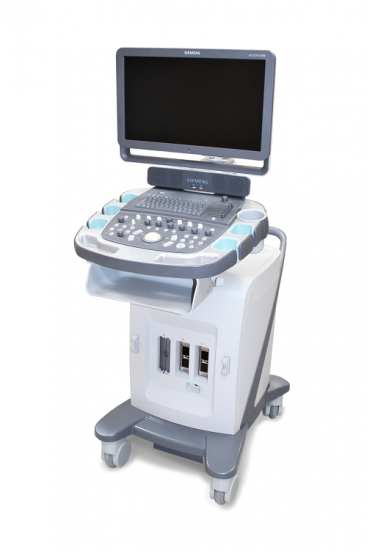 Siemens Acuson X700 – General Information
The Siemens Acuson X700 is a general imaging or shared service ultrasound system that offers great image quality. It is the big-brother of the Acuson X300, due to its more advanced features. However, it is, budget-wise, still a mid-range ultrasound system. The Siemens Acuson X700 price is from 5.000 to 15.000 Euros when bought as used.
Therefore, it is great for those who need an good and still innovative system, but who do not need the most advanced features that are found on premium models. The used Siemens X700 offers great value for money, due to its great reliability.
Siemens have migrated several features to this system from their premium platforms. Therefore, the Siemens X700 comes with several imaging technologies that increase the image quality and ensures the ease of use. Including: Dynamic TCE (tissue contrast enhancement) technology and Advanced SieClear spatial compounding.
These options improve the image detail and border definition. Hereby, they allow clinicians to assess even small changes in the investigated tissues. Furthermore, the Siemens Acuson X700 has the option of fourSight 4D ultrasound imaging and several of the Acuson line auto-calculation features for obstetric and cardiovascular imaging. These auto-calculations reduce repetitive tasks and therefore increase workflow, patient throughput, and consistency of examinations.
The system is compatible with a range of ultrasound transducers. Hereby supporting the shared service application of the system. Moreover, Siemens designed it for mobility and ease of use. Its ergonomic design ensures comfortable work positions, as each individual user can easily adjust it to fit their personal preference.
The Siemens Acuson X700 delivers quality and reliability and the platform is compatible with a range of updates, including future updates. Therefore, even the used Acuson X700 is a good investment, that will do a great job for years to come.
Read about how the Siemens Acuson x700 compares to other ultrasounds in its ultrasound family. Namely the Acuson X600, X300, and X150 ultrasound systems. Learn more about ultrasounds on our Youtube Channel.
Request a quote
Request a quote for the Siemens Acuson X700
LBN Medical is here to serve. Please fill out the contact form below and we'll get back to you as quickly as possible.