Specifications
Request a quote
Description
Ask for availability
Please fill in the

contact form

for more information on availability on the Philips Epiq 5W. In case it is not in stock we can source it for you through our network of trusted suppliers.
Request a quote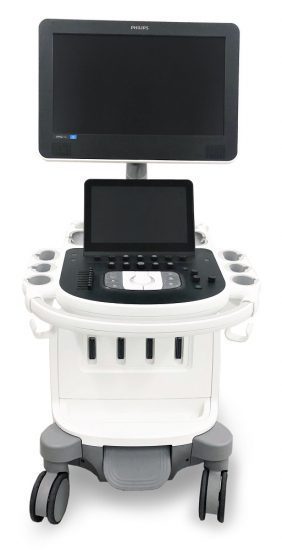 Philips Epiq 5 – General Information
The Philips Epiq 5 is a premium system. It features an uncompromised level of clinical performance to meet the challenges of today's most demanding practices. Furthermore, it has reinvented the premium ultrasound user experience.
Philips designed the Philips Epiq 5 to support both strain and shear wave methods of elastography. Highly sensitive strain imaging does not require any external compression and can assess relative tissue stiffness in various applications.
With the Philips Epiq 5, you have access to multimodality images. You can use multimodality query retrieve to display DICOM images from CT, MR, mammography, and ultrasound. Therefore, clinicians can easily compare past and current studies without the use of an external reading station.
The system allows you to make confident decisions with the new fully integrated fusion capabilities. The capabilities feature streamlined workflows to enable clinicians to achieve fast and efficient fusion of CT/MR/PET with live ultrasound. If you combine imaging modalities directly on the Philips Epiq 5, you have access to an even more powerful diagnostic tool with advanced visualization.
nSIGHT Technology
Philips' own nSIGHT Imaging architecture introduces a new approach to forming ultrasound images. In contrast with conventional systems which generate the image line by line, nSIGHT makes images with optimal resolution down to the pixel level.
Moreover, the nSIGHT Imaging includes the use of a new and more accurate beamformer, and powerful, massive parallel processing. This architecture captures vast amounts of acoustic data and then reconstructs optimally focused beams. At the same time, it creates precise resolution for every pixel in the picture – all in real time.
The nSIGHT Imaging also strengthens the power of PureWave. The PureWave crystal technology represents the biggest breakthrough in piezoelectric transducer material in 40 years. The pure and uniform crystals of PureWave are 85% more efficient than conventional piezoelectric materials. Hereby offering an exceptional performance. This technology allows you to improve penetration in difficult patients with a single transducer and gives you a perfectly detailed resolution.
Request a quote
Request a quote for the Philips Epiq 5W
LBN Medical is here to serve. Please fill out the contact form below and we'll get back to you as quickly as possible.