Comparison of the Acuson X700, X600, X300, and X150 (Which One To Get)
Today, we will make sure that you have no difficulties telling the Siemens Acuson X700, X600, X300, and X150 apart.
We believe you will agree with us when we say that the market for medical equipment is filled with various brands and models of ultrasound systems that can seem very similar.
For example, Siemens has the Acuson S-series, X-series, Juniper, and even more ultrasound series each consisting of several models!
In this article, we are focusing solely on the X-series. We will talk about the differences and similarities of the Acuson X700, X600, X300, and X150.
Moreover, we will offer a price range for each model.
Let us dive right in.
The Comparison of the Siemens Acuson X-series
The X-series belongs to the two Siemens lines that use the Acuson brand name. While the Acuson "S" is a line of premium and high-end ultrasound machines, the Acuson "X" line covers the high-end to economy market segments.
Hence, if your budget is limited and you still want a high-quality ultrasound that delivers streamlined workflows, one of the ultrasounds from the Acuson X series could be the right choice.
Is your time limited?
Check the table below and get a quick overview of the systems.
Also, have a look at our infographics at the bottom of this article to see features and prices for each model.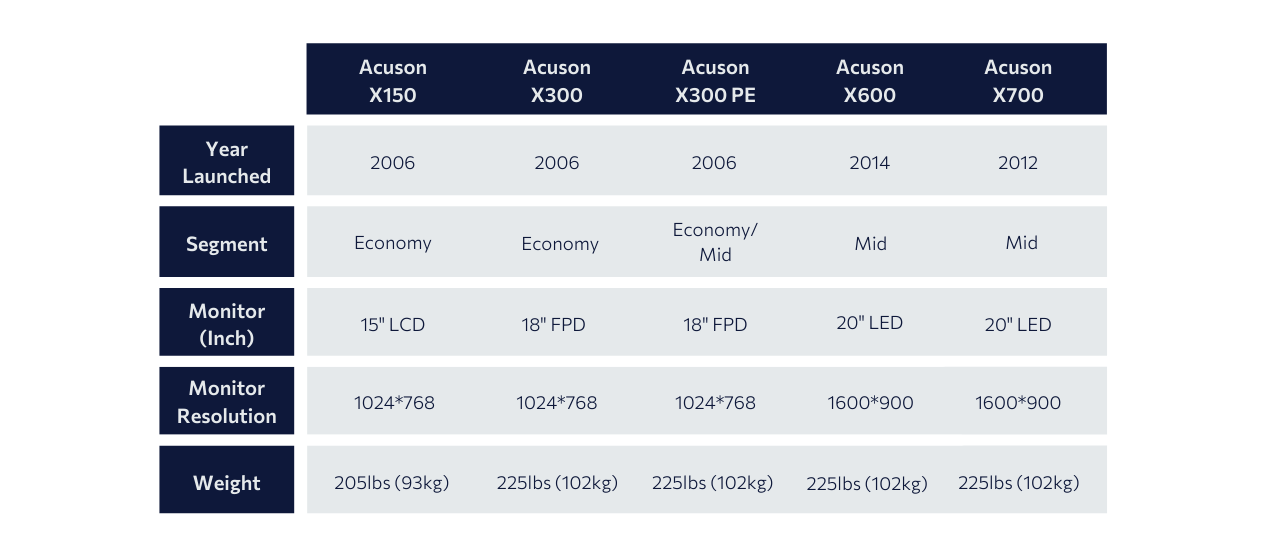 Siemens Acuson X150
We will start with the Siemens Acuson X150 – what are the features of this model?
This general imaging, economy ultrasound system integrates imaging technologies to address a wider range of patient needs and clinical applications.
The Acuson X150 was first manufactured in 2006 and it is a low-price entry into the Acuson line. You can expect the price of the Acuson X150 to be between 1.000 and 3.000 euros.
The system is compact, combining an intuitively simple yet powerful user interface with highly functional ergonomics.
And there is more to it.
As this ultrasound is the lightest from the X-series, it is very easy to move around. Also, it is possible to optimize the position of the X150 and its folding monitor in any environment.
Siemens designed this system to grow with your practice. Making sure that if your needs change over time, the Acuson X150 can adapt. It comes with user-installable software updates for future technological advances. This way you can maximize, but also protect your investment.
Even though it is an economy system, it performs solid OB/GYN and vascular applications. Moreover, it can be used in abdominal, small parts (breast, thyroid, etc.), MSK/Anesthesiology, and urology examinations.
As shown in the table at the end of this article, this ultrasound lacks a few features that come as standard for the rest of the series. In addition, you will only find two probe connectors on the Acuson X150 and it does not provide 3D/4D imaging or TEE and micro convex applications.
However, if you have a limited budget, small clinic and still want a system that will increase your productivity and broaden your clinical capabilities, you will be happy with the Acuson X150.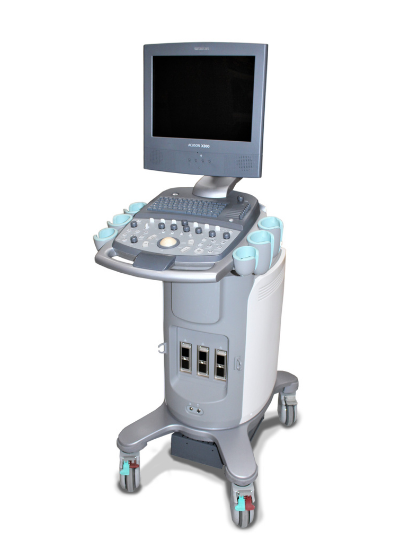 Siemens Acuson X300
The next ultrasound in this line is the Siemens Acuson X300.
It is an economy ultrasound first manufactured in 2006 with mid-range features.
How much does the Siemens Acuson X300 cost?
It is very affordable – the price range is 2.500 to 5.000 euros.
This ultrasound system maximizes efficiency more than ever. It can address any clinic's workflow needs.
The Acuson X300 brings the benefits of Siemens' advanced core imaging technologies providing robust imaging capability.
Furthermore, it is also lightweight, and thus, has effortless mobility.
For what types of examinations can you use the Acuson X300?
This ultrasound is especially good at cardiovascular examinations.
However, it can be employed in other applications such as abdominal, women's health, small parts, MSK/Anesthesiology, urology, pediatrics, interventional technology, and even more.
So, why is the Acuson X300 better than the Acuson X150?
First of all, the Acuson X300 has more applications. The X150 does not serve in pediatrics and interventional cardiology applications. Also, fewer probes are compatible with this model. Additionally, the X300 has a higher number of imaging modes and connectivity options.
Lastly, the Acuson X300 comes with more features such as spatial compounding, speckle reduction or gel warmer. You wouldn't find these on the X150, not even as options.
But there is more to the Acuson X300. It has a premium version – the Siemens Acuson X300 PE.
How does this premium edition differ from the original Acuson X300?
Siemens designed this mid-range cardiovascular, shared service ultrasound to replace the previous mid-range line-up Sonolines.
It adds 4D, has more probe options, along with many of the top features available at a mid-range price. Moreover, the X300 PE has the strain (velocity vector imaging) application.
Even though you might pay a higher price for the PE version (3.500 to 7.500 euros), it is definitely a great value for money.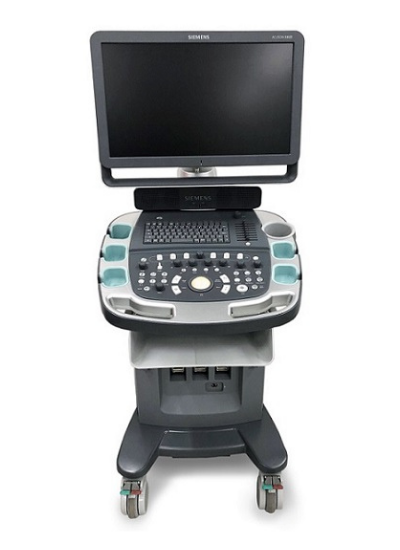 Siemens Acuson X600
So, which ultrasound comes next?
The Acuson X600!
This ultrasound was first introduced in 2014 as a system with advanced technologies migrated from Siemens premium systems.
It is the latest addition to the Siemens' Acuson X Family of mid-range ultrasound systems.
What is great about the Acuson X600?
It is upgradable as your needs and budget change.
You will benefit from software and hardware technologies, which were developed on higher-end Siemens systems.
In addition, the Acuson X600 provides customization options and the core of the system can expand and adapt for many years.
Siemens built this ultrasound on robust system architecture and equipped it with technologies such as real-time spatial compounding and tissue contrast technology. These serve for artefact reduction and enhanced border detection. And thus, it offers improved detail and contrast resolution.
The Siemens Acuson X600 comes with new volume transducers that provide enhanced 3D/4D image quality for clear visualization of complex fetal and maternal anatomy.
For what kind of examinations could you use the Acuson X600?
This multifunctional and efficient ultrasound can be employed in abdominal, women's health, small parts, MSK/Anesthesiology, urology, and even more applications.
The Acuson X600 is missing a few applications that are available on the Acuson X300, such as pediatrics and interventional technology. However, it delivers the best of what is most important to the users of shared service ultrasounds.
What more?
It has a great balance between performance and cost. You can buy this ultrasound machine for 6.000 to 10.000 euros.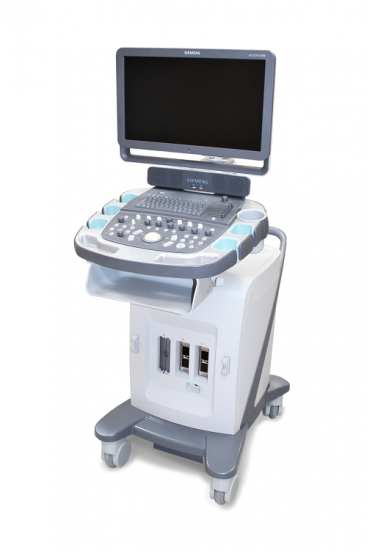 Siemens Acuson X700
Last but not least comes the Siemens Acuson X700.
This ultrasound was first manufactured in 2012. Siemens engineered this system with progressive tools to ensure confidence in shared-service and cardiology.
It is considered the big brother of the Acuson X300 because of its more advanced features. However, when it comes to budget, it is still a mid-range ultrasound machine.
What is the price of the Acuson X700?
The price will be somewhere between 8.000 to 13.000 euros.
Yes. It is the most expensive ultrasound from this series, but it is also the finest.
Why is the Acuson X700 the best ultrasound in the Acuson X series?
It comes with recent technology, a variety of applications, hybrid probe connector, widescreen, and great performance.
As for the X600, Siemens has transferred several features from its premium platforms to this ultrasound. That's why the Acuson X700 comes with imaging technologies that enhance image quality and ensure ease of use.
The system is compatible with a range of ultrasound probes, which supports its shared service application, including abdominal, women's health, cardiovascular, small parts, MSK/Anesthesiology, and urology.
It also supports applications such as bowel imaging and strain elastography, which cannot be found on any other of the X-series ultrasounds.
And what are the other advantages of the Acuson X700 over the Acuson X600?
Compared to the Acuson X600, it has the Intracardiac Echo Cardiography (IEC), elastography application with the eSie touch option, and transesophageal echocardiogram (TEE) applications. Additionally, thanks to its hybrid probe connector, the Acuson X700 shares some probe models with the Siemens S1000, S2000, and S3000, such as the 4C1, 4V1c, MC9-4.
The Acuson X700 is a practical and reliable system that runs smoothly in any type of ultrasound environment. Its platform is adaptable and a pre-owned Siemens X700 is an investment that will serve you greatly in the years to come.
Sum Up
As you can see, all ultrasounds from the Siemens X-series are ultrasounds with economy to mid-range market prices.
All of them can be upgraded to shared service systems, however, you will need extra hardware and software to do so.
The Acuson X150 is quite a basic system with a limited number of features, however, it will be sufficient for a small clinic.
The more advanced X300 is also available at an economy price but will provide you with more applications as well as features. Hereby, it will bring you better value for your investment.
We should not forget the premium edition available at a mid-range price – the Acuson X300 PE. Ultrasound machine that has 4D, more probe options, a couple of top features.
A mid-size clinic will benefit from both the Acuson X300 and X300 PE.
The best you can get from this series is the Acuson X700 and Acuson X600. This is due to the features migrated from Siemens' premium ultrasounds. These systems can handle more patients and perform more complicated exams. A larger or specialised clinic or a or hospital will benefit most from them.
And how much should you set aside for each system from the Acuson X series?
Have a look at the table below:

Please keep in mind that the price is for the ultrasound only, probes and additional features will increase the overall price.
Now, we'd like to hear from you:
Which one of these systems do you find the most suitable for your practice?
Also, do you have any unanswered questions you'd like to ask us?
Our guide to ultrasounds may help.
If not, send us an email at sales@lbnmedical.com and we will get back to you.
And if you are interested in more premium or high-end Siemens ultrasound machines, read our comparison of the Siemens S-series.
And do not forget to check our infographic comparing the features of the X-series:
What is next?
If you would like to learn even more about ultrasounds, you can sign up below to receive an e-book: 'How to pick your next ultrasound' and become part of our ultrasound e-mail course.
In multiple e-mails, this course will guide you through several themes related to your next ultrasound purchase.
Sign up for the ultrasound crash course
How Much Does an Ultrasound Cost?
Learn about ultrasound pricing based on system's performance and conditions.
Guide to Ultrasound Series Per Brand
This comparison explains how various premium ultrasound brands categorize ultrasounds into different series.