Specifications
Request a quote
Description
Ask for availability
Please fill in the

contact form

for more information on availability on the GE Logiq E9. In case it is not in stock we can source it for you through our network of trusted suppliers.
Request a quote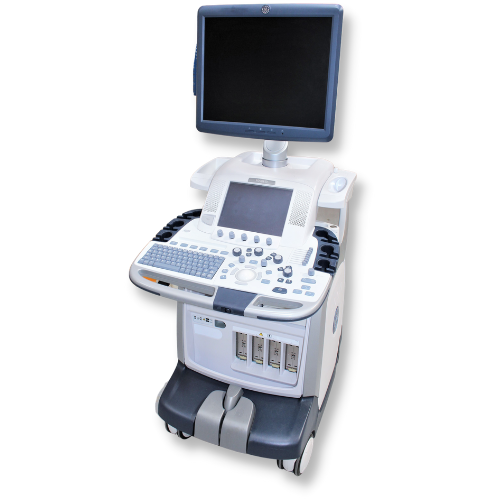 GE Logiq E9 – General Information
The GE Logiq E9 is a premium radiology ultrasound system. It features advanced technology, which gives you the ability to capture extraordinary images. Coded Harmonic Imaging improve near-field resolution, which allows better visualization of small parts, and enhance far field penetration, even on bigger patients.
The Logiq E9 is also a versatile general imaging system that meets a wide variety of imaging needs. It can be used for abdominal, vascular, GYN/OB, cardiac, and more applications.
The GE Logiq E9 Comes with a Variety of Technologies
This top-quality GE ultrasound comes with the excellent tool volume navigation, as well as improved workflow technology. Volume Navigation and the Fusion tool increase diagnostic confidence by comparing the live ultrasound images, with images from other modalities. You can either have them overlap, on the screen of the E9, or watch them side by side. This is a strong tool for interventional procedures, for instance, guided biopsies.
The intuitive Scan Assistant feature on the GE Logiq E9 facilitates workflow and improves consistent image acquisition. It is a scanning protocol that can automatically insert comments and initiate and complete measurements. It can also steer colour Doppler for you. Furthermore, Compare Assistant technology makes standardized protocols and image review effortless on the Logiq E9. For instance, it allows you to compare the current study with earlier images on split screen. It can also help you replicate past views and scanning parameters.
It comes with improved ergonomics and user-friendliness– the touchscreen is customizable and the layout of the control panel is intuitive. Both smaller and lighter than other similar systems, the GE Logiq E9 has increased mobility.
This system also comes in an XD Clear version. The high-resolution screen allows the healthcare professional to take full advantage of the many innovative features.
Are you considering purchasing a probe together with your ultrasound? Then you should read our article that will teach you how to take care of your ultrasound probe!
Request a quote
Request a quote for the GE Logiq E9
LBN Medical is here to serve. Please fill out the contact form below and we'll get back to you as quickly as possible.
GE Voluson E10, Vivid E95, and Logiq E9 Comparison