Ultrasound Maintenance Checklist
Why should you be concerned about ultrasound maintenance?
Ultrasound maintenance is essential to ensure that your machine continuously provides high performance and accurate diagnoses for your patients.

As ultrasound systems are necessary for a smoothly functioning medical practice, prevention and maintenance of the ultrasound should become a habit. Also because ultrasound machine prices are quite high.

Not taking it seriously can lead to issues with your machine and a decrease in the longevity of your ultrasound.
Proper maintenance will ensure trouble-free use, extend the life of your system, and will keep your patients safe.

There are a few simple procedures you can do to keep the ultrasound in good working shape. Below are our 5 most important points in the maintenance of an ultrasound machine.
Ultrasound Maintenance Checklist
Here are our 5 pieces of advice to keep your ultrasound machine in great condition.
1. Check the Ultrasound Machine Daily
Before starting the examinations of your patients, ensure that all the connections of the ultrasound are plugged in properly. You should look carefully at the integrity of the ultrasound wiring, cables as well as ultrasound transducers. If you find any cut or frayed areas, replace them with backup supplies immediately.
2. Pay Attention to Your Ultrasound Transducers
Ultrasound transducers are a vital part of a fully functional ultrasound unit. They need to be checked correctly to make sure that doctors can get precise examination results.

Therefore, perform a visual check of the probe and its connection to the ultrasound machine before each use. Inspect if there are any cracks/cuts on the probe lens or on the TEE probe tube. That is important because ultrasound gel or disinfectant can easily seep into the cuts and potentially damage the transducer. Furthermore, look for tears in the cable that could indicate broken wires inside the transducer.

Lastly, follow cleaning protocols, for instance, the sterilization of certain types of probes used for specific procedures. And be aware of the detergents your sonographer is using when cleaning and disinfecting the probes. Be sure that they are compatible with the probe manufacturer's recommendations to avoid unwanted damages.

To learn more about how to protect your ultrasound probes, you can read our more extensive article on this topic.
3. End of Shift Prevention
At the end of each shift, you should wipe the ultrasound machine thoroughly and note any faults and issues that you noticed during the examinations you performed. Remember to report any serious problems to your service representative right away.
4. Full System Backup
What's next?

You should get used to doing a full backup of your system on a regular basis. That is important in order to reduce downtime if the system fails due to software and/or hardware problems.

By backing up your presets, network data, options, and other user preferences, you can fully recover your system within a few hours. Without the backup, it could take days.
5. Schedule Regular Service for Your Ultrasound
Your ultrasound system is like your computer. Its performance will slow down over time. It may happen gradually and at the beginning, you might not even notice it.

Hence, you should plan preventive ultrasound maintenance and cleaning by a service representative on a quarterly basis. An experienced service representative can perform tests and equipment checks to see how your system is performing and return it to great condition.

They can thoroughly clean the system inside and out. Ultrasounds on today's market are more sensitive to heat than ever. Therefore, the cleaning of filters, intake grills, air passages, and brackets is critical to prevent future failures. The filters on all ultrasound systems should be cleaned regularly. After removing the filters, make sure to clean the grate behind them as well.
If you would like a quick overview of the main points of ultrasound maintenance, you can download the checklist below: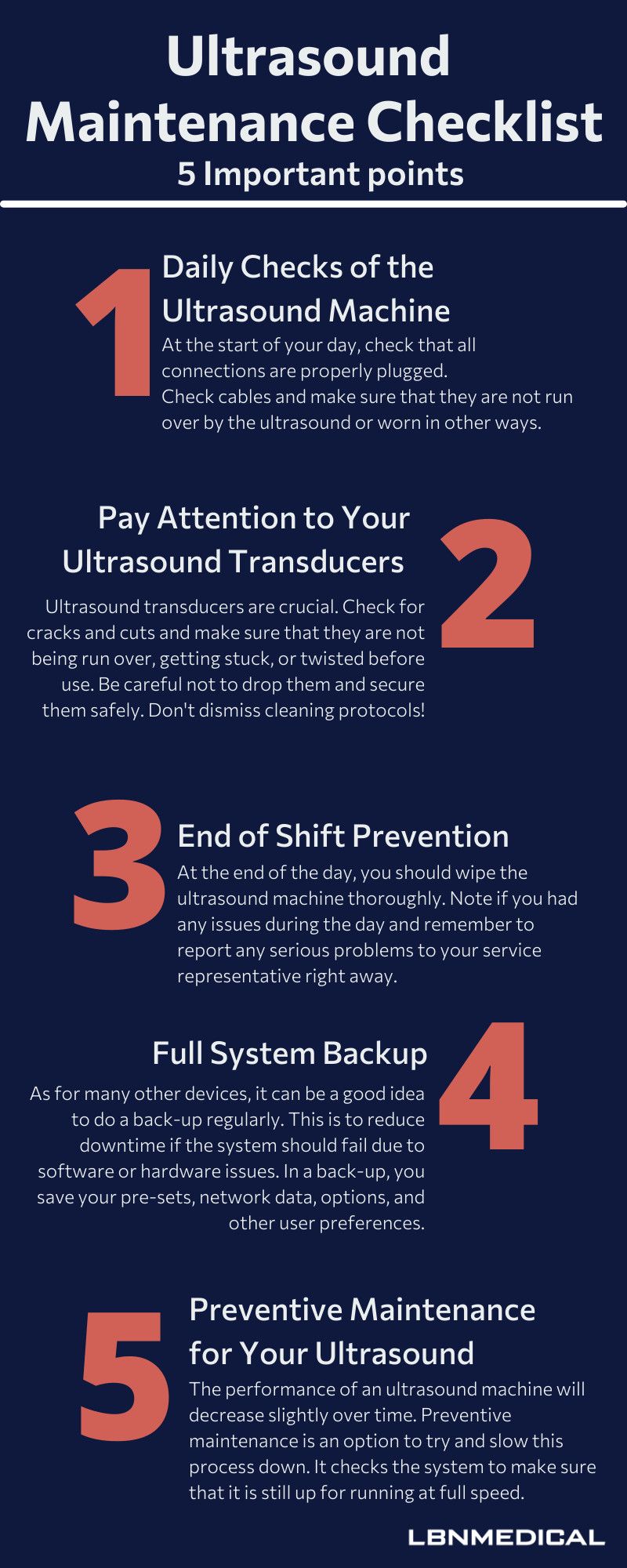 Sum Up – Ultrasound Maintenance Checklist
As you can see, there are a couple of steps to follow when maintaining your ultrasound machine. We have highlighted the most important ones.

Following this checklist will ensure that you can keep your used ultrasound system running smoothly and continue to provide safe and reliable care to your patients.

If you have any questions we have not answered in this article, you may find answers in our extensive ultrasound guide.
But you are always welcome to get in touch with us at sales@lbnmedical.com – We cannot wait to hear from you.
What is next?
If you would like to learn even more about ultrasounds, you can sign up below to receive an e-book: 'How to pick your next ultrasound' and become part of our ultrasound e-mail course.
In multiple e-mails, this course will guide you through several themes related to your next ultrasound purchase.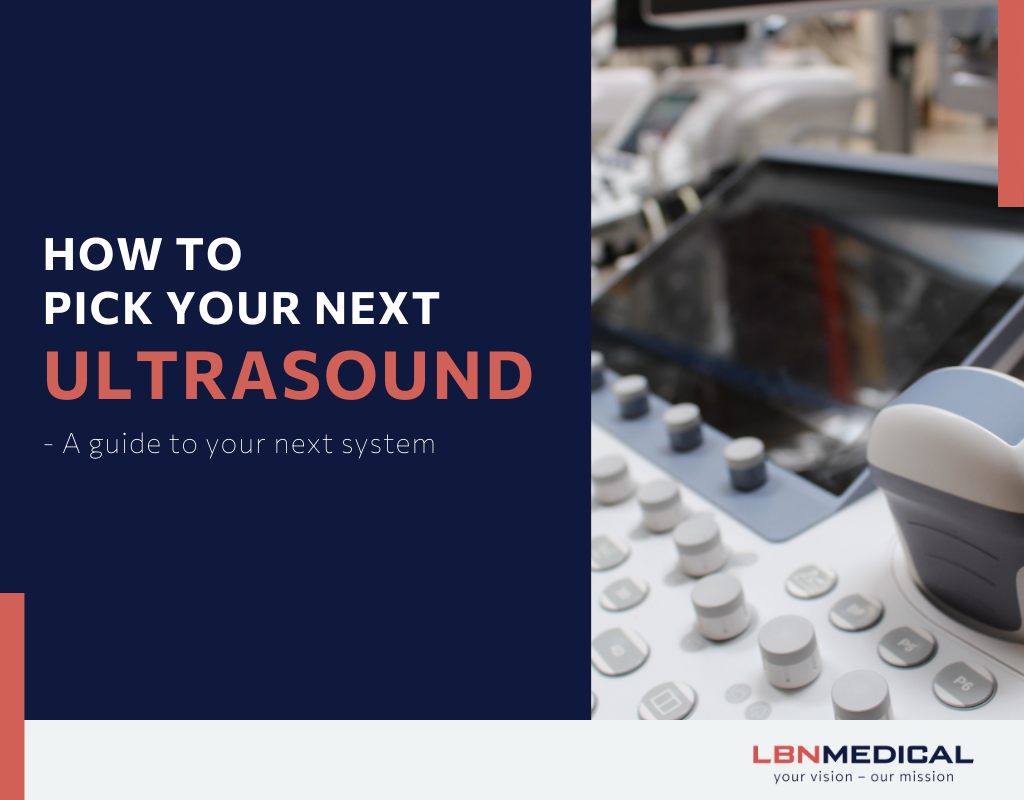 Sign up for the ultrasound e-book and crash course
How Much Does an Ultrasound Cost?
Learn about ultrasound pricing based on system's performance and conditions.
Guide to How to Pick Your Next Ultrasound
This guide offers an extensive overview of the many things you can consider when you are looking to buy an ultrasound.