Siemens Acuson Sequoia
Specifications
Request a quote
Description
In stock
Specifications for the Siemens Acuson Sequoia
YOM: 2019
Software Version: VA30C
HW Accessories: Gel warmer, B/W printer, 3D Guidance tracker without transmitter and sensors
Application: General Imaging
Options Installed: GET WORKLIST, MPPS SUPPORT, SYNGO GENERAL LICENSE, USVTADV LINEAR, SECURITY DATA PROTECTION, SECURITY USER MANAGEMENT, US SH 2020
Request a quote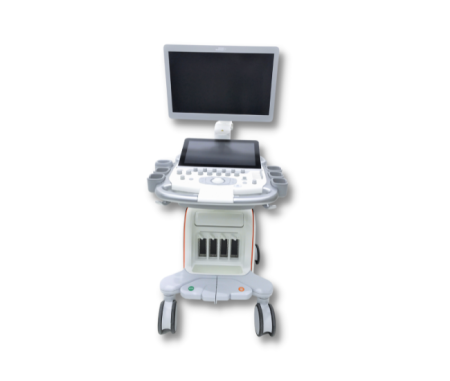 Siemens Acuson Sequoia – General Information
The Siemens Acuson Sequoia is the most popular ultrasound Siemens has ever manufactured – it is even one of the most popular ultrasound machines on the market. A customer favorite.
This system has an impeccable image quality, great color sensitivity, and many advanced imaging modes. Overall, the Sequoia is an industry benchmark machine. 
One major reason for the popularity of this machine is the use of BioAcoustic imaging technology. This feature ensures a more accurate representation of human biology. For example, the technology lets the machine compensate for energy loss, in real-time, while also adapting the signal to the patient's bioacoustic characteristics. The bioacoustic characteristics consist of water percentages, muscle mass, bone density among other things, and these can be dependent on factors such as gender, age, size, and weight.  
Additionally, the Sequoia can store up to 6 times more energy and has a 10 times higher acoustic fidelity than conventional ultrasounds. This is better than most ultrasounds on the market, and it is thanks to the above technology.
Another huge advantage of the Siemens Acuson Sequoia is that it has a remarkably fast and completely focused B-mode image. This is without any form of degradation of neither the near-field nor the far-field image resolution. Further, this system penetrates deeper than any other conventional ultrasound on the market, meaning that diagnosis is very precise and scan times are significantly reduced in comparison to other systems. 
The Sequoia is designed with the user in mind. It utilizes 1-click registration, meaning that the machine will choose the appropriate transducer and examination type, by itself, according to what kind of patient you have. This simplifies the overall workflow. 
Also, it has gesture detecting transducers that can be easily activated by simply double-tapping it anywhere.  Thus, you can start scanning much faster as well. Lastly, the UltraArt feature lets you choose your imaging preferences by the press of a button on the quad-display. 
Altogether the Siemens Acuson Sequoia is a fantastic machine that will carry the heavy burden in the hospital or clinic. 
If you are curious about what other ultrasounds we offer at LBN Medical – hop on over to our website to see what Siemens Ultrasound are in stock. Or, maybe you are curious to know more about how much an ultrasound machine cost?
Request a quote
Request a quote for the Siemens Acuson Sequoia
LBN Medical is here to serve. Please fill out the contact form below and we'll get back to you as quickly as possible.