GE Voluson E10 BT19 OLED
Specifications
Request a quote
Description
In stock
Specifications for the GE Voluson E10 BT19 OLED
YOM: 2017
Software Version: EC340
HW revision: BT19
HW Accessories: Footswitch - BW - Printer
Application: 4D OB/GYN
Options Installed: Advanced 4D, e4D Advanced Features, Vocal II, Advanced VCI, Elastography, IOTA LR2, IOTA Simple Rules, V-SRI, CW, Advanced STIC, DVD & USB Recorder, IEC62359 Ed.2, SonoAVC, SonoCNS, Anatomical M-Mode Tricefy, fetalHQ, IETA, IOTA Adnex, BT Activation
Request a quote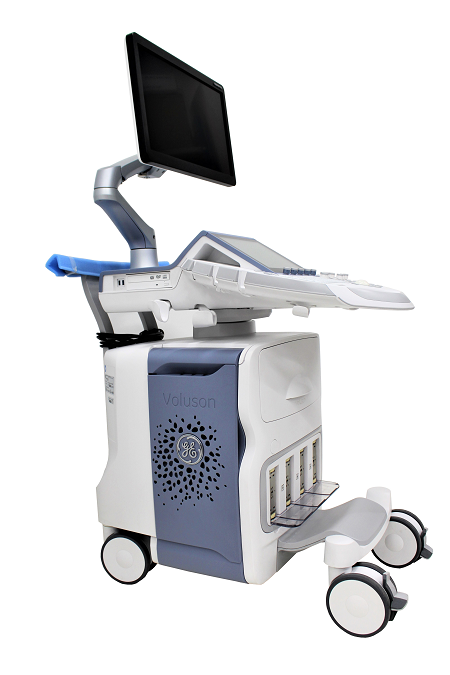 GE Voluson E10 BT19 OLED – General Information
The GE Voluson E10 OLED is a modern ultrasound system that was designed with both operator and patient in mind. Its ergonomic design guarantees comfort during extended use, and the user-friendly interface and adjustable settings make it easy to use, reducing down on exam time and boosting productivity. This enhances care and raises patient satisfaction.
The Voluson E10 OLED, which has an OLED display, outperforms conventional LCD screens with its astonishing clarity and brilliant colors. This technology enables accurate diagnosis and assured decision-making by enabling healthcare practitioners to perceive even the smallest details with unparalleled precision.
Renowned for its high-resolution imaging capabilities, the Voluson E10 OLED utilizes advanced technologies and algorithms to deliver exceptional image resolution. This enables clear visualization of small anatomical structures and subtle abnormalities, ensuring accurate diagnosis and treatment planning.
The system includes the BT19 software, an extensive collection of unique features and workflow tools that can be customized to increase productivity and efficiency during exams.
With wireless connectivity options, the Voluson E10 OLED seamlessly connects with hospital networks and other devices. This enables quick and easy transfer of data, images, and patient information, facilitating efficient workflow management and integration with electronic medical records (EMR) systems.
The system promotes user comfort and ease of use through ergonomic engineering. The user-friendly interface, well laid out menus, and configurable features improve ergonomic posture and reduce user fatigue, increasing operator comfort and productivity.
The combination of advanced features, intuitive interface, and customizable settings significantly enhances productivity in a clinical setting. 
Experience the GE Voluson E10 OLED and embrace the future of ultrasound imaging. With its exceptional image quality, advanced technology, and user-centric design, it empowers healthcare professionals to deliver superior care and improve patient outcomes.
We also have a blog post about ultrasound pricing if you would like to know what budget you should have ready for your next ultrasound purchase.
You can also learn more about us and what we can offer on our Youtube Channel.
Request a quote
Request a quote for the GE Voluson E10 BT19 OLED
LBN Medical is here to serve. Please fill out the contact form below and we'll get back to you as quickly as possible.