Specifications
Request a quote
Description
In stock
Specifications for the GE Vivid E95
YOM: 2016
Software Version: System SW 203.12.0 Application SW 203.91.0
HW Accessories: ECG Cable
Options Installed: Vivid E95, LVO Contrast, Quantitative Analysis Package, View-X, TEE Interface Module, Dicom Connectivity Package, 4D, AFI - Automated Function Imaging, Stress Package, 2D Auto EF, 6VT Bi-/Tri-plane, 4V Enable, 4VcEnable, Tissue Tracking, Scan Assist pro,
Request a quote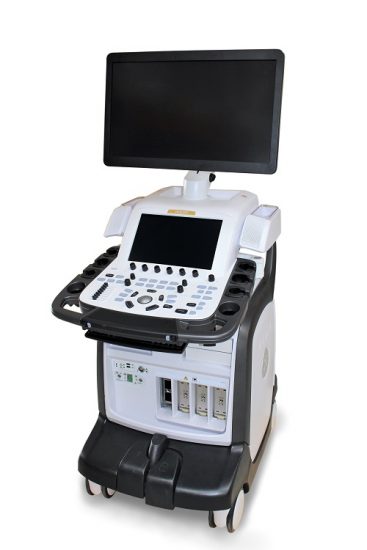 GE Vivid E95 – General Information
The Vivid E95 is a premium 4D cardiovascular ultrasound system from GE. It is a new high-end system that comes with several innovative features to help clinicians everywhere perform faster and better examinations. This ultrasound offers excellent image quality in 2D and 4D, also for more challenging patients. The GE Vivid E95 price is in the range of 45.000 € to 55.000€.
GE developed the Vivid E95 with the new cSound beamformer technology. This means that it uses software instead of hardware for beamformer functions. Hereby it allows the ultrasound system to utilize 10-15% more of the data from the ultrasound probe, for clearer and more accurate images.
Features include HDlive, Triplane and many more. HDlive is an advanced visualization technique that simulates light propagation and scattering throughout the tissue, hereby providing clearer images. Triplane allows for better visualization of the heart, as it lets clinicians see three planes simultaneously, from a single heartbeat. Of course, in high temporal and spatial resolution.
To ease the life of clinicians and improve effectiveness, the GE Vivid E95 has several quantifications tools that address cardiovascular issues. For instance, 4D strain and 4D Auto AVQ, the first calculates strain values and the latter quantifies the aortic outflow tract.
There are more features to increase workflow, and the entire system offer simplicity and user-friendliness. The touch panel is intuitive and tablet-like, with an Image Manager for quick access to patient images. Moreover, the ergonomics are as always, an important aspect, and the system is mobile and easily adjusted for each user.
All in all, it is a premium system. Consider getting a pre-owned or refurbished GE Vivid E95, as the quality is still exceptional, but the GE Vivid E95 price is lower than for new systems. Hereby a pre-owned E95 offers great value for money.
If you want to learn more about ultrasound systems in general and how to pick the right model for you, we recommend our article: Guide to Ultrasounds. It covers a range of useful themes like price ranges, models, and accessories.
Request a quote
Request a quote for the GE Vivid E95
LBN Medical is here to serve. Please fill out the contact form below and we'll get back to you as quickly as possible.
GE Voluson E10, Vivid E95, and Logiq E9 Comparison