Specifications
Request a quote
Description
In stock
Specifications for the Samsung HS70A
YOM: 2017
Software Version: 2.01.07.0601
HW Accessories: Gelwarmer
Application: General Imaging
Options Installed: Smart4D
Request a quote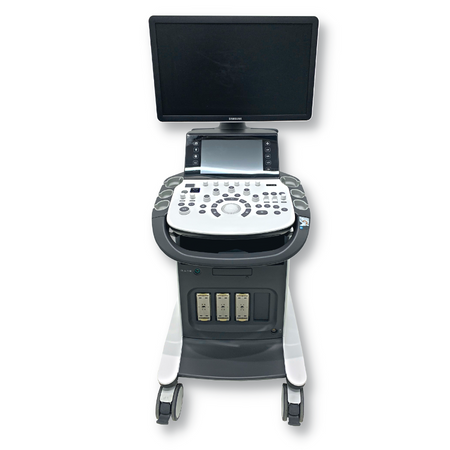 Samsung HS70A – General Information
The Samsung HS70A ultrasound machine is an ultrasound system that sets new standards in imaging excellence, tailored to meet all the requirements of modern healthcare professionals across various clinical applications. With its innovative technology, superior image quality, and user-friendly interface, the Samsung HS70A ultrasound empowers clinicians to achieve precise diagnoses and deliver the highest level of patient care.
The HS70A features Samsung's advanced imaging technologies, ensuring clear and detailed images that boost diagnostic confidence. Using its Pure Crystal Architecture, this ultrasound system provides superior image resolution, reduces visual distortions, and improves the depth of imaging, allowing for more accurate diagnoses with lifelike visuals.
CrystalBeam™ technology optimizes image quality by automatically adjusting imaging parameters based on the patient's body type, enabling users to obtain consistently exceptional images with minimal manual adjustments. The result is a seamless imaging experience, streamlining workflows and reducing examination times.
The Samsung HS70A incorporates a number of smart features designed to boost productivity and efficiency. Hybrid Beamforming technology combines the benefits of both traditional and digital beamforming, resulting in optimal imaging performance across a wide range of body types and imaging depths. Furthermore, its ergonomic design and customizable worklists improve workflow efficiency even further, shortening scan times and increasing patient throughput.
The Samsung HS70A ultrasound comes with a comprehensive selection of transducers, tailored to address various clinical needs. From general imaging to specialized applications such as cardiology, obstetrics, gynecology, and musculoskeletal imaging, the HS70A's versatile transducer portfolio ensures exceptional image quality and diagnostic accuracy across diverse medical disciplines.
Patient comfort is a priority, and the Samsung HS70A ultrasound system is equipped with features that make ultrasound examinations more pleasant. S-FusionTM technology combines real-time ultrasound images with previously acquired CT, MRI, or PET scans to enable precise needle-guided procedures. This reduces patient discomfort and the need for additional procedures.
If you are interested in learning more about LBN Medical or our products, please visit our  Learning Center about ultrasound machines or our YouTube Channel.
Request a quote
Request a quote for the Samsung HS70A
LBN Medical is here to serve. Please fill out the contact form below and we'll get back to you as quickly as possible.