C-arm Machine Price Guide
This article has been updated 18-09-2023
We prepared a C-arm machine price guide for you!
And why?
To make it easier for you to find a used or refurbished C-arm that fits your needs and your budget.
This guide will assist you in identifying the specific type and price range you should be searching for.
C-arms offer many advantages for both the surgical experience and patient outcomes. C-arms are great for surgical, orthopedic, and cardiovascular procedures.
They provide high-resolution X-ray images in real-time, allowing the physician to monitor progress and make any corrections instantly.
There are many C-arm models available with varying prices for new, refurbished, and used machines. However, opting for a used system offers budget-friendly advantages and excellent value.
How is that possible?
You can get a high-end used C-arm for a price similar to an entry-level C-arm.
And that is a smart investment, especially when you have a reliable partner providing top-quality, fully tested machines.
For an easy overview of C-arm machine prices, have a look at the price matrix below:
Note: The prices are in euros and are for the systems only. They do not include warranty, installation, or transport.
Feel free to reach out to us with any specific questions or requests:
To learn more about C-arm machine prices and get a better understanding of our price matrix, continue reading.
C-arm Machine Price Ranges
So, how much does a C-arm machine cost?
Used C-arm machine prices start at 10.000€ and can go up to +90.000€.
Here's a breakdown of the price ranges to educate you about what to expect:
Older C-arm Models – Lower Price Range
Due to their age and relatively low number of functions, these models will naturally be less costly.
Models like the GE Stenoscope or the Siemens Siremobil Compact fall in this category. Below see the price ranges within this category.
These C-arms were manufactured before 2006:
Older C-arm Models – Lower Price Range
± 10.000 Euros: Pre-2006 General Surgery and Orthopedic C-arms
These are general surgery and orthopedic C-arms that come with a 9" image intensifier, such as the Siremobil Compact from Siemens and OEC 7700 from GE.
± 20.000 Euros: Pre-2006 Cardiovascular C-arms
These cardiovascular C-arms are available with 9" as well as 12" image intensifiers. In this category, you will find the BV Endura from Philips as well as the Vista Endo from Ziehm.
More Recent C-arm Models – Higher Price Range
These newer models with advanced features tend to be at the higher end of the price scale. Systems like Siemens Arcadic Avantic, Siemens Arcadis Varic, OEC 9800 Plus, or OEC 9900 belong here.
These were manufactured after 2007:
± 20.000 Euros: Post-2007 General Surgery and Orthopedic C-arms
General surgery and orthopedic C-arm machines with a 9" image intensifier include systems such as the BV Pulsera from Philips.
30.000 – 90.000 Euros: Post-2007 Cardiovascular C-arms
These advanced C-arms can feature both 9" and 12" image intensifiers as well as flat screens. In this category, you will see C-arms such as the OEC 9900 from GE.
The above prices are close estimates of current market prices. Nevertheless, some systems can be in different price ranges at the same time.
Take a quick glance at the simplified breakdown of C-arm pricing.
GE OEC 9800 as a C-arm Pricing Exception
This system was manufactured before 2006 and does not have a flat screen, which means that it does not fit any of our categories.
However, it is a powerful system that is very popular, therefore, it sells at the price of younger C-arm machines.
When considering the purchase of a C-arm machine, it is crucial to understand market dynamics as well as the pricing ranges provided by various manufacturers.
Let's have a look at some of them.
C-arm Pricing by Manufacturer
In this section, we look at the prices of C-arm machines from well-known manufacturers like Siemens, Philips, GE, and Ziehm.
While analog C-arms typically fall within the price range of 5.000€ to 60.000€, digital C-arms are positioned in a higher price bracket, typically ranging from 25.000€ to 100.000€.
Now let's dive into how different manufacturers position themselves in this pricing landscape.
GE C-arm Price
GE C-arms are recognized as premium solutions in the world of medical imaging and their C-arm models are typically positioned in the higher price range.
The GE OEC 9900 Elite, one of their highlight products, demonstrates their dedication to providing dependable solutions and is appropriate for a variety of medical operations.
The adaptable GE OEC Fluorostar 7900 is a great option for medical facilities needing innovative solutions for their diagnostic needs if they are looking for advanced imaging capabilities.
Ziehm C-arm Price
Ziehm is another top-tier player in the C-arm market, known for its high-quality products. Similar to GE, Ziehm's C-arm machines also fall into the higher price bracket.
Ziehm Compact is a great and reasonable option for facilities that prioritize and value convenience in their daily operations.
The Ziehm Vision series offers outstanding visibility and maneuverability for a range of surgical procedures, resulting in better precision and assurance.
Philips C-arm Price
Philips positions itself in the middle ground when it comes to C-arm pricing, offering a balanced combination of advanced features and affordability.
Medical establishments looking for dependable imaging solutions without the high-end price tag will relate to this positioning well.
The Philips Veradius stands out as a sensible option that is great for standard processes, while the Philips BV Pulsera serves individuals who require more sophisticated configurations.
Siemens C-arm Price
Siemens has built a reputation for delivering budget-friendly yet reliable C-arm systems that don't compromise on essential imaging capabilities.
Due to the brand's dedication to offering dependable solutions, many healthcare facilities turn to Siemens to satisfy their imaging demands.
Siemens has two noteworthy C-arm options: the trustworthy Arcadis Avantic and the cutting-edge Arcadis Varic, which is made especially for vascular imaging.
Furthermore, the highly respected Cios Alpha C-arm system is known for its excellent mobility and versatility.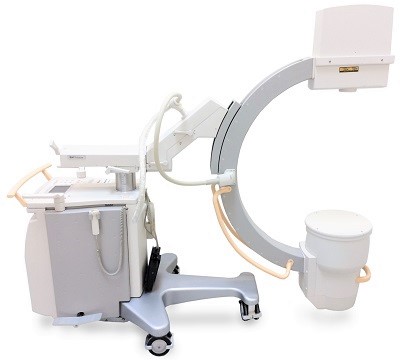 Philips BV Pulsera
A mobile C-Arm used for the most challenging surgical and interventional procedures.
If you would like to know a specific price for a C-arm you're interested in, see our selection of used c-arms.
As you can see, there are different factors affecting C-arm machine pricing.
Let's discuss them more in-depth so that you understand how they impact the price.
What Factors Affect C arm Machine Prices?
The factors that determine the prices are:
year of manufacture (YOM)
size of the image intensifier (9″ or 12″)
flat screen
system options
type of applications you can use the C-arm for
Year of Manufacture (YOM)
As mentioned, the age of the C-arm matters.
If you are buying a very old system, you can expect to pay a small fraction of the original price.
In addition, age often determines available system options and software, which can also affect the price.
Nevertheless, you must keep in mind that it is not always a rule that older systems are cheaper than newer ones, there are more factors to consider.
9″ vs. 12″ Which image intensifier is best for you?
While there are many C-arms on the market in terms of image intensifiers, you usually have to choose between 9″ or 12" (though Siemens makes a 13" as well).
The obvious difference between these two is the size.
And even though bigger, in this case, does not mean better, it means more money. C-arms that come with 12″ image intensifiers cost more than C-arms with 9″.
Now you might be wondering:
"Which C-arm is the right one for me?"
It all depends on the procedures you would like to perform with your C-arm.
Generally, if your practice focuses on orthopedics, pain management, or general surgery, you will need a 9″ image intensifier.
If you are mainly focusing on vascular examinations, a 12″ image intensifier will be the right choice.
While there are 9″ C-arms with vascular capabilities, you will find greater benefits with a 12" C-arm. With its wider field of view, you can see a larger portion of the body and that allows you to perform an exam in a single shot.
That would be more difficult to do with the 9″ image intensifiers.
We have talked about the image intensifier but what about a digital detector?
Digital imaging is a powerful tool that offers some benefits.
Nevertheless, it is still relatively new when it comes to C-arm machines and it will take some time before digital C-arms enter the market for pre-owned equipment.
When they do, the prices of digital detector systems will be much higher than the prices of image intensifier C-arms.
Is the availability of digital C-arms in the secondary market a potential issue?
No need to be concerned.
Image intensifier systems are still the standard and capture high-quality images comparable to those captured by their digital counterparts.
And as mobile C-arms are mainly used during surgeries, it is currently not as economical to acquire a digital unit.
But thanks to their superior capabilities compared to image intensifiers, digital detectors have become the go-to choice on the secondary market, and it's likely their market share will keep on growing.
What is the ideal X-ray generator size?
The larger the generator, the more you will pay for your C-arm package.
If your practice is limited to extremities, it may not be necessary to spend more on a bigger generator.
On the other hand, if you are going to use the C-arm mainly for cardiovascular examinations, you should consider purchasing a stronger generator.
System Options and Applications
The different C-arms come with different options, which also impact the C-arm unit price.
And as some examinations require certain features, make sure to always pick a system with options that fit your needs. To learn more, check out our other blog post on when you should use the C-arm machine.
Don't waste money on options you will never use anyway, but also don't try to save money by not purchasing the options you will need in the near future.
How does the application affect the C-arm machine price?
As you can see from our price matrix at the beginning of this article, cardiovascular C-arms are generally more expensive than systems for general surgery and orthopedics.
It is also because they have distinctive options available. For example, the C-arm typically used for vascular application will come with DSA and Roadmapping.
Flat Screen
The presence of a flat screen increases the price of C-arm machines.
It makes sense as the flat screen provides you with bigger viewing space as well as higher resolution and brightness of the monitor.
For a quick summary, here is an easy overview for you:
Are there any more considerations you should make before choosing the right C-arm?
Oh yes, there are.
Always keep in mind that reconditioning, delivery, installation, or warranty will add to the C-arm machine price.
Whether you choose to go with a new, refurbished, or used system, you are depending on the conditions of the system and your proximity to your reseller.
Sum Up – C-arm Machine Price Guide
As said in the beginning, we want to make it easier for you to determine the price of a C-arm machine.
However, C-arm is not a one-size-fits-all product.
So, even before looking at the price tag, be clear on your practice requirements.
In addition to your budget, you need to know exactly what studies will be done to determine the applications you need. Also, you should know the approximate number of daily examinations, and the services you require for the system, and be aware of your competition.
We hope that after reading our C-arm machine price guide, you have a better idea of how much a C-arm machine costs.
If you have any questions we have not answered in this article, get in touch with us at sales@lbnmedical.com.
We would love to hear from you.
If you require more than a C-arm, and you're aiming for more advanced procedures, then our recent article will help you Get an Overview of Cath Lab Machine Prices.
What is next?
If you would like to learn even more about C-arm machines and other medical imaging equipment, sign up for our newsletter.
We bring you new insights and the best offers every month.
When to Use Mobile C-arm Machines? (Guide)
Find out what type of C-arm machines to use in general surgery, orthopedic, urology, vascular, neurology, and cardiac procedures.
All You Need to Know about Cath Labs
Learn about cath lab procedures, detector sizes, single plane vs biplane cath labs and much more.