Siemens Arcadis Varic
Specifications
Request a quote
Description
In stock
Specifications for the Siemens Arcadis Varic
YOM: 2012
Detector/ Image intens. + size: 9"
Request a quote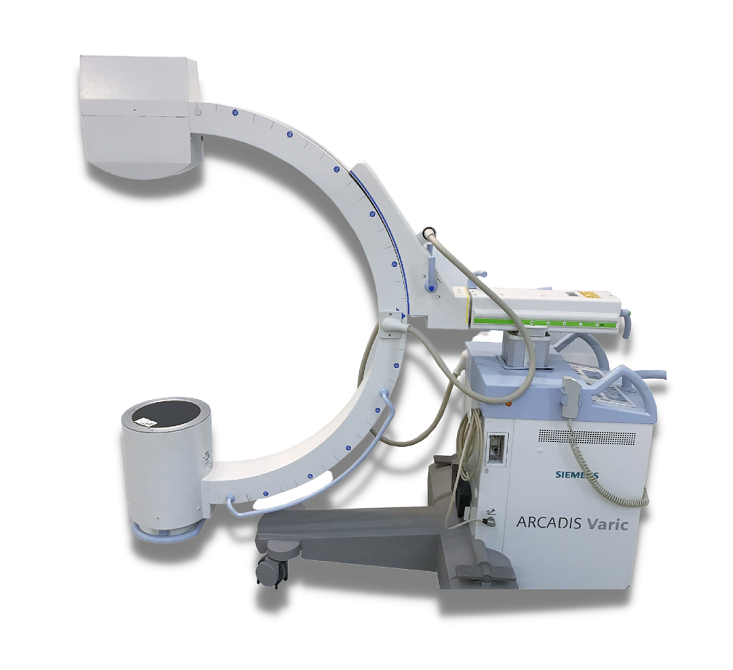 Siemens Arcadis Varic – General Information
Siemens Arcadis Varic C-arm integrates a number of unique to-the-point solutions that are focused on improving everyday practice and purely driven by your demands. 
The innovative characteristics of the Siemens Arcadis Varic set new norms in image quality, operability, adaptability, and efficiency. With amazing functions that make perfect imaging a snap and an overall ergonomic concept that redefines your clinical workflow in a variety of sectors, this C-arm machine redefines your clinical workflow in many ways.
This Arcadis C-arm is equipped with EASY (Enhanced Acquisition System), which allows it to regulate the radiation dose, contrast, and brightness of the X-ray produced.
The Siemens Arcadis Varic produces photos with a totally digital 1K resolution, resulting in crisp, clear images. It immediately sends 2D images in 1024 × 1024 resolution for surgical navigation thanks to its integrated interface NaviLink 2D.
For improved patient access and positional flexibility, this Siemens C-arm system has a counterbalanced C-arm design that exceeds values in free space, immersion depth, and overscan. All of this, plus a highly ergonomic and space-saving cart with 180° rotatable monitors that can be adjusted vertically and horizontally.
The Siemens Arcadis Varic supports virtually all DICOM 3.0 functionalities and delivers almost unlimited options for post processing, archiving, and documentation with CD, DVD, and USB. 
The self-explanatory icons make syngo's picture post-processing capabilities accessible to your OR team. Brakes and handles include clever color coding that allows for quick and precise positioning.
For more information about this Siemens Arcadis Varic C-arm and other devices we recommend you to visit our Learning Centre and learn more about the different types of equipment that we supply and when to use a mobile C-arm. You can also read our article specifically on C-arm pricing.
Request a quote
Request a quote for the Siemens Arcadis Varic
LBN Medical is here to serve. Please fill out the contact form below and we'll get back to you as quickly as possible.