Philips Veradius
Specifications
Request a quote
Description
Ask for availability
Please fill in the

contact form

for more information on availability on the Philips Veradius. In case it is not in stock we can source it for you through our network of trusted suppliers.
Request a quote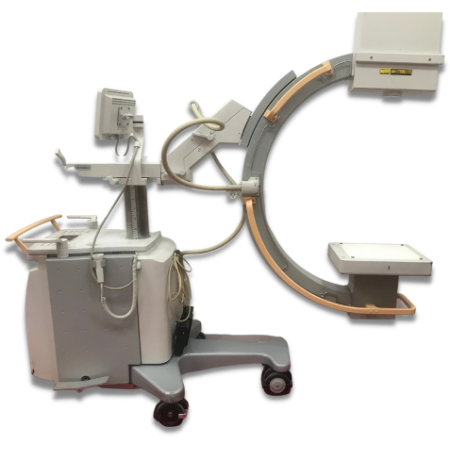 Philips Veradius – General Information
Designed in collaboration with surgeons from around the world, Philips Veradius C-arm machine provides crucial guidance, high-quality images, and accurate positioning. This enhances the accuracy of your first-time-right results and lets you view multi-modality images for critical decision making. 
Perfect for minimally invasive procedures, the Veradius C-arm is excellent in radiation dose management. Philips designed this C-arm machine to meet new challenges of medical practitioners, providing distortion-free, high contrast imaging to support vascular image-guided interventions.
The Philips Veradius Mobile C-arm machine gives you clarity and increases confidence during carrying out complex vascular, cardiac, and orthopedic procedures. During complex procedures, the deep C-arc allows you to easily position the system over patients and reach extreme projections.
This C-arm machine delivers exceptional fluoroscopy images with better contrast. That enables you to see the fine details of the relevant anatomy, thanks to the high dynamic range of the flat detector. 
Philips Veradius C-arm with a flat detector that frees up the valuable space around the patient and work area, enables you to better see team members and coordinate tasks. 
The ultra compact mobile view station offers an intelligent viewing concept with more flexibility before, during and after procedures. The operator can easily position the system and follow the procedure using an extra monitor on the stand.
ClearGuide combined with color coding on the C-arm, speeds up the positioning process. Thus the procedures that require frequent position changes are more pleasant for clinicians, which cuts miscommunication in almost half.
With position memory you can store a previous position and recall it to reduce the re-positioning time by 42%. The system displays both the current position and the saved position, which guides the operator back to the exact projection required.
If you want to learn more about C-arm pricing you can read our article: C-arm Price Guide. 
Request a quote
Request a quote for the Philips Veradius
LBN Medical is here to serve. Please fill out the contact form below and we'll get back to you as quickly as possible.