Siemens Cios Alpha
Specifications
Request a quote
Description
In stock
Specifications for the Siemens Cios Alpha
YOM: 2018
Software Version: : VA20H
Tube Model: Opti 150/10/30R
Tube YOM: 2018
HW Accessories: Screen, handswitch, footswitch
Application: General surgery / Orthopedics / Cardio
Detector/ Image intens. + size: 20X20
Options Installed: High speed Fluoro_Medium speed fluoro_Dicom send_Dicome Worklist_X-ray passcode_Remote assist
Request a quote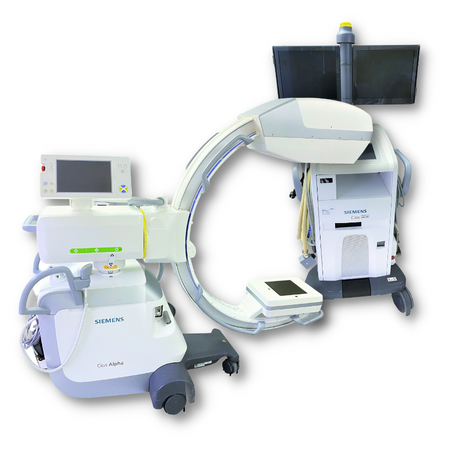 Siemens Cios Alpha – General Information
The Siemens Cios Alpha digital C-arm is a cutting-edge medical imaging device designed for use in surgical and diagnostic procedures. With its advanced digital imaging technology, it provides high-quality images in real-time, enabling medical professionals to make informed decisions during procedures. 
The compact and ergonomic design of the Cios Alpha makes it ideal for use in a variety of settings, from operating rooms to emergency departments. It features a range of advanced features, including a large monitor for clear image display, easy maneuverability for maximum flexibility, and intuitive controls for easy operation. 
Whether you're a surgeon, radiologist, or other medical professional, the Siemens Cios Alpha digital C-arm is an essential tool for delivering the best possible patient care.
Image quality:

Equipped with a high-resolution flat-panel detector produces clear, detailed images in real-time. This enables medical professionals to make accurate diagnoses and perform procedures with confidence.

User-friendly design:

Designed with the user in mind, intuitive controls and an ergonomic design makes it easy to operate. It also features a large monitor that provides a clear view of images, so that medical professionals can make informed decisions quickly and easily.

Versatile applications:

The Cios Alpha is being used in a variety of medical settings, including operating rooms, emergency departments, and interventional radiology suites. It is suitable for a wide range of procedures, including orthopedic surgery, vascular surgery, and interventional radiology.

Advanced features:

A wide range of advanced features, including automatic exposure control, an image archive, and wireless connectivity makes it easier for medical professionals to work efficiently and effectively, and to access and share images with other members of the care team.

Durable and reliable:

Being built to withstand the demands of a busy medical environment, it is durable, reliable, and backed by Siemens' reputation for quality and customer support.
In conclusion, the Siemens Cios Alpha digital C-arm is an innovative and versatile imaging device that provides medical professionals with the tools they need to deliver the best possible patient care. With its advanced technology, user-friendly design, and wide range of features, it is an essential tool for any medical setting.
Reach out through the contact form on this page to get more information about the C-arm machines currently in stock.
Request a quote
Request a quote for the Siemens Cios Alpha
LBN Medical is here to serve. Please fill out the contact form below and we'll get back to you as quickly as possible.