Philips BV Endura
Specifications
Request a quote
Description
In stock
Specifications for the Philips BV Endura
YOM: 2009
Software Version: 2.2.7
Tube Model: X-ray tube 110kV
Tube YOM: 2008
Detector Size: 12"
HW Accessories: Footswitch, handswitch
Application: General surgery / orthopedics.
Detector/ Image intens. + size: 9"
Options Installed: Handswitch, footswitch
Request a quote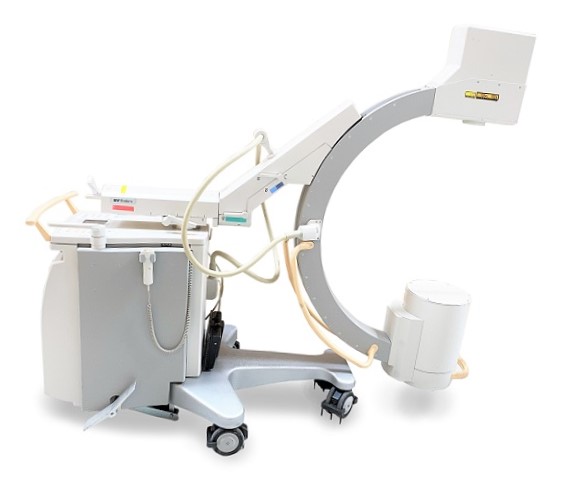 Philips BV Endura – General Information
Philips BV Endura is a mobile C-Arm system. The system consists of a C-arm stand with a compact foot and rear-wheel steering for straightforward maneuverability and positioning. The clever design of the device and mobility of the view station provides the user with a better view and easy connectivity.
As compact and as flexible as the C-arm system can be, this system from Philips is versatile and easy to use. Hence, it can offer a wide range of different examinations including vascular. The device is very easy to transport, and all parts are well-accessible to clean.
This system possesses a fixed anode X-ray tube, which supports a lengthy procedure with its high cooling rate. Automatic settings of this X-ray beam provide consistent quality during any procedure and beam-filter reduces patient skin dose.
Collimation is the process of aligning all components in a device to bring light to its best focus. Every optical imaging device got to be collimated, however, it is easy to perform this task on some and a touch harder on others. BV Endura makes collimation easy and therefore it reduces scatter radiation and enhances image quality. In addition, during collimation there use to be produced additional x-ray radiation. This system from Philips eliminates additional X-ray doses during collimation.
BV Endura has both analog and optional digital outputs. The system allows you to display external video signals such as endoscopy or ultrasound on one of the screens. Therefore, you can have all images and information you need during the examination to compare or connect in one place. All images can be stored at USB storage.
You can control this device also with the remote control unit. This can be used also during sterile operation, with a sterile transparent plastic cover. The left monitor of the view station includes a touch screen. This screen gives you easy access to the graphical interface. Using this touch screen is very intuitive. Even though it is a touch screen, it offers the same resolution and quality as other screens, because Philips used advanced infra-red technology for this screen.
Unique dynamic movement detection minimizes motion artifacts. There are millions of calculations every second to apply the proper noise-canceling effect. This device has also special BodySmart technology which allows free positioning of anatomy even at the edge of the detector because its software can detect it anyway.
This system supports a wide variety of applications, which can be also modified and configurated.
Philips put the focus on every part of BV Endura and this device can offer excellent medical imaging with a flexible and compact design.
If you are interested in more information about this C-arm and other devices, which LBN Medical can offer, visit our Learning Centre to learn more about the different types of equipment that we supply. You can also read our article specifically on C-arm pricing. For different interesting videos about medical imaging systems check our Youtube channel.
Request a quote
Request a quote for the Philips BV Endura
LBN Medical is here to serve. Please fill out the contact form below and we'll get back to you as quickly as possible.