Philips BV Pulsera
Specifications
Request a quote
Description
In stock
Specifications for the Philips BV Pulsera
YOM: 2013
Software Version: 2.5.5
Tube Model: RO 0306 (10263300)
Tube YOM: 2013
Detector Type + size: 9"
HW Accessories: Footswitch, handswitch, Remote controler
Application: General surgery / orthopedics
Detector/ Image intens. + size: 9"
Options Installed: Abdominal Thorax HQ Orthopaedics Orthopaedics Head/Spine Basic Processing Extended Processing 2000-IÍMGS package Low Frequency pulsed Standard DICOM package Advanced DICOM package Patient privacy protection USB package
Request a quote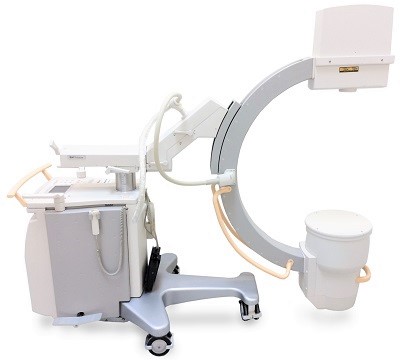 Philips BV Pulsera – General Information
The Philips BV Pulsera is a mobile C-Arm that can be used for the most challenging surgical and interventional procedures. This powerful fluoroscopy system comes with a high-resolution CCD camera, outstanding image quality at a low X-ray dosage, crisp, clear images, and superior penetration power.
This mobile C-arm will enable you to do the best work in Bolus Chasing, Abdominal Aortic Aneurysm repair, cardiac procedures as well as during neurosurgical exams because it has the imaging clarity and power to do so.
Moreover, the rotating anode technology and automatic high penetration mode that the system possesses will allow you to see through virtually any patient. And also, it will let you see the finest details in the steepest projections and observe the fastest moving anatomy.
The BV Pulsera helps you clearly view dynamic images in surgery. Furthermore, the pulsed exposure mode creates outstanding image contrast and eliminates movement artifacts in cardiovascular exams. Thereby it provides motion blur-free images. In short, the BV Pulsera gives you the power and the image quality you require.
Due to its compact size, you can move this mobile C-arm very easily, even in the tight confines of the operating room. Its small footprint ensures that you can bring it as close to the operating table as you desire. In addition, its unique design enables easy cleaning of the system.
Overall, the BV Pulsera is a clinically versatile system that provides superb images. And thus, it is a good choice if you are looking for a good quality mobile C-Arm system. With a used Philips BV Pulsera you get great value for money and a good stable system.
Are you interested in knowing more about other C-Arm systems?
Read about the GE OEC 9800 and GE Fluorostar 7900. And if you have any questions, do not hesitate to contact us.
Request a quote
Request a quote for the Philips BV Pulsera
LBN Medical is here to serve. Please fill out the contact form below and we'll get back to you as quickly as possible.