Siemens Arcadis Avantic
Specifications
Request a quote
Description
In stock
Specifications for the Siemens Arcadis Avantic
YOM: 2007
Tube Model: MODEL NO. 3825150
Tube YOM: Original (2007)
HW Accessories: Control panel for exposure unit
Application: General surgery / orthopedics / Cardio / Vascular
Detector/ Image intens. + size: 13"
Options Installed: GET_WORKLIST_40.100, ASPIA_FILTER_MIP_40.1, ASPIADICOM_BASIC_SM _1.0, ASPIA_DICOM_ADVANCED_SM_1.0, ASPIA_FRAMES_PER_SECOND_ 1.0, ASPIA_2D_MEASUREMENT_TOOLS_1.0, SYNGO_GENERAL_LICENSE_43.1, FILM_PAPER_PRINTER_1.0, MPPS_SUPPORT_1.0, FILM_VFS_1.0, ASPIA_30FPS_1.0, ASPIA_DCM_1.0, ASPIA_AUTOLOP_1.0
Request a quote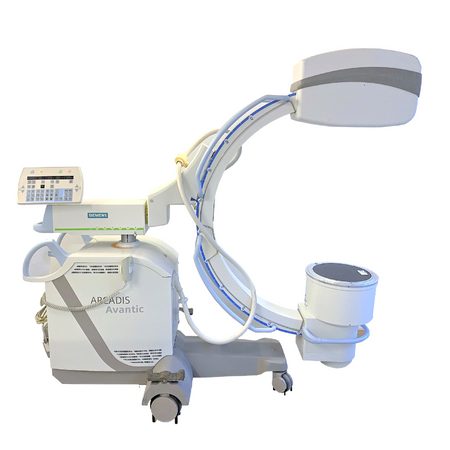 Siemens Arcadis Avantic – General description
The Siemens Arcadis Avantic is a cutting-edge mobile C-arm with a larger field of view. 
This system incorporates numerous to-the-point solutions from image quality to operability, from versatility to efficiency.
The groundbreaking features of the Siemens Arcadis Avantic will satisfy your clinical needs with its outstanding functionalities that make excellent imaging a snap and an overall ergonomic concept that redefines your clinical workflow in many fields of practice.
This C-arm is an ergonomic system with lightweight and 180° rotatable both vertically and horizontally adjustable monitors. It requires less space and it can be adjusted to your specific needs.  Its syngo® user interface provides intuitive and fast operation, networking, and image postprocessing.
The monitor cart of Arcadis Avantic has major improvements designed to ease your everyday work. With its small footprint of only 73 x 65 cm, it is excellent for those who need a space-saving design.  Moreover, its compact and lightweight design, centralised foot brake, ergonomic handles, and the foldable monitors contribute to an appreciable advantage in maneuverability.
The 33 cm image intensifier is a great advantage for Vascular surgeries, as it allows you to have an excellent overview without any need of repositioning your Arcadis Avantic. Therefore, this system is ideally suited for vascular interventions in many different applications.
With its large power reserves of 25 kW and its rotating anode, the Siemens Arcadis Avantic helps you to excellently perform in cardiac surgery and electrophysiology. Imaging throughout the chest area is supported by incredibly fast imaging rates of up to 30 images/s with a minimum pulse width of 7 ms in Digital Cine Mode.
With its 33 cm image intensifier, the Siemens Arcadis Avantic provides more anatomic information and thus facilitates orientation in gastroenterologic interventions. The optimum image quality with contrast media can be obtained with customized program settings. You can also read this useful article about when to use mobile C-arm machines or visit our stock for more C-arms.
Request a quote
Request a quote for the Siemens Arcadis Avantic
LBN Medical is here to serve. Please fill out the contact form below and we'll get back to you as quickly as possible.