GE OEC 9900 Elite
Specifications
Request a quote
Description
In stock
Specifications for the GE OEC 9900 Elite
YOM: 2010
Software Version: WS: 7.0.59 - GIB: 4.6.27 - MCU: 4.5.27 - FFB: 4.6.27
Tube YOM: 2010
Detector Type + size: 12"
HW Accessories: Hand switch, foot switch, controler.
Application: General surgery, Cardiac, Vascular. Fluoro, Roadmap
Options Installed: With remote user Interface / 04-2021 With footswitch With Manual Workstation / OEC 9900 Elite Vas MTS / 04-2013 With Dual LCD Monitors With Hybrid Graphic Printer
Request a quote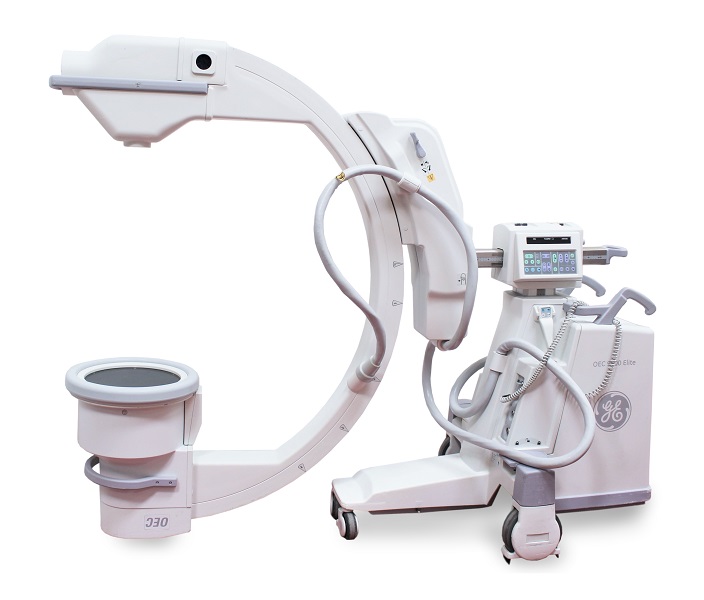 GE OEC 9900 Elite – General Information
The OEC 9900 Elite is GE's newest digital mobile C-arm system. It is an industry leading C-arm, which provides 1k x 1k x 16 bit high resolution imaging. Moreover, the OEC 9900 Elite is an excellent system for the ER, OR, IUC or surgical imaging or interventional setting.
Furthermore, this C-arm provides an outstanding image quality and has a simple user interface with a touch screen that can help with procedure time reduction and efficiency improvement. Also, the system includes a wide range of clinical, vascular and surgical applications. In addition, the machine comes with a quick and easy positioning of the C-arm along superior articulation capabilities, thus it is for any hospital.
The OEC 9900 Elite has flat panel monitors that are mounted on an articulating arm, which allows the practitioner to view from any angle in the imaging suite. Moreover, it has dual control mainframe as well as a left-to-right layout, that makes the whole operation fast thanks to easy access. Besides, this system features about 100 times more image computing power than previous C-arms in the series by GE. Also, the system has a longer image period thanks to a unique x-ray tube and cooling system.
To sum it up, the GE OEC 9900 Elite is an outstanding C-arm with many great applications and is an advantage to have in any hospital.
In order to determine the type and price range of refurbished C-arms, visit our insightful blog and read an article about Mobile C-arm machine Price Guide to learn more and what to expect when buying such a machine.
Contact us with any questions or requests.
Request a quote
Request a quote for the GE OEC 9900 Elite
LBN Medical is here to serve. Please fill out the contact form below and we'll get back to you as quickly as possible.