What Equipment Is Available for Veterinarians on the Medical Imaging Market?
Medical Imaging Equipment for Veterinarians
Here you will be able to find information about veterinary ultrasound machines and other popular equipment, such as CT, MRI scanners, and C-arms for both small animals such as cats and dogs, as well as ones for bigger animals such as horses.
Also, you can find internal links for relevant information in regard to veterinary ultrasound machine cost, who we are at LBN Medical, and a full overview of what we have to offer. We also mention our experience working with veterinarians.
Why Buy Refurbished Veterinarian Medical Equipment – Well, Why Not?
Excellent Quality Systems
Very Attractive Prices
Good Return on Investment
Buying a refurbished veterinary ultrasound machine, CT, MRI scanners, and C-arms can be rewarding in so many ways.

First and foremost, the price will be much lower than buying a factory new. Also, depending on your personal preference, more powerful machines with more options can be affordable and within a reasonable price range.

At LBN Medical we refurbish, but the used machines are also completely checked, so you can buy from us with trust and confidence.
We urge you to read our definition of used, refurbished, and OEM refurbished.
And if you want to get an overview of price ranges, see our blog posts for Ultrasound Machine Prices, CT Scanner Prices, MRI Scanner Prices, and C-arm Machine Price Guide.
Veterinary Ultrasound Machines
See an overview of veterinary ultrasound machines that are suitable for your veterinary practice. Starting with Esaote.
Esaote MyLab Series
For decades, Esaote has been committed to delivering innovative tools and solutions that meet veterinary needs. Over 30 years of market leadership, Esaote became the preferred supplier for veterinary clinics.

These veterinary ultrasound machines offer quality, service, affordable price, and education, combined with the understanding of your veterinary needs.
Admittedly, Esaote is an ultrasound machine that will benefit you and your colleagues. You can find the following Esaote veterinary ultrasound machines on our website: Esaote MyLab 6, Esaote MyLab 7, Esaote MyLab 9 eXP, Esaote MyLab 70.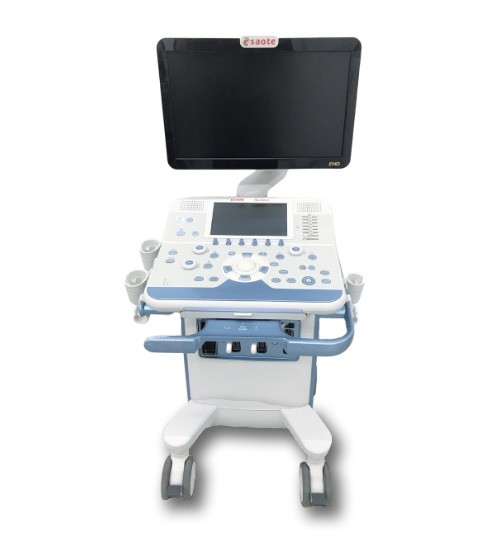 Esaote Mylab Seven
The Esaote MyLab Seven is an effective and useful device made by the Italian company, which is well-known in the medical imaging business and recognized as a leader in ergonomics, design, and simplicity of use.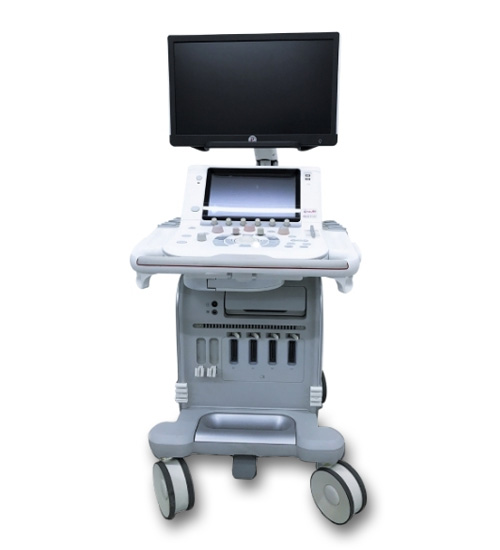 Esaote MyLab 9 eXP
This ultra-performance device was manufactured to support a wide scale of diagnostic imaging actions. Esaote gives you control over various visualization tools, which you can use for your images.
When it comes to other brands, we recommend the following ultrasound machines suitable for veterinarians:
Siemens Acuson X300

The Siemens Acuson X300 is a shared service ultrasound that provides excellent image quality, due to great technologies and options in a lightweight model.
Philips VISIQ – Portable

The Philips VISIQ represents powerful technology, in a neat and highly mobile design – the ultrasound system approximately has the size of a tablet.
GE Vivid Q – Portable

The Vivid Q is GE's top-of-the-line portable cardiac ultrasound system. It has exceptional levels of image quality in a compact laptop size model.
Toshiba Aplio 50 XV

Toshiba created an excellent ultrasound machine with its Aplio 50 XV. It has a groundbreaking system architecture, based on a solid foundation.
When it comes to veterinary ultrasound machines, a shared service system would be of interest, as you can apply applications of your choice. E.g. pregnancy diagnosis, echocardiography and abdominal, and others.
CT scanners Suitable for Veterinarians
We have also collected veterinarian CT scanners on the pre-owned market that can be suitable for your practice. Here are some, that we recommend:
Siemens Emotion Duo

The Siemens Emotion Duo is a great entry-level CT that does not take up much space. Besides – both the cost pr. picture and the price of the system is very attractive.

Toshiba Asteion S4

The Toshiba Asteion S4 is a high-quality but budget-friendly CT scanner. It is the only 4 Slice CT that uses a 0,5mm detector technology.
C-arms Suitable for Veterinarians
Lastly, let us look into the veterinary C-arm machines.
Philips BV Pulsera C-arm

The Philips BV Pulsera is a mobile C-arm that offers you excellent visualization during long procedures and surgeries. Its powerful dynamic software is ideal for a wide range of clinical applications for veterinarian needs.
Ziehm Vista C-arm

The Ziehm Vista C-arm is suited to the broadest spectrum of surgical applications to meet veterinarian needs as well.

GE OEC 9800 C-arm

The GE OEC 9800 C-arm provides high-resolution and additional packages, such as PMCare, Neuro-Vascular, and Cardiac.
Veterinary MRI Scanner
As we have mentioned above, Esaote has over 30 years of market leadership, they became the preferred supplier for veterinary clinics. Thus, we would like to recommend also their veterinary MRI scanners:
Esaote E-Scan

Over 25 years of innovation in dedicated musculoskeletal MRI, Esaote created cost-effective MRI systems that will provide excellent image quality, user-friendly guidance and comfortable patient care.

The Esaote E-Scan can be used for all small animals. We have also seen it used with success on bigger animals such as horses.
MRI Scanners Suited for Horses
The MRI scanners that are most suitable for horses are:
Esaote E-Scan
Esaote G-Scan
The G-Scan from Esaote can be used for horses without putting them into general anesthesia. It is a revolutionary system that scans the patients in an upright position.
Why Choose Medical Imaging Equipment from the Top Brands?
High-Quality Materials
Excellent Technologies and Options
You might think that they are expensive, but if you look at the refurbished and pre-owned market, the prices are similar to cheaper brands.
Furthermore, we can offer product training and provide you with a warranty if you desire.
Get to Know Us Better
Watch our Video company presentation, made for our fairs. It also displays a selection of the many languages that we speak.
Our Experience Working with Veterinarians
We have collected some of our customer reviews that we would like to share with you.
'Quality product, with guarantees, good price and unbeatable customer service. The KAM who attended us, Alba, a charm. She cared for and helped us at all times.
The equipment that we have acquired is like new. The image quality is amazing. Thanks to it, we will be able to make better diagnoses and it will greatly facilitate surgeries.'
GE OEC Fluorostar 7900 Compact veterinary ultrasound machine – Spain
Ultrasounds are not only used to scan people. Sometimes the patients are several meters longer.
Some of our customers are veterinarian clinics. Equipment like ultrasounds helps all kinds of domestic, decorative, and exotic animals to get a quick diagnosis and get better in no time!
For example, one of our customers from Belarus used a Philips ultrasound bought from us to scan a snake.
There is a wide range of veterinary imaging equipment that you can choose from. We hope that you find all the information useful.

If you require further help in your next purchase, our sourcing department will be happy to assist you regarding your inquiries. Please do not hesitate to contact us.
Sign up to receive more information about medical imaging equipment!
Medical Imaging Equipment – Used, Refurbished, or OEM Refurbished?
Learn about the differences between used, refurbished and OEM refurbished medical imaging equipment!
How Much Does an Ultrasound Machine Cost?
You will know a lot more about ultrasound machine prices after reading this blog – Generally, the price range is very broad.