Toshiba Aplio 50 XV
Specifications
Request a quote
Description
Ask for availability
Please fill in the

contact form

for more information on availability on the Toshiba Aplio 50 XV. In case it is not in stock we can source it for you through our network of trusted suppliers.
Request a quote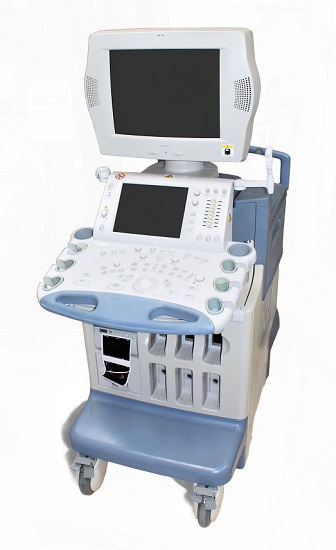 Toshiba Aplio 50 XV – General Information
Toshiba created an excellent ultrasound machine with their Aplio 50 XV. It is based on four solid foundations that are all important for efficient ultrasound imaging: Navigation, Visualization, Quantification, and Communication. These were the focus points of Toshiba, and are the reason for Aplio's groundbreaking system architecture.
The Toshiba Aplio 50 XV provides excellent diagnostic performance and delivers high-quality examinations. Furthermore, it offers great potential for new and advanced applications. The reason for this is that the technology of Aplio consists of two core elements: Intelligent Component Architecture and the Tera Processing Beamformer. In short, this allows the ultrasound system to perform highly complex data operations in real time and beamforming at ultra-high speed.
Additionally, the Toshiba Aplio 50 XV can perform dynamic micro slices with its matrix transducers. Also, it has the option to create blood flow imaging in B-mode resolution. Furthermore, the system is configured for "single crystal" technology, which makes it even more powerful.
If you are looking for innovative workflow management, sophisticated quantification analysis tools or communication and data management facilities, it is easy to say, Aplio has it all as a reasonable price, that allows even clinics with tighter budgets to have an excellent ultrasound system.
Therefore, it is safe to say that the Aplio 50 XV offers great value for money, and can be very accommodating for small practices as well as big.
Contact us to learn more about this system, either through the contact form or through the call button.
Request a quote
Request a quote for the Toshiba Aplio 50 XV
LBN Medical is here to serve. Please fill out the contact form below and we'll get back to you as quickly as possible.