Esaote Mylab Seven
Specifications
Request a quote
Description
Ask for availability
Please fill in the

contact form

for more information on availability on the Esaote Mylab Seven. In case it is not in stock we can source it for you through our network of trusted suppliers.
Request a quote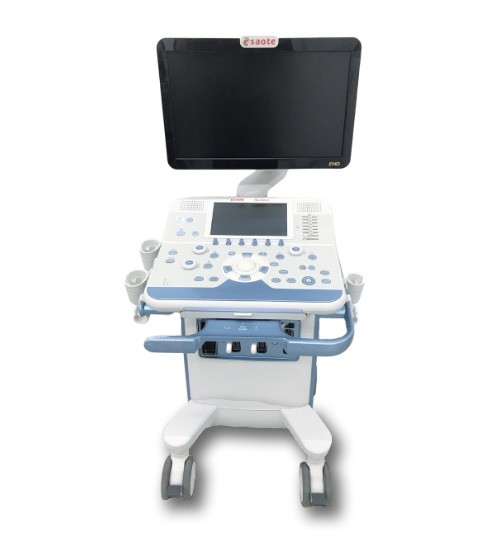 Esaote Mylab Seven – General Information
The Esaote MyLab Seven is an effective and useful device made by the Italian company, which is well-known in the medical imaging business and recognized as a leader in ergonomics, design, and simplicity of use.This multifunctional device can bring you the opportunity to experience high efficiency of ultrasound imaging, by getting more information from ultrasound echo with higher quality. This ultrasound scan is also designed to lower power consumption.
With 4 multi-sized connectors, you do not have to use only convex, linear, or phased array probes, but also several specialized transducers, like volumetric, trans-esophageal, endo-activity, and intraoperative probes. With a device from Esaote, you will always be able to use the right tool for examination and do not waste any more of your or your patient's time.
This high-class ultrasound system has a compact size, wide display with articulated arm, and also sliding alphanumeric keyboard. MyLab Seven has also other hardware components, which can improve the quality of examinations, like 2D or 3D transducers or stand-by battery.
The Esaote MyLab Seven offers easy rotation and custom height adjustment. A large touch screen placed under the display in connection with intelligent software allows many different features to be delivered. Settings of this platform can be easily customized and organized according to the clinical practice and preference of the user. All the functions can be quickly recalled by just pressing a button.
By pressing the main "e" button with the logo of Esaote, the user can immediately see all main controls and functions that he needs for examination. This improves user comfort and reduces examination time.
At last, but not least, this ultrasound scanner can offer extended export capabilities to PC or even smartphones and tablets. Device supports easy standard wireless networking and is connected to the "MyLab" app for smartphones and tablets.
All in all, MyLab Seven is a very useful, simple to use, compact, practical, effective, and innovative system. System offers several different functions, modes, and top-quality hardware and software for higher comfort and quality of examination. And can be also used a veterinary ultrasound machine.
If you are interested in more information about this ultrasound scan and other devices, which LBN can offer, click here and read about it in Learning Centre at our website or check our Youtube channel with different interesting videos about medical imaging systems.
Request a quote
Request a quote for the Esaote Mylab Seven
LBN Medical is here to serve. Please fill out the contact form below and we'll get back to you as quickly as possible.
How do we test ultrasounds? - LBN Medical