Specifications
Request a quote
Description
Ask for availability
Please fill in the

contact form

for more information on availability on the GE OEC 8800. In case it is not in stock we can source it for you through our network of trusted suppliers.
Request a quote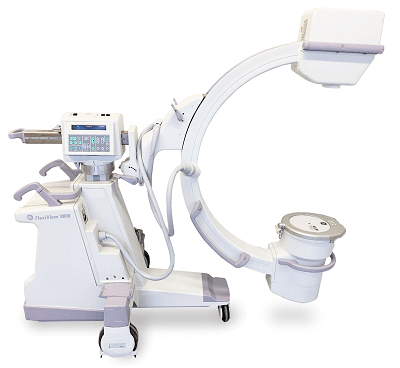 GE OEC 8800 – General Information
The FlexiView 8800 is an excellent digital mobile imaging system. Moreover, the OEC Flexiview 8800 is the mobile fluoroscopy machine that followed the GE OEC line of the X-ray systems. GE created this flexible and economical mobile C-arm with high quality imaging technology at very low long-term costs. This machine offers 1k x 1k 16-bit image processing and a full-frame CCD camera. Furthermore, it comes with powerful digital imaging in a simple point-and-shoot C-arm.
Moreover, thanks to flexibility of the system and its high quality imaging capability, the OEC FlexiView 8800 can be used in many different ordinary surgical operations. Additionally, it has 45-degree overscan efficiency. Besides, healthcare professionals can control the system with the touch screen, hand-held remote control, or foot pedal control, which make it easier to operate. This C-arm's design is to create simple and easy use. Therefore the system length is reduced to make more controlled movements for improved safety during surgery. Additionally, the GE OEC 8800 offers an option of adding an instant paper and film printer which provides a laser camera of high quality.
In conclusion, this GE C-arm ensures short operation time, increased utilization, and brings very good results.
Are you interested to learn more about what kind of budget you need to purchase a pre-owned C-arm? Then you should read our article with a Mobile C-arm machine Price Guide. This should provide the information you need and also has insights on how to pick a system with the specifications that suits you.
Furthermore, you are welcome to contact us if you have additional questions. You can do so through the contact form or e-mail. We would be happy to answer any questions.
Request a quote
Request a quote for the GE OEC 8800
LBN Medical is here to serve. Please fill out the contact form below and we'll get back to you as quickly as possible.