Specifications
Request a quote
Description
Ask for availability
Please fill in the

contact form

for more information on availability on the Esaote Mylab 70. In case it is not in stock we can source it for you through our network of trusted suppliers.
Request a quote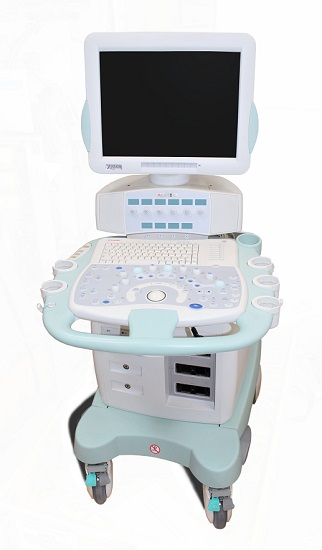 Esaote Mylab 70 – General Information
The Esaote Mylab 70 is a solid ultrasound machine, that has carefully selected components and engineering. Therefore, is is a system with several good features.
These includes a sharp image quality for all modalities, and a wide range of applications. Including, abdominal, musculoskeletal, OB/GYN, small parts, vascular and cardiology. Furthermore, the Mylab 70 has been designed with excellent capabilities in data transferring and sharing. This ensures easy and fast performance of sophisticated calculations and post-processing elaborations.
Moreover, due to software architecture, the continuous technological evolution is available for the users merely through software upgrades. Same goes with specific upgrading kits, hence they can easily improve performance of the Mylab 70. Also, they enable new functions or Technologies that ensure updated diagnostic capability. This is a unique versatility, that allows the system to continuously evolve. Also, it ensures that the system configurations are always updated and satisfying in a demanding clinical environment.
Another noteworthy thing about the  Mylab 70 is, that it Esaote developed it in close cooperation with renowned reference sites and Esaote's advanced R&D laboratories. Hereby, they designed the system to deliver a high-quality ultrasound platform, while maintaining modularity and flexibility as core aspects of its architecture.
Additionally, the high performance of the Mylab 70 combined with extensive connectivity capabilities will increase the workflow of healthcare professionals. Furthermore, it should help expand productivity and reduce the cost of daily activities.
As a result, given the sophisticated architecture of the Esaote Mylab 70, it is an outstanding ultrasound machine, that offers great value for money.  It helps reduce the time-per-patient, and give an efficient management of single examinations, while offering safe procedures for data archiving and backup.
Request a quote
Request a quote for the Esaote Mylab 70
LBN Medical is here to serve. Please fill out the contact form below and we'll get back to you as quickly as possible.