Specifications
Request a quote
Description
Ask for availability
Please fill in the

contact form

for more information on availability on the Philips VISIQ. In case it is not in stock we can source it for you through our network of trusted suppliers.
Request a quote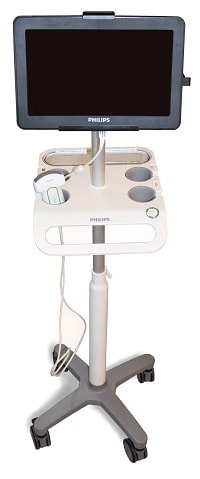 Philips VISIQ – General Information
The Philips VISIQ ultrasound system has the same functionalities as most of the Philips ultrasound equipment. Although it comes in a neat and highly mobile design – The ultrasound system approximately has the size of a tablet. The intuitive touchscreen interface has been combined with an outstanding imaging quality. This results in an excellent and fully mobile system.
It represents powerful technology, with a pioneering USB connection for its compact transducers. Additionally, it has built-in wireless communications for connectivity to the image archival systems.
The Philips VISIQ also has excellent imaging capabilities, and comes with AutoSCAN for 2D imaging. This increase image quality as it effectively optimizes 2D images throughout exams. Image quality is comparable to that of the Philips iU22 ultrasound system.
The Philips VISIQ offers an intuitive interface from the moment it is turned on. After the patient data has been entered and the exam type selected, it is easy to obtain the ultrasound images with the transducers. As a result, it is simple and easy to adjust values, change from 2D to color Doppler, and to zoom in and out. Furthermore, it is easy to apply and adjust calipers for fetal biometry measurements. Lastly, simple digital touchscreen adjustments allows for targeting of pulsed wave gates and M-mode lines of insonation.
In addition, the Philips VISIQ has helped to push the capabilities of ultrasound systems by providing a uniquely high-quality, easy to handle, light, and portable device. Furthermore, the availability of ultrasound has revolutionized the healthcare of pregnant women, in obstetric and perinatal care, and prenatal diagnosis of the fetus.
Finally, for veterinarians this portable ultrasound system can be very helpful, regarding obstetric, and general diagnosis of bigger animals. As it is more comfortable, easy to carry, and easy to maneuver around the animals.
Request a quote
Request a quote for the Philips VISIQ
LBN Medical is here to serve. Please fill out the contact form below and we'll get back to you as quickly as possible.