Esaote MyLab 9 eXP
Specifications
Request a quote
Description
Ask for availability
Please fill in the

contact form

for more information on availability on the Esaote MyLab 9 eXP. In case it is not in stock we can source it for you through our network of trusted suppliers.
Request a quote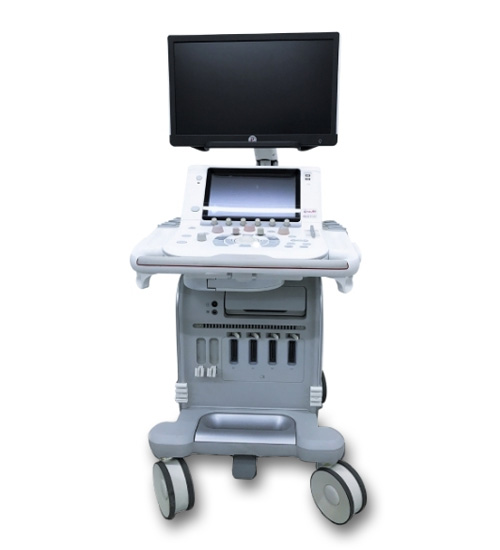 Esaote Mylab 9 eXP – General Information
This ultra-performance device was manufactured to support a wide scale of diagnostic imaging actions. Esaote gives you control over various visualization tools, which you can use for your images. The clarity and sensitivity of images help you to make the right decisions and you can keep your client informed about all the results of the examination. MyLab 9 eXP provides the unprecedented power of images.
This ultrasound possesses a 24" full HD LCD monitor and non-composite crystal probe technology, which is driven by the new ultra-engine platform. This connection can offer you greater image clarity, color, and contrast.
The Esaote MyLab 9 eXP system takes advantage of over 30 years of Italian engineering and design to offer an ultra-ergonomic experience with its floating keyboard and tablet-like touchscreen.
Clinicians will also benefit from different modes as EasyMode. It is a unique touch-tool for image optimization through intelligent real-time algorithms, or Opti-light, which is integrated into the monitor to illuminate the room ensuring the best environment for optimal scanning.
Esaote MyLab 9 eXP possesses four slots for different probes, so you can connect more probes at once and choose between them, by just selecting an option on the screen.
Besides other high-rated components, this ultrasound can offer a very fast SSD hard disk and the device is running on Windows® 10, which supports the latest data security.
Therefore, you can see that MyLab 9 is a top-quality system. The year of construction is 2018, which makes this ultrasound one of the newest and least used, that we can offer. The device is equipped with the latest hardware and software and the Italian design makes it ergonomic and easy to install and use anywhere.
To find out more about this device and other ultrasounds, you can check our learning center or visit our YouTube channel and watch many informative videos.
Request a quote
Request a quote for the Esaote MyLab 9 eXP
LBN Medical is here to serve. Please fill out the contact form below and we'll get back to you as quickly as possible.
How We Treat Used Ultrasounds in Our Warehouse - LBN Medical