Specifications
Request a quote
Description
Ask for availability
Please fill in the

contact form

for more information on availability on the GE OEC 7700. In case it is not in stock we can source it for you through our network of trusted suppliers.
Request a quote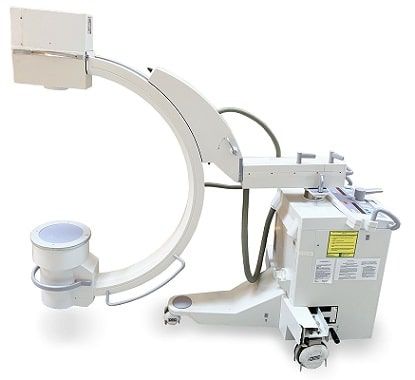 GE OEC 7700 – General Information
The GE OEC 7700 is an excellent X-ray machine that is designed as a one-piece mobile fluoroscopic C-arm with monitor. Moreover, there is an optional dual monitor cart.
This system offers several features. In the first place, it serves on a "point and shoot" principle that has an automatic image adjustment and one-button programming for a simple examination. Secondly, it brings an outstanding image quality with high resolution CCD camera. It can examine many different areas such as chest imaging, orthopedic surgery, vascular, and gastro intestinal. Furthermore, the OEC 7700 has a patient specific image management software that can recall patients by name and search up to 36.000 images.
It is important to mention that the OEC 7700 has its own monitor and hardcopy printer. Therefore, it is not necessary to move extra components around.
Additionally, this high quality C-arm machine will be a good fit in clinics with limited space, as it is designed to be compact enough to move around. Plus, it is very simple and easy to use.
In conclusion, the OEC 7700 is a unique and cost effective medical system which delivers fast and efficient results.
If you would like to know more about the estimated price range of the GE OEC 7700 read our article about Mobile C-arm machine Price Guide to learn more.
If you have any questions or requests regarding the imaging medical equipment, contact us at sales@lbnmedical.com or at +45 96 886 500. Let us know how we can help you.
Request a quote
Request a quote for the GE OEC 7700
LBN Medical is here to serve. Please fill out the contact form below and we'll get back to you as quickly as possible.