The Best Portable Ultrasound Machines – 2023 Update
In this blog post, we provide you with our recommendation for the best portable ultrasound machines available on the used market.
And why did we make this overview?
The popularity of portable ultrasound machines is on the rise. These mobile systems have become a necessity for many healthcare facilities.
No wonder – They come with a number of benefits.
In comparison to the console-style ultrasound machines that preceded them, the portable ultrasound machines are much smaller. Therefore, they require less valuable space in the facilities, with the added advantage that healthcare professionals can easily move them from room to room.
In most cases, portable ultrasound machines can be carried by hand. And in some cases, you can even operate them for a short period only powered by a battery.
Moreover, these compact ultrasounds allow faster yet accurate diagnosis as they provide the same high-quality images as larger machines. More and more physicians are aware of the potential of portable ultrasounds and are trained to utilize them better in their practices.
The Best Portable Ultrasound Machines

The portable ultrasound systems we have selected are all from the premium brands on the used market:
CX50 from Philips, Logiq E, Vivid i, Voluson i from GE, Viamo from Canon Medical, Acuson P300 and Acuson P500 from Siemens.

Philips
Let's start with Philips portable ultrasound machines.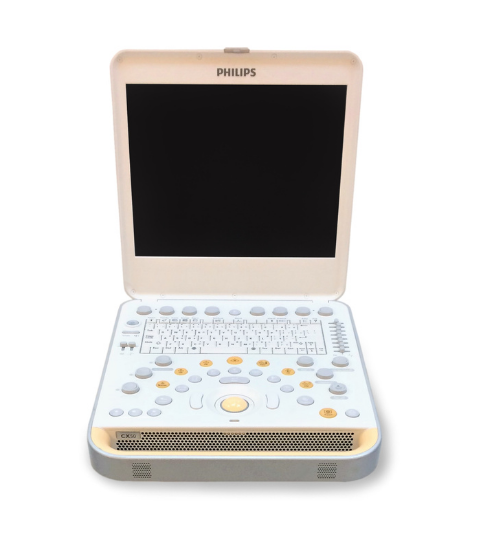 CX50 (Shared Service)
Philips has merged superior, innovative technologies into the CX50 system.
That is how they address the need for premium class performance in a compact ultrasound system.
Therefore, you can trust the data from your studies, even if you have performed the most technically demanding examinations.
Images are displayed with exceptional quality, giving you the data you need for a confident diagnosis.
Moreover, this premium portable ultrasound comes with support for both PureWave single crystal and xMatrix transducers.
It also allows for up to three transducers to be connected.
The CX50 and its transducers enable a wide range of exams, including abdominal, vascular, small parts, musculoskeletal, obstetrics, gynecology, pediatrics, and adult cardiology.
GE
GE has a wide range of portable ultrasound machines for sale that are popular on the used market too.
They are of great quality and we would especially recommend: Logiq E (shared service), Vivid i (cardiac), and Voluson i (OB/GYN).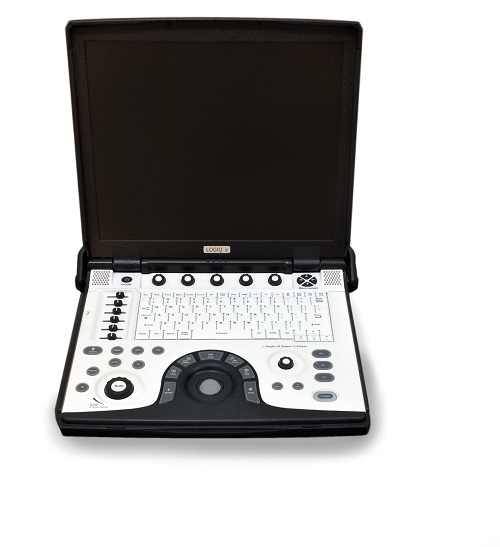 Logiq E (Shared Service)
The Logiq E is a high-performance multipurpose color compact imaging system.
It belongs among the world´s most famous and bestselling mid-range portable ultrasounds.
Moreover, the system is highly customizable, as it allows you to customize all aspects of image quality, annotations, programmable buttons, and more.
GE has designed this ultrasound for cardiac, abdominal, obstetrics, gynecology, vascular, musculoskeletal, small parts, pediatric, neonatal, and intraoperative applications.
Hence, it can satisfy a wide range of your examinations' requirements.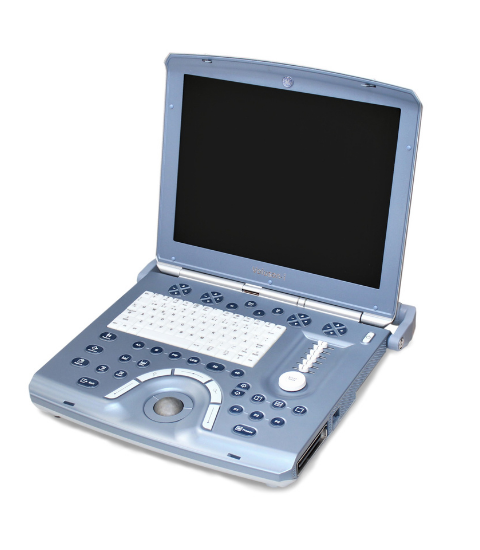 Voluson i (4D OB/GYN)
The last GE portable ultrasound machine we will mention is the Voluson i.
This system was the world's first compact volume ultrasound.
It has the imaging performance of a full-sized Voluson ultrasound system and delivers incredible image quality and clarity, alongside its volume capabilities.
In addition, it provides real-time volumetric images and advanced diagnostic capabilities both online and offline.
The Voluson i focuses on women's health, but can also support general imaging and vascular applications.
Canon Medical
The following brand we look into is Canon, former Toshiba.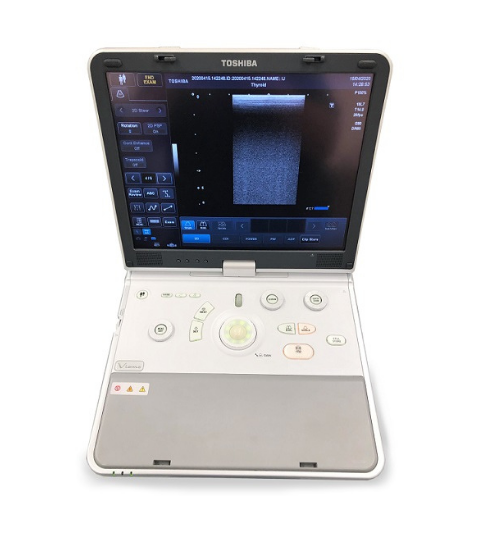 Viamo (Shared Service)
The best portable ultrasound for sale from Canon is the Viamo.
Canon designed it for shared service applications, and it belongs among high-end portable ultrasound machines.
Furthermore, it has the same imaging hardware and probes as the high-end Aplio series.
This ensures that the Viamo produces images of a great quality.
The fully programmable touchscreen provides customizable access to imaging, quantification, and workflow functions.
Siemens
If you are considering purchasing a portable ultrasound from Siemens, here is our recommendation:
Siemens Acuson P500 (Shared Service)
Another portable ultrasound machine from Siemens we would like to praise is the Acuson P500.
It is a midrange emergency ultrasound.
This adaptable and durable system is optimized for point-of-care imaging to better serve a wide range of environments and patient types.
It delivers sophisticated technologies from the entire Siemens portfolio.
Therefore, it ensures unparalleled image quality and intelligent workflow, all in a compact laptop format.
How does the Acuson P300 and the P500 differ?
In some of their features. For instance, the P500 offers Barcode Reader while the P300 does not.
Also, the P500 is lighter and can be used for fewer applications than the P300.
Its applications are MSK, vascular, abdominal, breast, and OB/GYN.
Sum Up
All premium brands in the medical equipment industry, Philips, GE, Canon Medical (Toshiba), and Siemens, have excellent portable ultrasound machines.
Hence, it might be difficult to select the best one.
Hopefully, after reading this blog post, you feel more confident to purchase your next compact ultrasound system.
You are more than welcome to contact us for more guidance. Our team will be happy to help you.
If you need probes, feel free to check availability on our Webshop, or to contact us directly.
What is next?
If you would like to learn even more about ultrasounds, you can sign up to receive an e-book: 'How to pick your next ultrasound' and become part of our ultrasound e-mail course.
In multiple e-mails, this course will guide you through several themes related to your next ultrasound purchase.
Get the e-book and join our ultrasound course:
Which Canon Aplio System to Get? (Comparison)
Find out what Aplio system from Canon matches your needs. Is it the Aplio 500, Aplio 400 or Aplio 300?
The Best Cardiac Ultrasound Machines
Learn about the best cardiology ultrasounds in the used market. That will help you the next time you are searching for a cardiac ultrasound.