Specifications
Request a quote
Description
Ask for availability
Please fill in the

contact form

for more information on availability on the Canon Viamo. In case it is not in stock we can source it for you through our network of trusted suppliers.
Request a quote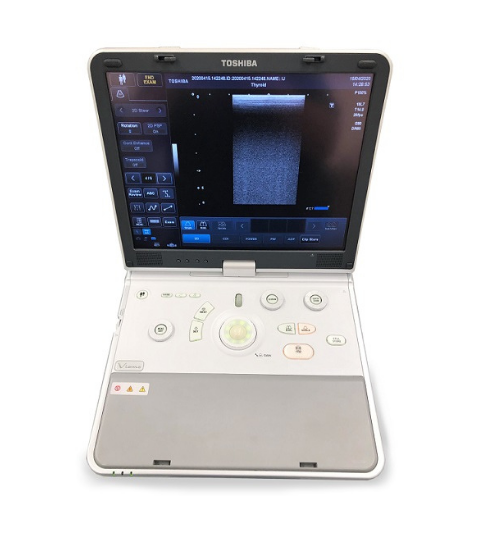 Canon Viamo – General Information
The Canon Viamo is a laptop-based portable ultrasound system with a height-adjustable pole cart that is remarkably slim and easy to operate. Also, it suits many types of clinical examinations where there are issues with space. It is very flexible and offers clinicians the opportunity to move and carry the system around wherever it is needed.
The Canon Viamo has a cutting-edge imaging technology with a great innovation that allows a comfortable touchscreen operation. Moreover, with Viamo's one touch function, it delivers an outstanding image quality with a single press of a button. Furthermore, the system can be tailored to the individual preferences and particular requirements for different examinations. Hence, it makes the workflow exceptionally efficient.
It is important to note that this Toshiba ultrasound is a battery-powered machine and it is ready to operate in just a few seconds when starting the system. Thereby, it is immediately ready in case of critical situations.
Overall, the Toshiba Viamo is a small machine that is lightweight and easily transported. But this system has a powerful imaging and fast connection which make it a very valuable tool for clinics and hospitals.
The Viamo has transducers that need a good care. Therefore, we have written an article about how to protect your ultrasound probes.
Also, it is important to keep the ultrasound in a great form. You can read about the ultrasound maintenance and what to do in order to keep the longevity of your system in our ultrasound guide.
If you are wondering how much a pre-owned ultrasound costs, watch our video about the ultrasound system price range. There you will learn the different prices for different types of ultrasound machines.
Get in touch with LBN Medical team for more information or any questions.
Request a quote
Request a quote for the Canon Viamo
LBN Medical is here to serve. Please fill out the contact form below and we'll get back to you as quickly as possible.